LOVELIFE 2010 Full Version 完整版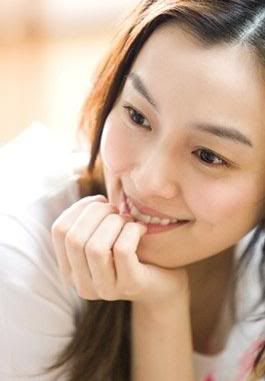 Since 2009, the Love Life movement has benefited children with cancer through a drive to spread the message of loving one's life with the support of artiste and entertainers from Taiwan – spearheaded by one of Taiwan's top host Blackie Chen 陳建州 (黑人). In 2010, the Love Life movement has started taking root in Hong Kong; and in April, a brand new initiative is taking stride benefiting children with autism, down's syndrome and cerebral palsy.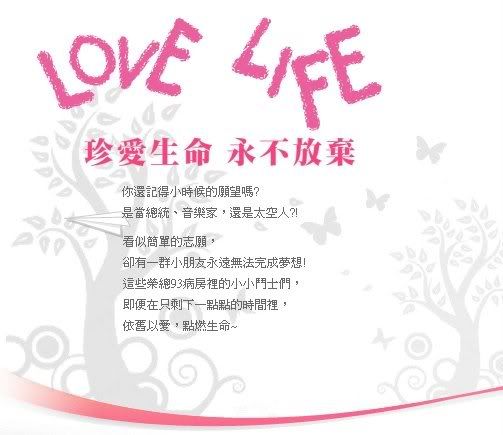 Let us all LOVE LIFE!
Other promotional videos by various Taiwan Artists :
Doze Niu 鈕承澤 LOVELIFE
Lin Chi-ling 林志玲 LOVELIFE
Eddie Peng 彭于晏 LOVELIFE
Janine Chang 張鈞甯 LOVELIFE
Ethan Ruan 阮經天 LOVELIFE
A-Mei 張惠妹 阿妹 LOVELIFE
Mark Zhao 趙又廷 LOVELIFE
FAN FAN (Christine Fan Wei Qi) 范范 LOVELIFE
Jay Chou 周杰倫 LOVELIFE
Dee Hsu 小S LOVELIFE
Matilda Tao 陶晶瑩 (陶子) LOVELIFE
Lu Jia-yi 路嘉怡 (小米) LOVELIFE
Wilber Pan 潘瑋柏 LOVELIFE
Alice Ke 柯佳嬿 LOVELIFE
Joe Cheng 鄭元暢 LOVELIFE
Aya 柳翰雅 LOVELIFE
Aska Yang 楊宗緯 LOVELIFE
Zhang Rong Rong (Sandrine Pinna) 張榕容 LOVELIFE
Godfrey Gao 高以翔 LOVELIFE
Candice Liu 劉容嘉 LOVELIFE
Related Links :
Facebook : LOVE LIFE珍愛生命永不放棄
More information of Love Life in Mandarin – 百科百度

LOVELIFE 2009 Full Version 完整版
10 Flares
Tweet
Email to a friend
10 Flares
×