Ticketing details and seating plans is out for 2014 2NE1 World Tour – All Or Nothing – Concert LIVE in Kuala Lumpur. Malaysia is one of the 9 countries included in 2NE1 World Tour All Or Nothing with countries such as Japan and China, meeting fans in 13 cities including Seoul, Hong Kong, Malaysia and Yokohama. 17 concerts are scheduled so far in the tour.
For Blackjacks in Malaysia, price of concert tickets starts from RM199 and the highest priced ticket is RM599.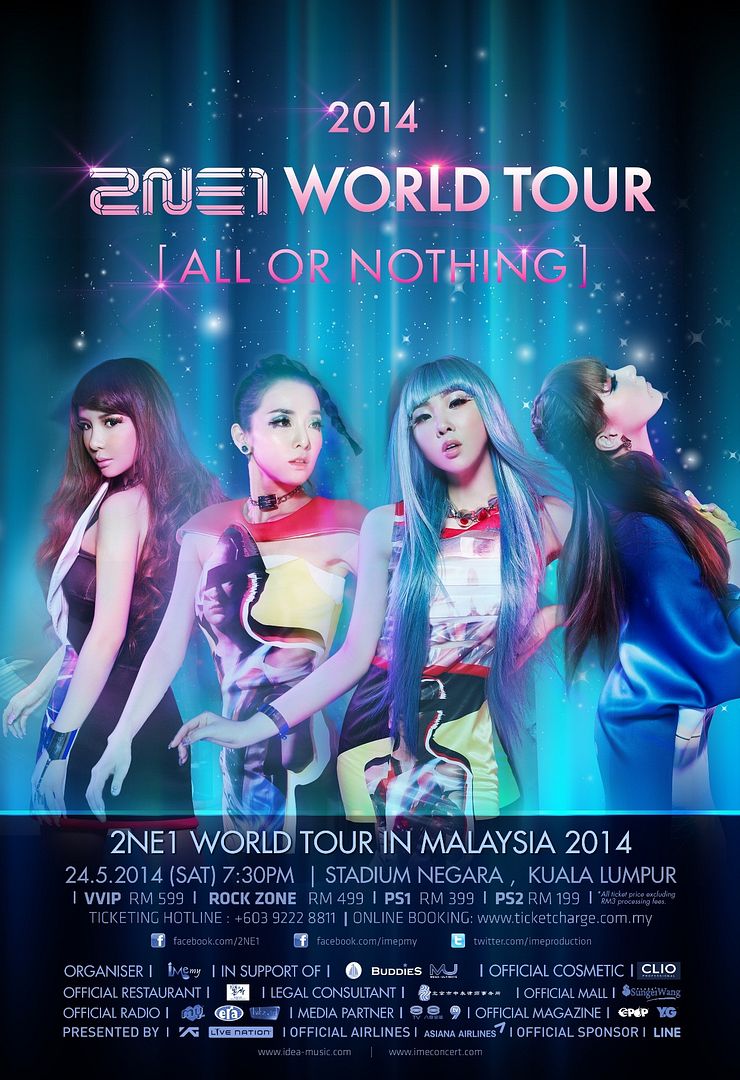 2014 2NE1 World Tour All Or Nothing Concert LIVE in Kuala Lumpur Malaysia
Date: 24 May 2014 (Saturday)
Time: 7.30PM
Venue: Stadium Negara, Kuala Lumpur Malaysia [Location on Google Maps]
Venue Capacity: 10,000 People
Tickets Price: RM199, RM399, RM499, RM599
Tickets Launch Date: 9 March 2014 (Sunday)
Tickets Launch Venue: Sg Wang, Kuala Lumpur
All eyes are on the girls to see what they've got this time for the international fans.
More expectations build up as it is said the two world-renown directors Travis Payne and Stacy Walker will once again join in on the girls' World Tour. 2NE1 will be showing their individual strengths in this tour compared to last tour, and also a great number of veteran staffs joined him for the tour.

The creative director of 2NE1 world tour is Travis Payne, who directed choreography of Michael Jackson's 'This Is It' tour, and Stacy Walker, who was also another choreography director for Michael Jackson, will be participating. Furthermore, 'Possible' will be participating as the visual contents creator. Gil Smith II, the music director of Britney Spears, Chris Brown, Lil Wayne and many other big names, will be leading his fellow band members to collaborate with 2NE1 as well. Thus, 2NE1 will be able to show even more upgraded sound and performance.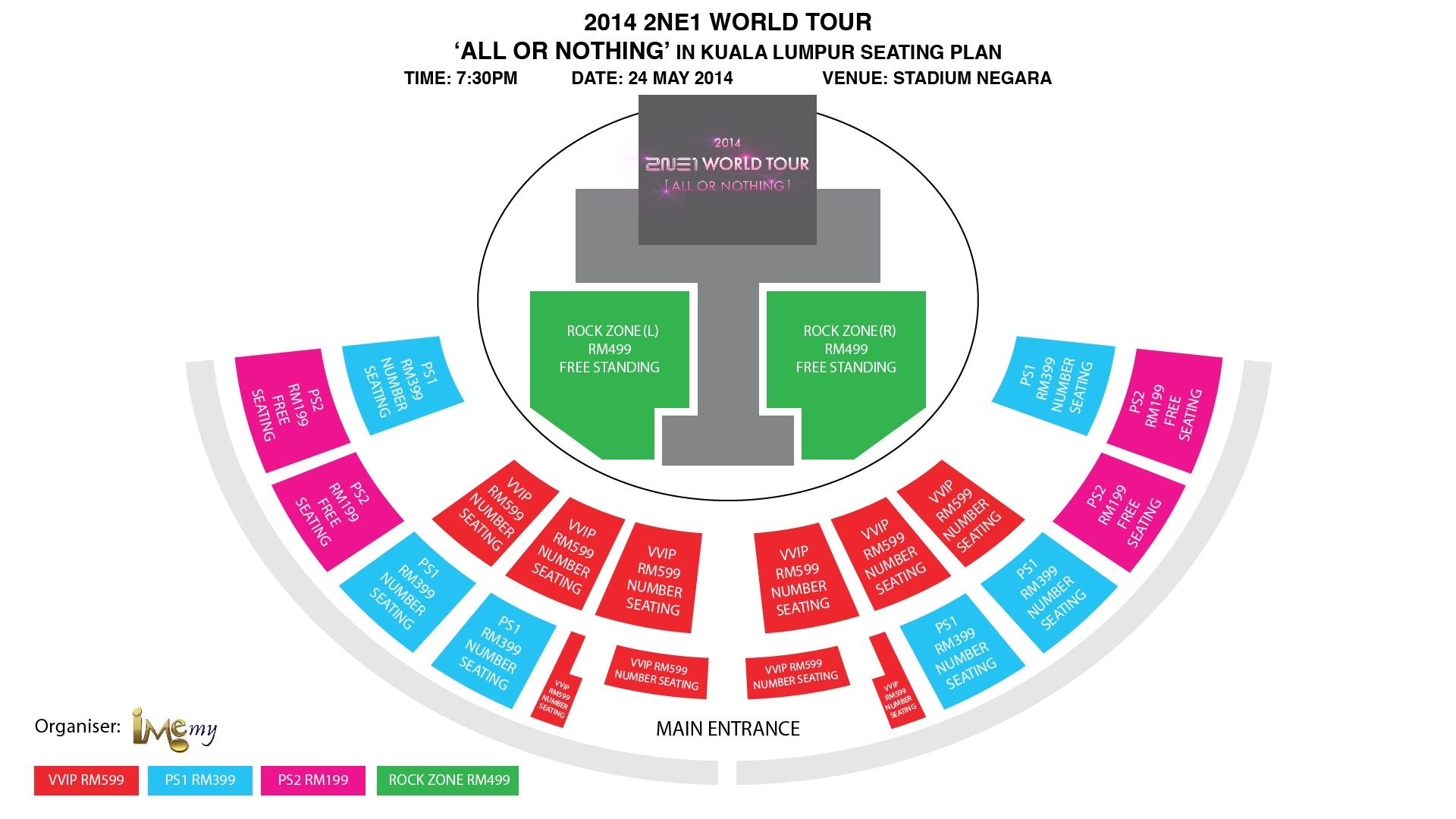 *Click on the above image to enlarge
Before you purchase the concert tickets, kindly refer to the seat plan/venue layout above and the ticket prices are shown below :
Ticketing information – 2014 2NE1 World Tour All Or Nothing Concert LIVE in Kuala Lumpur Malaysia
VVIP – RM599 (Numbered Seating)
Rock Zone – RM499 (Free Standing)
PS1 – RM399 (Numbered Seating)
PS2 – RM199 (Free Seating)
How to buy tickets for 2014 2NE1 World Tour All Or Nothing Concert LIVE in Kuala Lumpur Malaysia?
[TICKET LAUNCH EVENT]
-Ticket launch date is on the 9th of March 9th (Sunday) with the venue being Sungei Wang Plaza (concourse area).
-Tickets will be available for sale from 11AM onward up till 3PM
-First 500 individuals who purchase the ticket on the comes with exclusive giant poster and First 200 tickets comes with Clio make up product.
[ONLINE]
-Online sales starts on 9 March (Sunday) at 3PM via TicketCharge (www.ticketcharge.com.my) .
[CALL]
-Ticketcharge ticket hotlines will begin on March 10th (Monday) at 10AM please call
(603) 92228811 to purchase your ticket.
[OUTLET]
-Outlet sales will begin on the next day on 10 March 2014 (Monday). You may visit these locations :
TicketCharge office
Speedy music store
Rock Corner music store
Victoria music center
Neway Karaoke outlet
Celcom blue cube outlet
IME Production is the lead promoter of 2NE1 2014 World Tour "ALL OR NOTHING" in Malaysia