UPDATE : 茜拉 Shila got number 2 on Episode 7
The recording session of 7th episode for 我是歌手 I Am A Singer Season 2 was held 2 days ago and Shila was revealed as one of the 2 replacement contestant joining the contest! She managed to get the 4th spot (Out of 7) and impressed the crowd by her performance on the song 想你的夜!
Though Shila won the Asian Wave 声动亚洲 singing competition by another TV Station in China back in 2012, her name remains relatively unknown and she was considered new to audience of the show.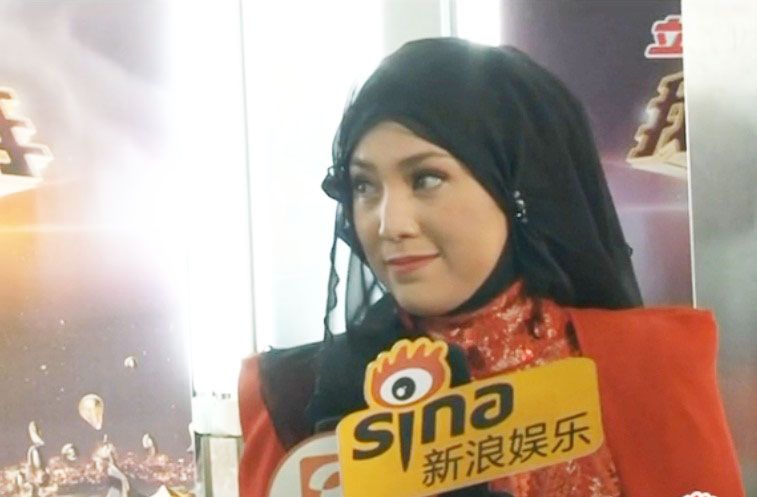 Before this, it was speculated that singers like Hebe田馥甄, Power Station 动力火车, A-Lin & etc will be joining the show as replacement singers as a result for the leaving of 罗琦 and Victor Wong 品冠 from the competition. So when Shila was revealed as one of the replacement singers alongside 满文军 from China, people started wondering who is she.

*Hong Kong singer Gem Tang 邓紫棋 have secured No.1 spot for 3 times in the first 6 episodes of the show.
When Phil Chang 张宇 introduced Shila 茜拉 during the recording of 7th episode for 我是歌手 I Am A Singer Season 2, he stated that Shila was brought in to give a hard time to Gem Tang 邓紫棋 Zhou Bichang 周笔畅. According to reports, Shila performed 想你的夜 which was a track the audience were familiar with. She delivered an impressive display on the high notes of the song and gained applause from the crowd present at the recording. However, her pronounciation on Mandarin language was slightly weak and that would be one of her weak points in a Chinese language dominated competition. Shila 茜拉 came out at number 4 at the end of the show which I personally think it's pretty good.
邓紫棋 – 如果没有你
韩磊 – 爱的箴言
张杰 – 无情的情书
周笔畅 – 黑色柳丁
张宇 – 不要来找我
满文军 – 我需要你
茜拉 – 想你的夜
Placing on 7th Episode
1 – 邓紫棋
2 – 张杰
3 – 韩磊
4 – 茜拉
5 – 周笔畅
6 – 满文军
7 – 张宇
Reports also mentioned that her record in winning the Asian Wave 声动亚洲 competition in China 2 years ago shows that Shila has the potential to be an unexpectedly strong participant in 我是歌手 I Am A Singer Season 2.
In an interview for audience to get more familiar with Shila, the Malaysian singer shared that up till the day she appeared in the recording session 2 days ago, her family members are still unaware of her participation in the contest. She was invited 2 weeks ago and decided to join after discussing with her manager. In the interview, Shila stated her excitement in joining the show and she hope to present more songs for the audience to know her more.
*Watch the interview here.
我是歌手 I Am A Singer is a singing competition show by Hunan TV 湖南卫视 where the competition runs from 3 January 2014 to 11 April 2014. The 7th episode where Shila Amzah 茜拉 is making an appearance in the show will be broadcasted on 21 February 2014.
Watch Shila Amzah performing 记得 recently at a New Year's Eve show for 贵州卫视 China GuiZhou TV.
Related Links :
Official Website 我是歌手 I Am A Singer Season 2
Official Sina Weibo 新浪微博 account of 我是歌手 I Am A Singer
乐视网 Le TV (Official Online Partner of 我是歌手2 )
China Hunan TV 湖南卫视 YouTube Channel
Shila Amzah on Sina Weibo 新浪微博
Shila Amzah on Twitter
Shila Amzah on Instagram