UPDATE 1 : Movie shooting takes place around Jalan Raja Laut, Kuala Lumpur from 5PM, 20 August 2013 to 21 August 2013. Ong Lai Restaurant which is situated along Jalan Raja Laut is 1 of the venue being use for the shoot [Source]. Chris Hemsworth was spotted surrounded by bodyguards around the area and he seems to be in a good mood. Tang Wei 汤唯 was involved in the shoot alongside Chris Hemsworth on the 20th of August [Source].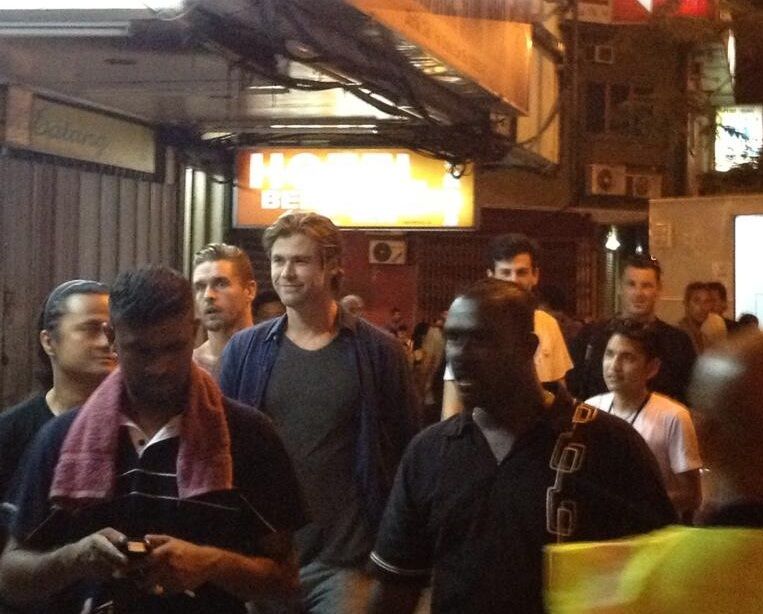 *Picture by Twitter user @Miszsunshine89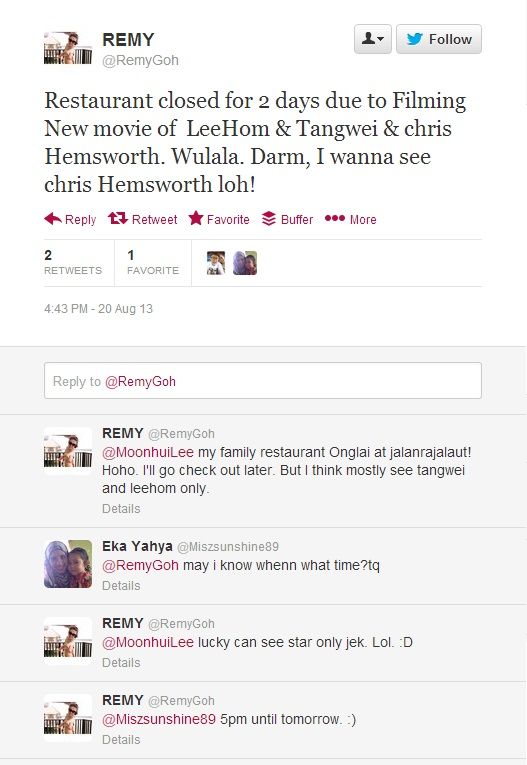 ---
Last Friday (2 August 2013), the arrival of Chris Hemsworth (Australia), Wang Lee Hom 王力宏 (Taiwan), Tang Wei 汤唯(China) and Leanne Li Ya-Nan 李亞男(Hong Kong) in Malaysia created quite a buzz amongst Malaysians on social media platforms especially fans of Chris Hemsworth of Marvel's Thor fame.
The production team led by director Michael Mann started shooting on the cyber-crime thriller started on the 17 of May 2013 in Los Angeles where the team moved to Hong Kong on 23 June 2013 and they completed their shooting just last week and flew into Malaysia immediately after that where they are set to be filming in multiple locations in Malaysia.
The movie is a huge Hollywood production by Legendary Pictures Studio and here's a brief plot on the movie : "After a case of high-level computer hacking arises, American and Chinese military forces work together to stop it." Tang Wei 汤唯 plays the love interest of Chris Hemsworth and the sister of Wang Lee Hom 王力宏 in the film.
The shoot in Malaysia is expected to last 5 weeks till early September 2013. The production team has kept its plan in secret with minimal filming information shared. However, celebrities (LeeHom and Li Ya-Nan through Weibo) have revealed that the first location of shooting is at Pulau Pangkor.
Over 200 locals were hired to act in the first day of shooting (At a factory in Manjung, Perak) itself where the shoot took 12 hours to be completed (王力宏與湯唯消防裝上陣‧連拍12小時). The team also booked around 200 rooms in a resort. Local news reporters have also found out that shooting will be happening mainly in Perak, Kuala Lumpur and Putrajaya.
Here are some locations in exact :
Manjung
Pulau Pangkor
Lumut
Marina Island
Port Klang
Kuala Lumpur
Putrajaya
ChinaPress has reported that the team will be filming in Port Klang before moving to shoot on the streets of Kuala Lumpur on the 22nd of August 2013. Official requests to block off roads such as Jalan Chow Kit, Jalan Pinang & etc have been submitted. The main cast of the film are expected to be involve as well.
*More information will be updated from time to time.