UPDATES : Both their Twitter account and Facebook page were removed after the couple went through a 9 hours session with the MCMC (Malaysian Communication and Multimedia Commission).
Last Thursday, Alvin and Vivian made it to be one of the most discussed topics amongst Malaysians again. A post they released on their Facebook page featuring the both of them eating Bak Kut Teh (A popular Pork dish in Malaysia – which is obviously non-halal) where the picture includes Ramadan greeting "Selamat Berbuka Puasa" with a Halal logo added on the left bottom corner of the picture attracted angry Malaysians on Facebook.
The picture came with a caption – "Izinkan kami memperkenalkan cara kami memupuk semangat 1Malaysia dengan bertukar-tukar makanan antara kaum-kaum Malaysia pada musim perayaan yang mulia ini. Hak untuk menikmati juadah enak tempatan seharusnya merentasi batasan bangsa dan juga agama. Kepada saudara-saudari yang beragama Islam, selamat berbuka puasa dan Salam Aidilfitri! -Sahabatmu, Alvin dan Vivian"
This insensitive act caused an uproar amongst netizens and their Facebook page was taken down later on due to the excessive numbers of complaints made. Since October 2012 where the couple made a name for themselves by posting explicit contents online, the duo have been trying quite a number of stuffs online to maintain their popularity. With the removal of their Facebook page, the couple took it to Twitter over the weekend to expressed their thoughts where they didn't show signs of being sorry for their act. An official apology video was posted later on YouTube.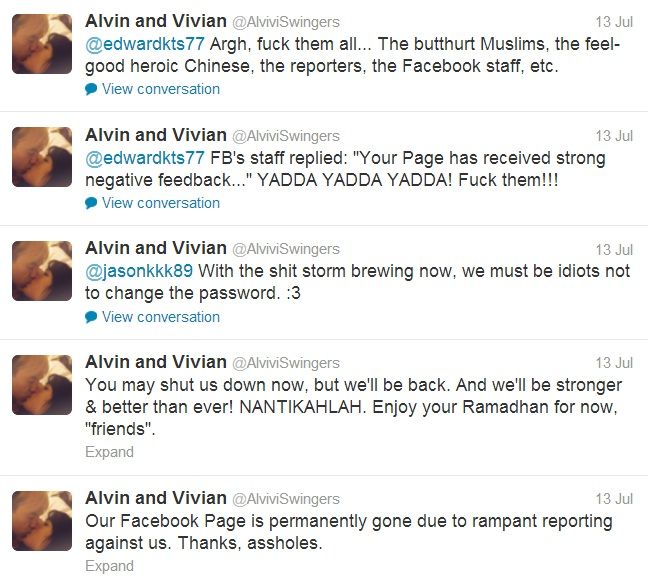 Their Facebook page (https://www.facebook.com/alvivi.swingers) has resurfaced just today on Monday. Today is also the day the couple will be present at the Malaysian Communications and Multimedia Commission (MCMC) to give their statement. Well, bad publicity or good publicity it's still publicity at the end of the day. To all Muslims who are aware of this incident, do not dwell in it too much and just leave it aside. It's Ramadan month, you don't have to be too bothered with this.
To everyone else, do join in the troll bandwagon here.
Related Links :
'Sex bloggers' back with offensive Ramadhan post
MCMC hauls up sex blogger couple