UPDATE April 2013
2 AUGUST SHOW: Both online booking & outlet sale will officially commence on 6 April 2013 from 7pm. All tickets for 2 August Show shall be on FULL PRICE.

UPDATE 29 March 2013
FOR FULL DETAILS ON THE CONCERT – http://bit.ly/XazrHS
Ticket sales will start on the 6th of April from 11AM onwards at SOGO Kuala Lumpur.
-10% off for the first 1500 tickets (all categories).
-15% of for those with SOGO Kuala Lumpur member card (Not including VVIP tickets)
Online ticketing will start on the 6th of April from 3PM onwards.
Designated Speedy branches will start selling the tickets from 7PM onwards.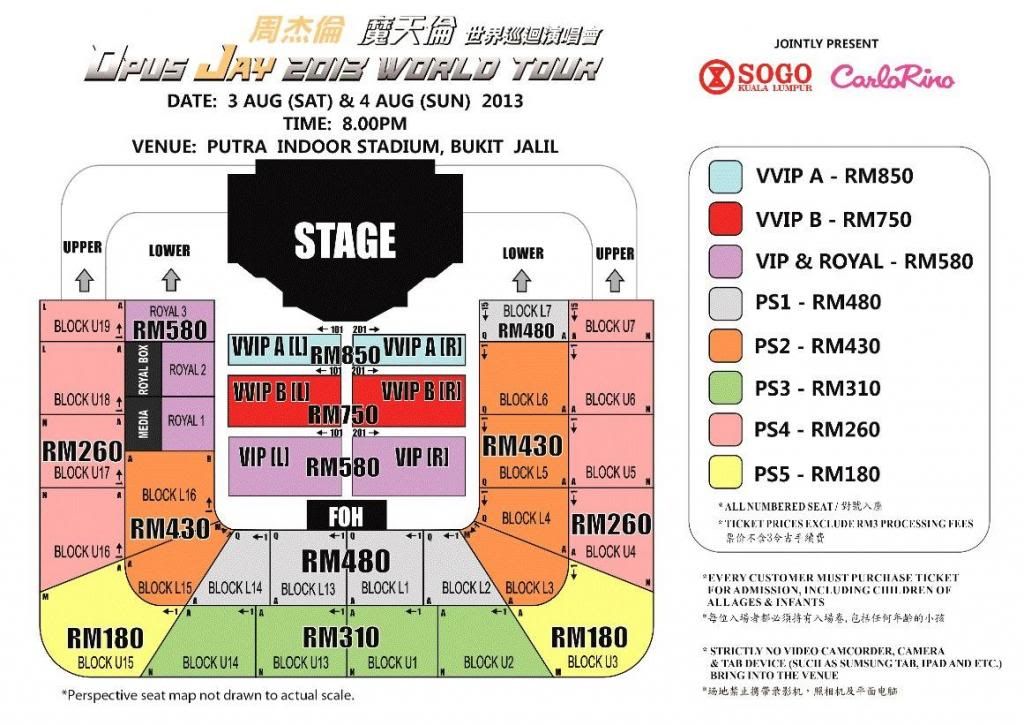 Please refer to the image above on the stage/seat plan for 周杰伦魔天伦世界巡回大马演唱会 Opus Jay 2013 World Tour Concert LIVE in Malaysia and below are the ticketing details for the concert.
周杰伦摩天伦世界巡回马来西亚演唱会
Date : 3-4 August 2013
Time : 8PM
Venue : Bukit Jalil Indoor Stadium
Following the release of 周杰伦 Jay Chou's lates album Opus 12 十二新作 last year, the announcement of 周杰伦《魔天伦世界巡回演唱会》Opus Jay Chou World Tour emerged where 26 locations have been identified to hold Jay Chou's latest concerts of the world tour.
After 2010's 超时代 The Era World Tour, this would be another big production featuring Taiwan superstar 周杰伦 Jay Chou where the opening location is scheduled to be in Shanghai on the month of May 2013. Concert tickets for the Shanghai concert were snapped up within the first day of public release. Tickets for the 2 days concert in Singapore was unavailable within 3 hours and a third concert was announced after that.
Tickets Pricing for 魔幻天王周杰倫魔天伦世界巡回演唱会大马站 Opus Jay Chou World Tour Malaysia 2013 (inclusive of RM3 handling fees)
VVIPA – RM853
VVIPB – RM753
VIP – RM 583
PS1 – M 483
PS2 – RM 433
PS3 – RM 313
PS4 – M 263
PS5 – RM183
For your information, call +603-92233667 or +60392228811.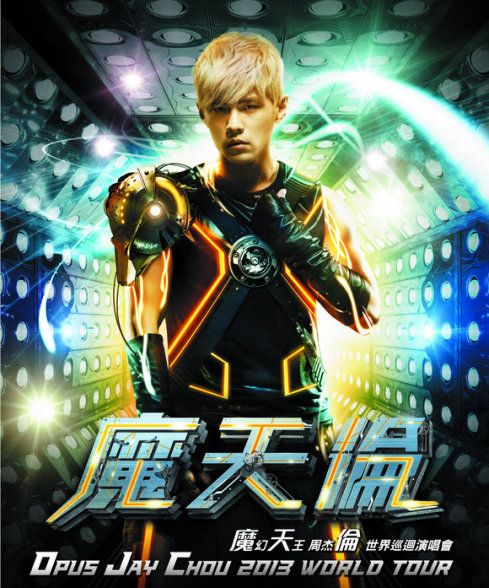 [Source : Jay2u.com]