In early 2012, a 30 minutes long YouTube video became viral pretty quick. The downfall of its virality escalated even faster. That's KONY2012 for you if you remember what's that all about.
Now in early 2013, the viral mode has been activated on a 30 seconds long track. A track which comes along with a video featuring a bunch of people doing stupid things in the last 10-15 seconds. THAT is the current Harlem Shake phenomenon that is taking over the world at the moment. But what exactly is Harlem Shake?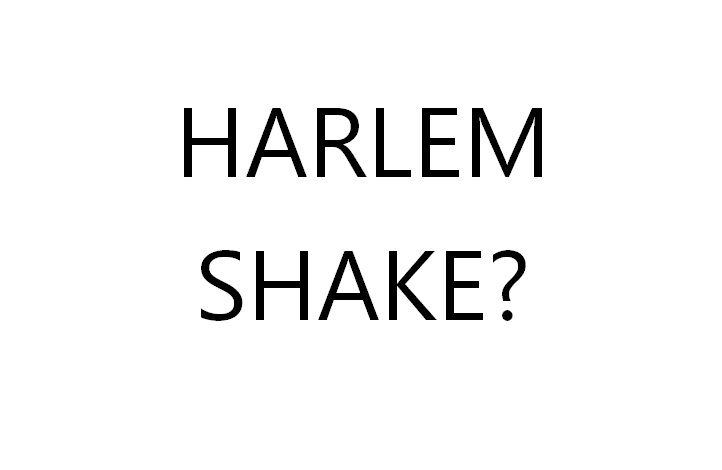 For your information, Harlem Shake can be referring to 3 things.
Harlem Shake (Dance)
The Harlem shake, originally called the albee in Harlem, is a dance that started in 1981. The dance became mainstream in 2001 when G. Dep featured the Harlem shake in his music video "Let's Get It". It has its history from a type of dance exercised in the Amhara region of Ethiopia, called "Eskista" and was allegedly started in Harlem by a man named Al B.

Harlem Shake (song)
"Harlem Shake" is a song recorded by American DJ and producer Baauer. It was released as a free digital download by Mad Decent imprint label Jeffree's on May 22, 2012. The song incorporates an undulating synth, harsh snares, a mechanical bassline, and samples of growling-lion sounds. It also samples Plastic Little's 2001 song "Miller Time", specifically the vocal "then do the Harlem shake", which is an allusion to dance of the same name. Baauer added a variety of peculiar sounds to the song so that it would stand out.

Harlem Shake Phenomenon (meme)
In February 2013, a YouTube video set to "Harlem Shake" developed into an internet meme. The media response to the meme helped increase the single's sales, as it reached number 12 on the US Dance/Electronic Songs chart. It also charted at number three on both the Scottish and UK Singles charts. The meme is in the form of a video that began being replicated according to a similar concept by many people. The art form of the meme was established in a video uploaded on February 2 by The Sunny Coast Skate, five teenagers from Queensland, Australia. The teenagers' video, in its turn, was a follow-up to a video by a YouTube comedy vlogger named Filthy Frank featuring a part where several costumed persons danced to the song "Harlem Shake" by Baauer.
This post is about the Harlem Shake Phenomenon (meme).
Throughout the second week of February 2013, more than 4,000 "Harlem Shake" videos were uploaded to YouTube each day, according to YouTube's official trend report. By February 13th, approximately 12,000 "Harlem Shake" videos had been posted, gaining more than 44 million views.
If you're comparing both Gangnam Style and Harlem Shake, then stop it. They are of different leagues altogether. Just keep calm and do the Harlem Shake! Oh and I personally think that this whole phenomenon won't last long.