As you know, Star Planet 星艺娱乐 has announced the additional show for 五月天 MAYDAY 诺亚方舟 No Where World Tour Live in Malaysia 马来西亚演唱会 2013 that is happening in the month of March 2013 after the sold out condition on the 2 March concert date.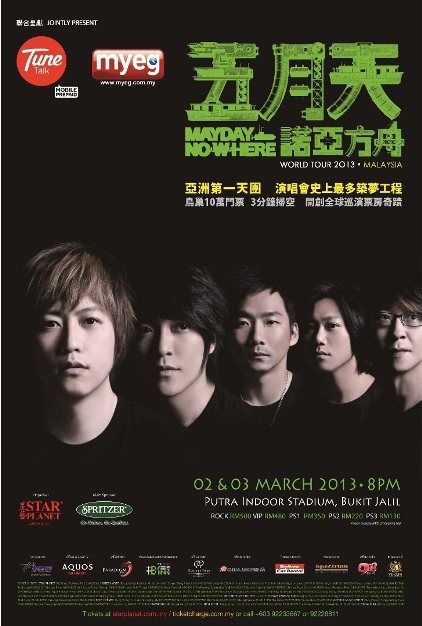 五月天 MAYDAY 诺亚方舟 No Where World Tour Live in Malaysia 马来西亚演唱会 2013
Date : 2 March & 3 March 2013
Venue : Putra Indoor Stadium, Bukit Jalil
Time : 8PM
For your information, limited Rock Zone tickets will be released next Tuesday (15 Jan 2013) where the lead vocalist 阿信 A-shin and band leader, 怪兽 Monster will be making a public appearance in Malaysia for a fans-meeting session at the Paradigm Mall, Kelana Jaya (main concourse, level UG) at 8pm.
Priority booking comprising limited rock zone tickets (for 3rd March show) will be made available at the fans-meeting session for :
– Tunetalk Mobile Prepaid subscribers with RM20 top-up at the mall
– MyEG customers who present a valid MyEG online receipt dated 1 November 2012 onwards.
Priority booking is valid for the first 250 customers and it will start at 5pm. Each customer is entitled to purchase up to 2 rock zone tickets only.
A launch ceremony will be held at the fans-meeting to officially announce the date for ticket launch (for 3 March show). We'll update more details here as we get them.
五月天成员阿信及怪兽115抵马谢票会,现场先行公开预售摇滚区门票
五月天【诺亚方舟】世界巡回马来西亚演唱会2013,门票在仅仅8个小时内宣布全场完售,首次在大马创下"秒杀"记录。主办单位Star Planet星艺娱乐也在门票售罄后两个星期,正式宣布加场,而这一次的加场,创下了五月天在马来西亚连续办2天演唱会的记录,这对于五月天或是五迷们都是一个重要的里程碑。主唱大人阿信和团长怪兽,决定亲身前来大马答谢歌迷,并在1月15号,晚上8点正,现身于Kelana Jaya 的Paradigm Mall (main concourse, UG层)。

加场的门票至今虽未公开发售,但拨电询问及要求预定的粉丝可说是连绵不绝。主办单位决定在1月15日当天,先行公开发售有限额摇滚区门票。优惠只限在现场加额20令吉的Tunetalk用户及携带并出示有效于2012年11月1日起的网上收据的MyEG用户,优惠将从下午5点开始,只限首250位亲临现场的朋友,需符合条件,先到先得,而每人只限购买2张门票。主办单位也同时宣布,门票的正式发售日期,将在1月15日活动当天,两位成员阿信及怪兽,在五迷的陪同见证下,正式公布。五迷们一定要敬请留意!