I was looking through pictures of JanjiDemokrasi at Dataran Merdeka and seriously, I was moved by the scenes captured a few hours ago. Found a few well taken shots and decided to post it up here. Just want to make a simple blog post to document such a historical moment which happened in conjunction of our 55th Independence day of Malaysia.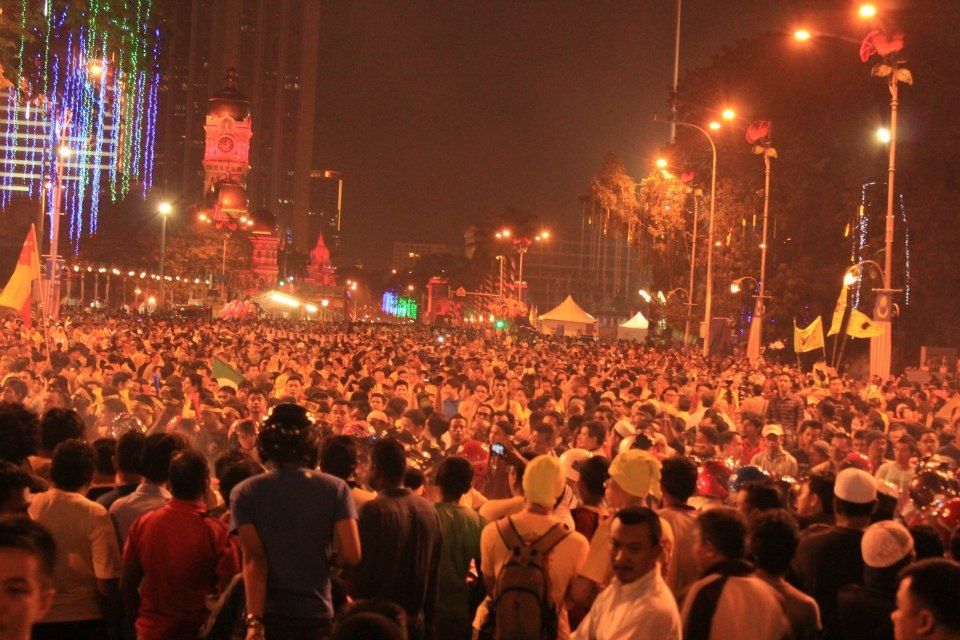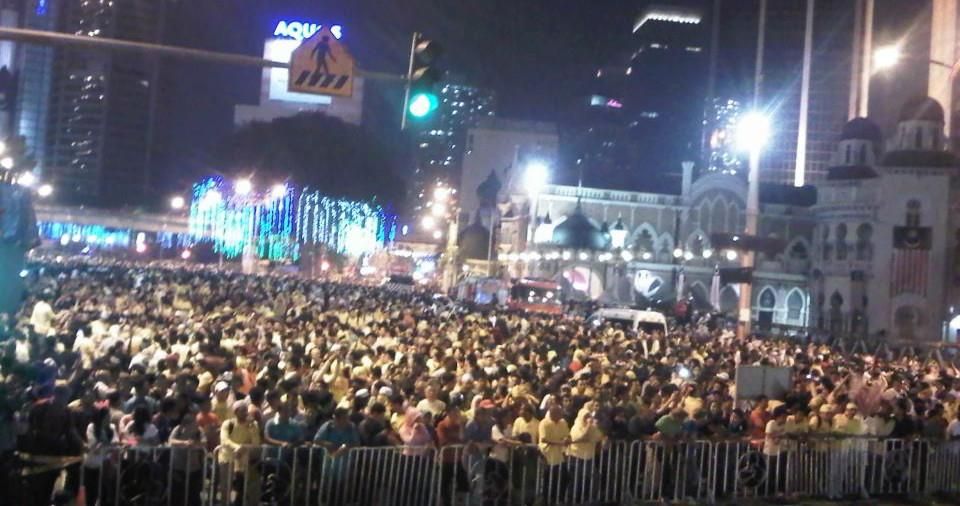 Perhaps there wasn't millions there, but I believed the thousands who were there will inspire millions who weren't there. Putting aside any hidden political agenda that might be lurking in the dark behind such rally, I'm just glad thousands are willing to bring it to the streets going from total silence to walking the talk.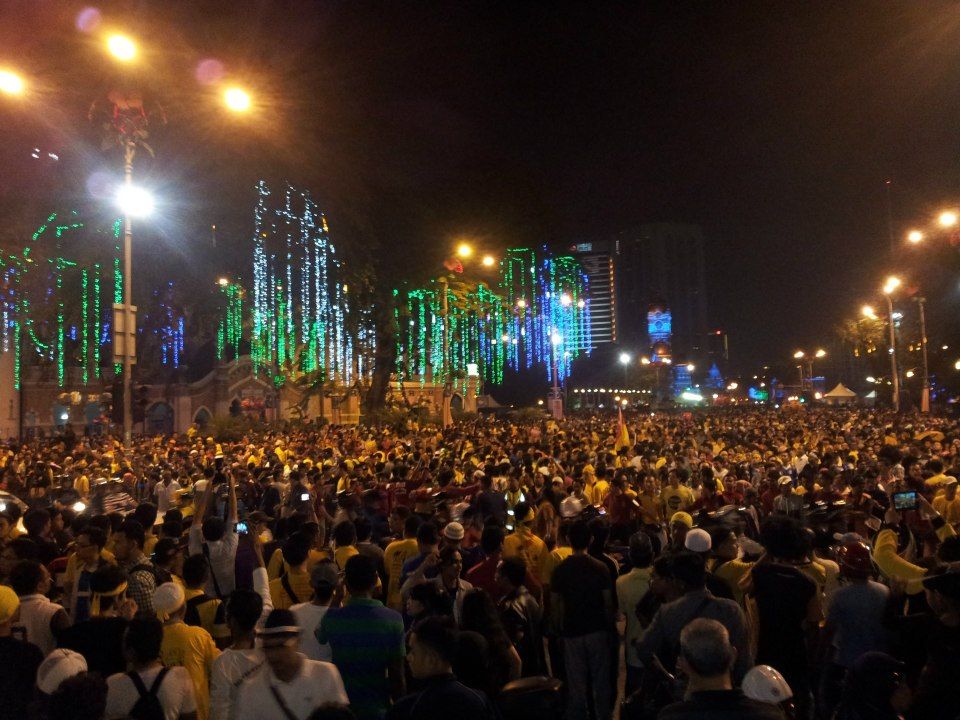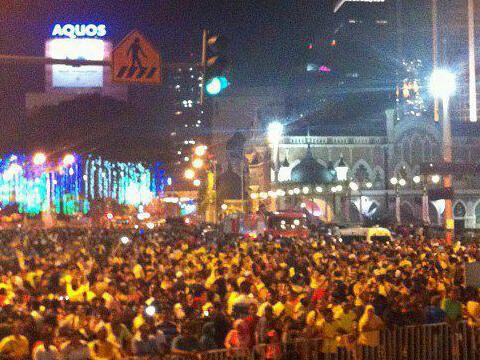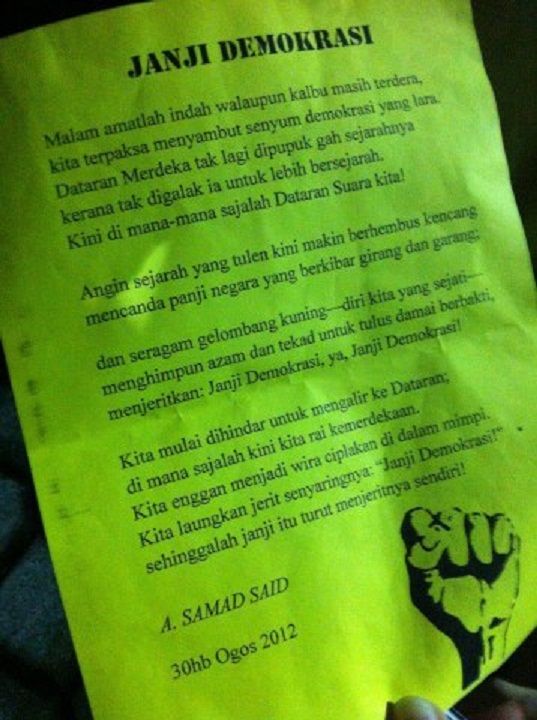 Malam amatlah indah walaupun kalbu masih terdera,
kita terpaksa menyambut senyum demokrasi yang lara.
Dataran Merdeka tak lagi dipupuk gah sejarahnya
kerana tak digalak ia untuk lebih bersejarah.
Kini di mana-mana sajalah Dataran Suara kita!
Angin sejarah yang tulen kini makin berhembus kencang
mencanda panji negara yang berkibar girang dan garang;
dan seragam gelombang kuning – diri kita yang sejati –
menghimpun azam dan tekad untuk tulus damai berbakti,
menjeritkan: Janji Demokrasi, ya, Janji Demokrasi!
Kita mulai dihindar untuk mengalir ke Dataran;
di mana sajalah kini kita rai kemerdekaan.
Kita enggan menjadi wira ciplakan di dalam mimpi.
Kita laungkan jerit senyaringnya: "Janji Demokrasi!"
sehinggalah janji itu turut menjeritnya sendiri!
Reading a few tweets giving credits to the PDRM on maintaining security where JanjiDemokrasi rally turned out to be a peaceful rally had me thanking God that nothing bad really happened this time round. Good job guys.
That being said, let me quote what I read from a friend's Instagram post earlier today : "Selamat Hari Merdeka ke-55, Malaysia. May the right people change you to a better country, a better place. Love you."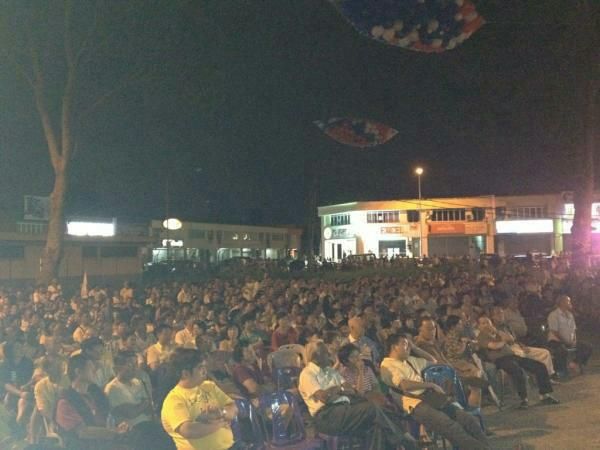 You are so beautiful Malaysia, I hope that the people who hold powers in their hands realize how beautiful you are and will stop destroying you.
Malaysia, I Love You. Happy Independence Day peeps.