A friend just asked me this : "Eh, Air Asia free seats start today meh?" Right away, I said : "TONIGHT!"
Went to their Facebook page, saw their latest update. Click into the link provided, had a shock.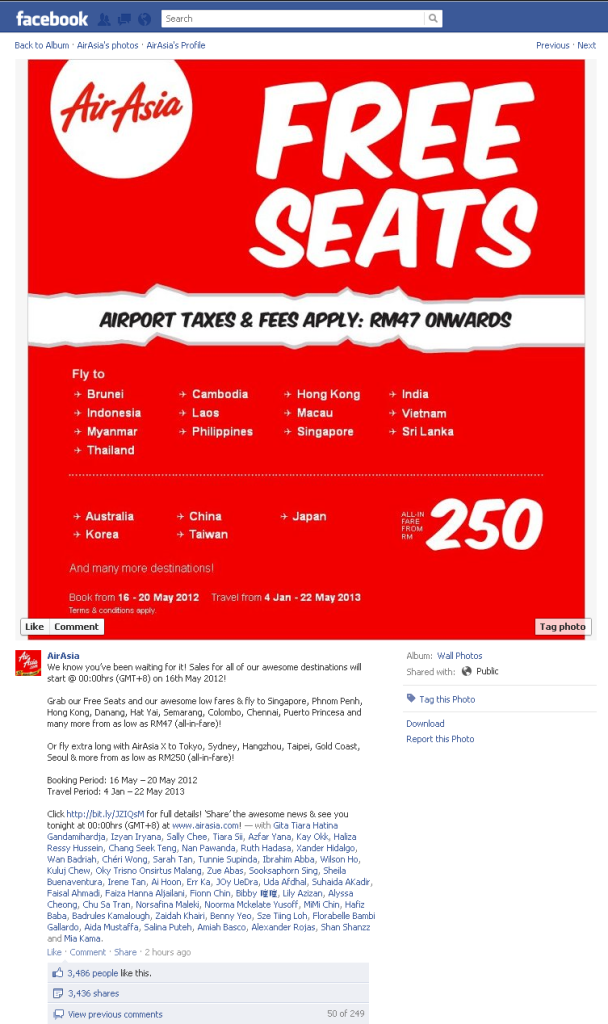 Last week, I received an email through Air Asia newsletter saying that they will be giving out free seats on the 14th of May 2012. Logged on to the site that time, they only gave out seats for domestic flights. Well fine, they didn't say they were giving what kind of flights so I can't blame them for my slight disappointment.
Soon, they told the world that international flights will be given out on the 16th of May 2012. Awesome, I thought to myself.
Oh yeah, back to what I said above, I had a shock. Look at this picture.
We know you've been waiting for it! Sales for all of our awesome destinations will start @ 00:00hrs (GMT+8) on 16th May 2012!Grab our Free Seats and our awesome low fares & fly to Singapore, Phnom Penh, Hong Kong, Danang, Hat Yai, Semarang, Colombo, Chennai, Puerto Princesa and many more from as low as RM47 (all-in-fare)!Or fly extra long with AirAsia X to Tokyo, Sydney, Hangzhou, Taipei, Gold Coast, Seoul & more from as low as RM250 (all-in-fare)!

Booking Period: 16 May – 20 May 2012
Travel Period: 4 Jan – 22 May 2013

Click http://bit.ly/JZIQsM for full details! 'Share' the awesome news & see you tonight at 00:00hrs (GMT+8) at www.airasia.com!

Source : Facebook
Promo start tonight. But some of the months are in red already – few or none. Quite a lot of them in fact.
Early bird promo for Citibank card holders? Maybe, but so many REDS ALREADY? Seriously, are you SHOUTING to the whole world that you are giving free seats but only allocating ONE SINGLE SEAT per month for the LOWEST ALL-IN-FARE?
Okay, maybe not 1 lah. 2 seats perhaps? Haven allocated free seats into the current database, if so then the red boxes above means what, some ghost promo?  System error?  Sigh. Can't brain this.
0 Flares
Tweet
Email to a friend
0 Flares
×