One of the biggest attractions of ANIME FESTIVAL ASIA Malaysia – AFAMY 2012 that is happening from 9-10 June 2012 at Putra World Trade Centre (PWTC) will definitely be the Super Anisong Genki Live Concert featuring Jpop artiste such as Maon Kurosaki, Kalafina, Aimi, FLOW, KOTOKO as well as SG group Sea☆A!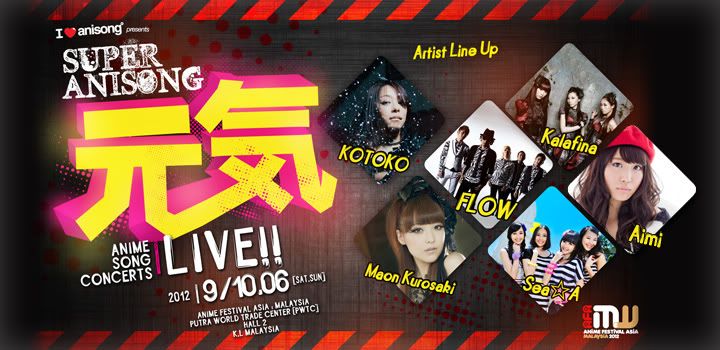 DAY 1 : SATURDAY 09.06.2012 - Maon Kurosaki, Kalafina, Aimi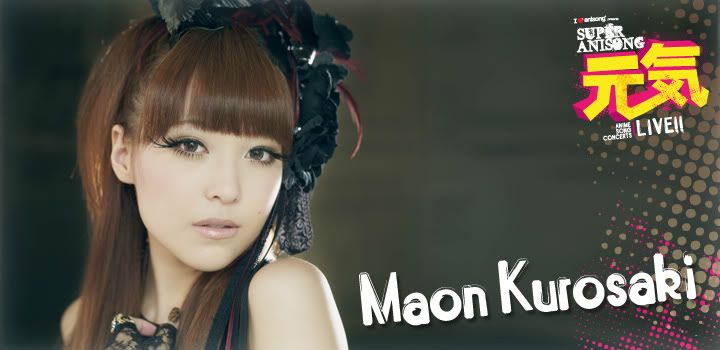 Maon Kurosaki
1st ever performance in AFA and SE Asia!

Maon Kurosaki started her Anisong career in 2000 but only made her major debut in 2010 when she performed all the ending theme songs of the highly anticipated anime "High School of the Dead". She was able to explore her musical talents by contributing lyrics to 'Magic∞World' and 'Memories Lost', the ending theme song of the second season of 'A Certain Magical Index'.

In 2011, she performed the ending theme song for 'Hakuoki Sekkarou' and made her debut at Animelo Summer Live 2011, Anisong's biggest stage. Maon also released her first full-length album, entitled 'Butterfly Effect'.

This year in 2012, her first release 'HELL:ium' will contain the theme songs of the movie series 'Real Ghost'. She will also be performing the opening theme song of the PSP game 'Jukki no Kizuna: Sekigahara Kitan'.

Notable anime series involved in:
High School Of The Dead Anime, Toaru Majutsu no Index II, Hakuoki Sekkaroku
Kalafina
1st ever concert performance in Malaysia!

Kalafina is the latest project by hit composer Yuki Kajiura, the genius behind FictionJunction and See-Saw, keeping Kajiura's signature new age and synthesizer sounds.

The trio debuted with 'Oblivious' from the theatrical release of "Kara no Kyoukai", released in January 2008, with 'sprinter/aria' and 'fairytale' following in the same year. The three singles all hit top 10 spots on the Oricon Weekly charts. Their Oricon success has continued with their subsequent singles and two albums, all reaching top 10 spots.

"Kara no Kyoukai", with Kalafina providing all theme songs, sold a total of 600,000 units over the course of its run. In addition to performing in Japan, Kalafina has performed overseas as well. In 2010, they toured Asia, stopping in Hong Kong, Shanghai and Taiwan. The group has also performed in United States at Anime Boston and Anime Expo. Last November 2011, they performed to a sell-out crowd at AFA11. In 2012, they are performing at Animagic, Germany, as a main guest.

This year in 2012, the latest 10th single 'to the beginning' was released, and it is the opening theme song of TV anime series "Fate/Zero."

Notable anime series involved in:
Kara no Kyoukai, Kuroshitsuji, Sora no Oto, Puella Magi Madoka Magica, Fate/Zero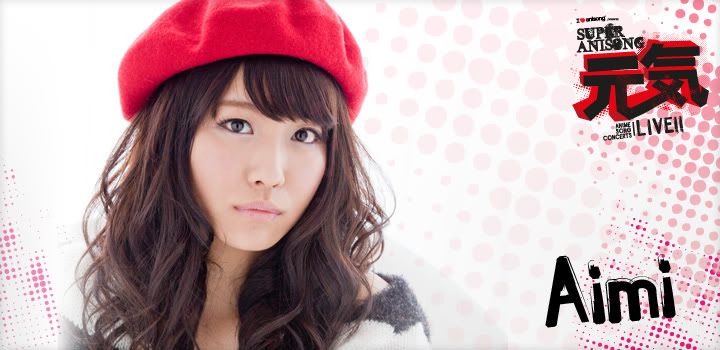 Aimi
1st ever performance in AFA and SE Asia!

Debuting in 2011 as a singer, with Tenshi no CLOVER, the opening theme song of "Astarotte no Omocha!", Aimi has since been a rising star in Japan, performing many theme songs for popular anime series, "Card Fight!! Vanguard". She has also recently showcased her powerful vocals in her second single that was a featured theme song in Ben-To.

Besides being a singer, Aimi is also a talented voice actress, she currently takes part in Tantei Opera Milky Holmes, "New Tennis no Oji sama" OVA and "Card Fight!! Vanguard". She is also active in events and as a radio personality.

Notable anime series involved in:
Card Fight!! Vanguard
DAY 2 : SUNDAY 10.06.2012 - FLOW, KOTOKO, Sea☆A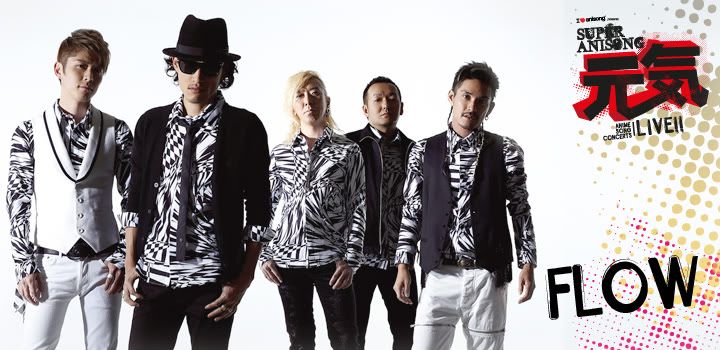 FLOW
First ever Malaysian concert!

Originally formed in 1993 by TAKE and his older brother/vocalist KOHSHI, the band was named FLOW in '98 and evolved into its current line-up in 2000, after bassist GOT'S, another vocalist KEIGO and drummer IWASAKI joined the siblings.

They released an indie debut album a decade ago in 2001, and since then the 5-piece band's fast ascent to the top of the mainstream J-Pop scene has been virtually unstoppable. In 2003, they dropped their last indie single 'Okuru Kotoba', a New Found Glory-style, punk rock cover of a well-known Japanese tune from the 70s, and sold 270,000 units. That same year, they signed with Ki/oon Records and followed up the single's success with their first major release 'SPLASH!!!', which dashingly reached number two on the Oricon chart.

By the spring of the next year, FLOW has become a household name with at least 7 of their records picked up to be theme songs for commercials and TV shows. Then, in April 2004, 'GO!!!' became the opening song for 'Naruto' – an anime series that was already massively popular in Japan. Needless to say the song became an instant hit and the first of many anime theme songs that FLOW would come to create.

'FLOW ANIME BEST' includes 10 of these anime theme songs have been released in April 2011 in Japan and in May 2011 in the U.S. FLOW is ready to rock on the international arena for their growing fan base. The genesis of the band's true success story is only now unfolding. So, take a deep breath and behold. FLOW is about to reach the musical shores beyond Japan and the anime world.

The single CD "Hey!!!" was released in Japan on August 31st, 2011. This song is being used as the third opening theme to the animation "BEELZEBUB" In 2012, both their new single "Rock Climber" and new album "BLACK & WHITE" were released on February 22nd.

FLOW will celebrate their 10th anniversary this year!

Notable anime series involved in:
Code Geass, Eureka SeveN, Naruto, Heroman, Persona Trinity Soul, Beelzebub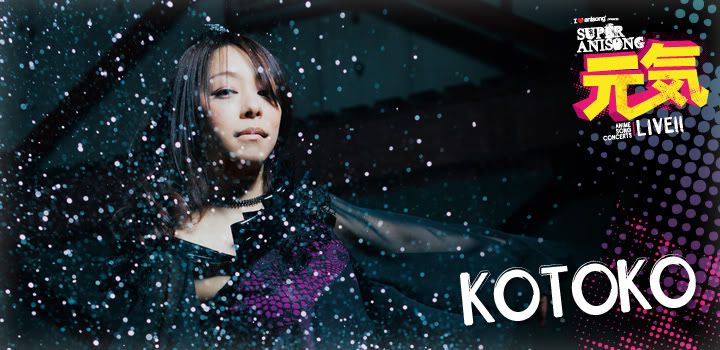 KOTOKO
1st ever performance in AFA and SE Asia!

Since debuting on 21st April 2004 as a J-Pop Artist with her full album 'feather-hane' as the lead singer of the music group "l've", KOTOKO has demonstrated hit after hit that she possesses more than just singing talent, with countless releases compromising of music she wrote herself.

Her highest ranked single was 4th on the Japan Oricon charts – performing to sold out concerts including one at the Yokohama Arena on December 1st in 2006.

Notable anime series involved in: Shakugan no Shana, Shakugan no Shana II, Shakugan no Shana Final, Kamen no Maid Guy, Hayate no Gotoku!, Kannazuki no Miko, Onegai Teacher, Motto To Love-Ru ~Trouble~
Sea☆A
Homegrown anime idol group!

From Anime Festival Asia's very own Moe Moe Kyun maid cafe comes the latest Anisong idol unit to debut in Japan, Sea☆A! Made up of Winnie, Beryl, Valerie and Estelle, Sea☆A hopes to capture the hearts and minds of anime fans, both in Japan and overseas, with their own special brand of appeal.

Their first single, Dream Shooter, has been featured as the third ending theme of the hit TV anime, 'Cardfight!! Vanguard'. Their next single, 'DELI-DELI☆DELICIOUS', will be the ending theme of Toriko. Last November, the girls performed at the prestigious Animax Musix 2011, in Yokohama Arena, alongside names such as May'n, Shoko Nakagawa and angela.

Their latest single, "Friendship Birthday -Arashi no Yoru ni-" is the opening theme of the animated TV series "Arashi no Yoru ni -Himitsu no Tomodachi-" ("One Stormy Night – Secret Friends "). Not ony has the show started its broadcast in Japan, it will be shown in over fifteen countries in the Asia, Europe, North and South America! The song also marks the first time any Anisong artiste recorded the same song in Japanese, English and Chinese.

The name Sea☆A is made of three parts. SEA is short for South-East Asia, as all four members who come from South-East Asia. The star represents the stars that they hope to be. And finally, A is for their passion for Japanese anime and the wish to spread their songs throughout Asia with their activities.

Notable anime series involved in:
Card Fight!! Vanguard, Toriko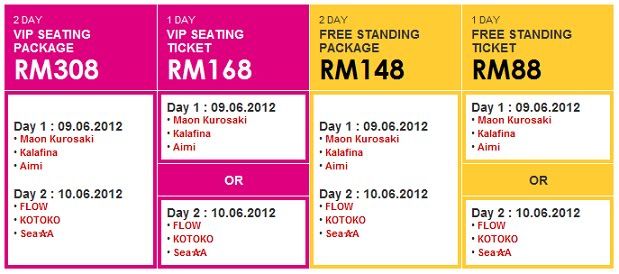 To grant access to the concerts in the evening, customers will need to get the RM88 / day (Free Standing) and RM168 / day (VIP Seating), to make it more accessible to fans, a RM308 2-day VIP Package & RM148 2-day Standing Package will also be available. Each concert ticket is bundled with a festival and stage ticket.
For your information, the 1-day only tickets pre-sales passed already (06.05.12 SUN). Official ticket sales will start from 10am 10.05.12 (THU) and it will be made available online through TicketCharge
RM308 2 Day VIP / RM168 1 Day VIP
RM148 2 Day Free Standing / RM88 1 Day Free Standing
10 Flares
Tweet
Email to a friend
10 Flares
×