If you haven know, Della Ding 丁噹will be having her own concert this coming April in the Arena of Stars, Genting Highlands, Malaysia. Labelled as the "Newborn Mandopop Diva", Della Ding is known for her captivating vocals and spectacular range & Starplanet is bringing down the Taiwan singer to give the Malaysian fans a treat. I've heard of her live performance one time during 2010 Mayday 五月天變形DNA無限放大版演唱會 Concert  and i must say that her vocals is really good.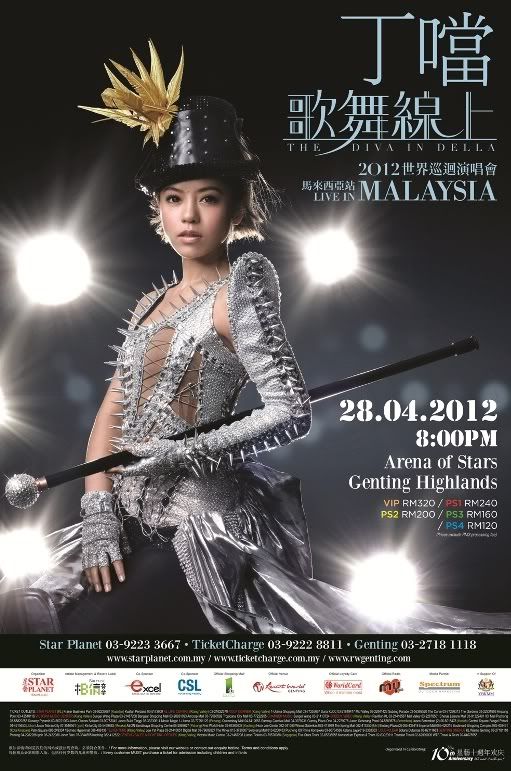 丁噹 Della「歌舞線上 The Diva In Della 」Live In Malaysia Concert 2012
Date : 28 April 2012
Time : 8PM
Venue : Arena of Stars, Genting Highlands
Ticket Pricing : VVIP RM420/VIP RM320/PS1 RM240/PS2 RM200/PS3 RM160/PS4 RM120
Ding Dang is best admired for her love ballads, especially on her early records. Later she included numbers of dance song to her third album, released in 2009. After a huge success with her fourth album "Fu Good", her popularity suddenly rose like a rocket. Her hits song "Wo Ai Ta" was used as drama "Autumn's Concerto" and even awarded the second most popular KTV song of 2010. Ticket sale will commence from January 18th, 2012 at 10am with an exclusive 15% discount extended on the first 800 tickets (exclude VVIP). For more information, please call Star Planet 0392233667/ Ticket Charge 0392228811 or visit www.starplanet.com.my


Terms & Conditions:
- Prices are quoted in Ringgit Malaysia and exclude RM3 processing fee.
– Ticket Launch: Promotion is valid for the first 800 tickets only (via Internet Booking / Star Planet & TicketCharge Outlets only)
– Star Planet Privilege Card – must purchase tickets via Star Planet's office only.
– Genting WorldCards (GWC) members get 10% discount if pay using point & 5% discount if pay by cash.
Must purchase tickets via Genting's One Hub or Sales offices to be eligible.
29 Flares
Tweet
Email to a friend
29 Flares
×