Recently, there's a hot topic going on Sina Weibo. It all started when a picture of a girl went viral on the internet. The girl's name is Jocelin 刘冬 & she happens to be Baidu's Human Resource Specialist. Baidu 百度 is China's top search engine. She's now a famous person after a picture of her in Baidu's company annual dinner surfaced online but that's not the main topic i'm gonna raise up today.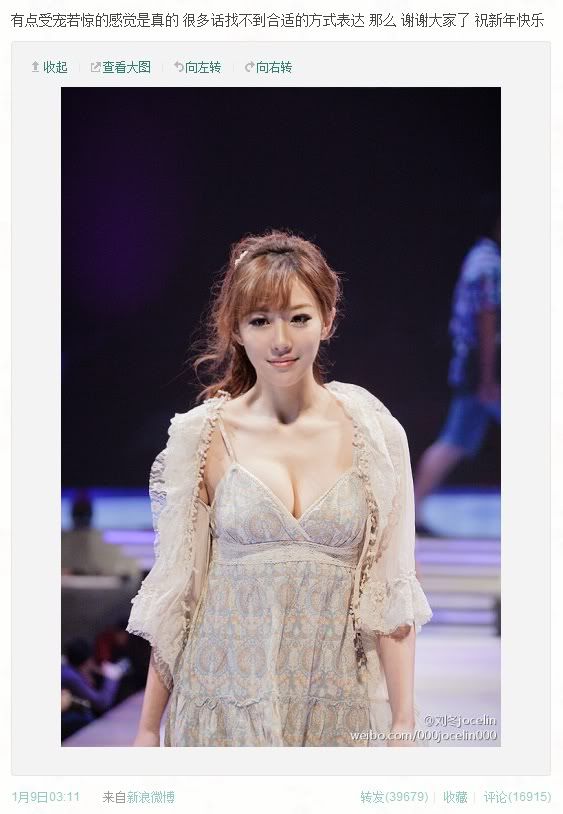 Well, there's another girl with the nickname 烟花妹妹 yhmm (Translates to Fireworks Little Girl) who seems to be unsatisfied of the overnight fame Jocelin 刘冬 achieved where she thinks the picture of her in the annual dinner was photoshopped. Jealousy OR she is grabbing the chance to get famous as well.
She posted a message online on Sina Weibo saying that for a girl, her cleavage is more important than her career, showing the breast is better than just showing face. That was a sarcastic statement that highly criticize the huge amount of girls from China (indirectly claiming that Jocelin 刘冬 was one of them) who went down such path to gain attention and fame overnight. 9th January 2012 that was. She proudly said that if she were to post a picture of herself, she'll definitely win hands down compared to the previous girl & say if her status was repost 100 times, she will post a picture of herself.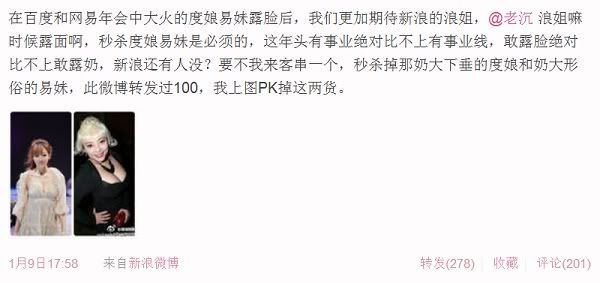 1 day later, on the 10th of January, her status was repost more than 100 times. She then posted a picture of a naked female body without revealing the face and added 2 small heart on the nipples claiming that the important part of her body wasn't photo-shopped. She added saying that if that picture was repost more than 500 times, she'll post a full naked picture of herself without the added small hearts.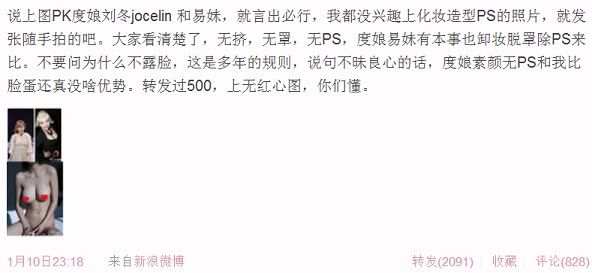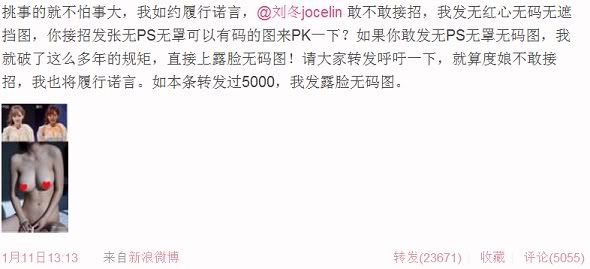 She repeatively challenged Jocelin 刘冬 publicly on Sina Weibo 新浪微博 by posting these status plus mentioning her.
The rest of the story? Of course, the status was reposted more than 500 times. She did what she promised and uploaded a picture of herself naked but the picture was removed shortly after that. Well, lots of users on Sina Weibo saved it and reposted it LOL but NO i won't post it here. Go find it yourself haha!
So who is this girl 烟花妹妹? She's a popular person online, born in 1982, she created buzz back in 2006 being one of China's top blogger, she's also 2006 Germany World Cup top online soccer babe. A quick browse through her blog shows that she haven been updating it for a year already. There were some side rumors saying that she'll be heading to Japan to join the AV industry. Well what i know is 烟花妹妹 was one of the hottest search keywords recently.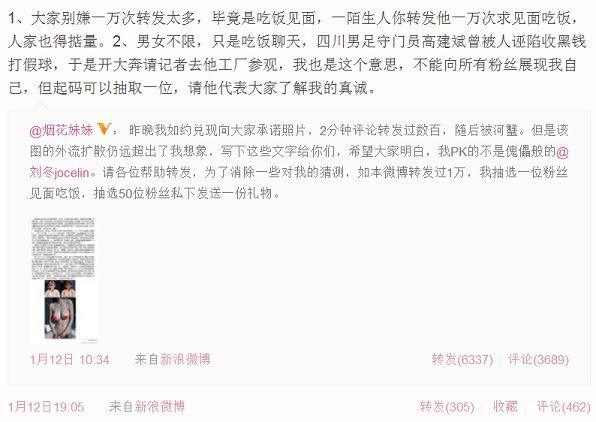 Am interested to see how far 烟花妹妹 can go building her own fame through the most popular social media platform in China. =)
Anwyays, Sina Weibo 新浪微博 is a really interesting social network platform. I wonder how many thousands more similar case will happen this year now that they have 250 million users. Yes. That much.
Oh by the way, do you know Bill Gates commands a Sina Weibo account with more than 2Million followers? =)
6 Flares
Tweet
Email to a friend
6 Flares
×