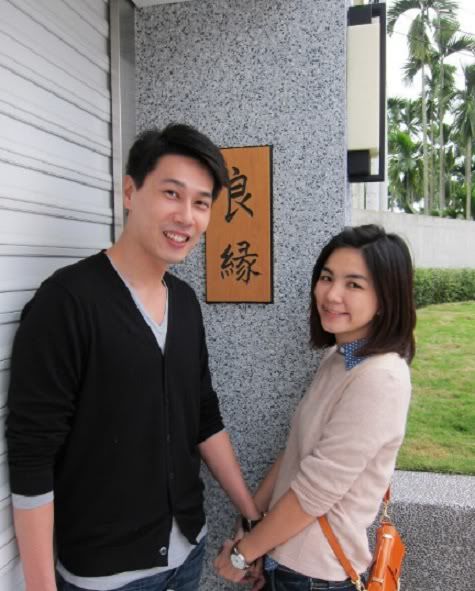 It was just 3 months ago where Selina Jen got married & just yesterday, the news of Ella Chen 陈嘉桦 getting married on the 5th of May this year was announced on Weibo with she herself telling the whole world about the good news in conjunction of the 4th day of Chinese New Year. It became a trending topic instantly on the most famous microblogging social network platform in China where tons of fans sending in their best wishes for the couple!

If i'm not mistaken, the news of the couple going out together emerged on major entertainment platforms early last year where Alvin Lai 賴斯翔 knew Ella Chen 陈嘉桦 through 田馥甄 Hebe. Alvin is working at L'Oreal Group in Taiwan as an Assistant Marketing Manager and 田馥甄 Hebe was the official spokesperson. Alvin Lai is a Malaysian and he's from Melaka Ipoh where the news of their wedding actually went hot when Ella Chen 陈嘉桦 was in Malaysia end of last year for working purposes & she dropped by Melaka Ipoh, Malaysia to pay a visit to her boyfriend's family.
This Chinese New Year itself (Wednesday, 3rd day of CNY), Alvin's family went over to Taiwan and joined in a CNY gathering hosted by Ella's mother with a few other artists and it was said that the meeting involves both parents discussing on the wedding date.
Then well, as i've mentioned above, Ella announced the good news just yesterday around noon. There will be 2 different wedding bouquet, one in Taiwan, one in Malaysia.

Ella Chen 陈嘉桦 messages on Sina Weibo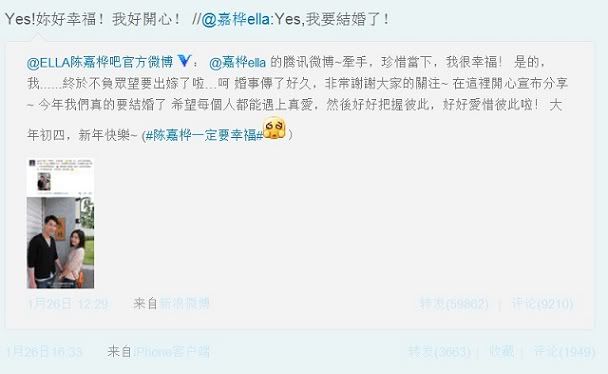 田馥甄 Hebe re-posted/replied Ella Chen 陈嘉桦 Weibo status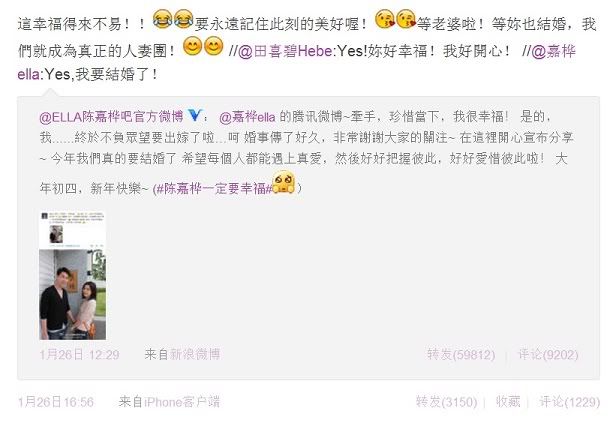 赛琳娜 Selina re-posted/replied Ella Chen 陈嘉桦 Weibo status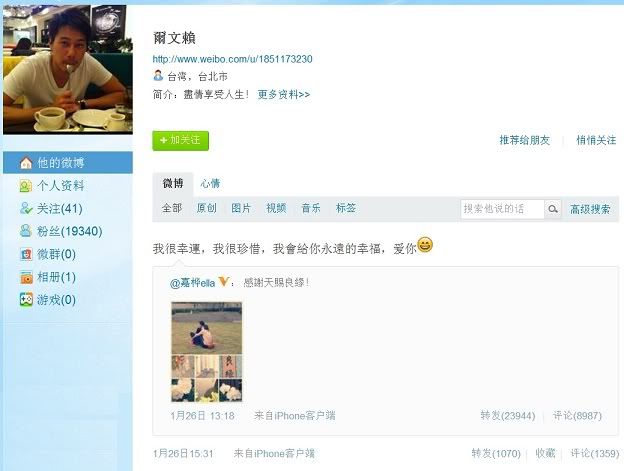 Alvin Lai 賴斯翔 : "I'm very lucky & i appreciate it a lot, i'll give you happiness forever, love you"

Ella Chen 陈嘉桦 : "Thank you, i love you too"
By the way, Ella's latest movie – 新天生一对 (Perfect Two) is out in Hong Kong/Taiwan/China.
*I wonder why Malaysian movie distributor didn't take up this film to be out this Chinese New Year. BOOO.
Check out the trailer below. Should be a touching movie. Ps : The kid is a damn good actor.
Anyways, Congratulations to Ella Chen 陈嘉桦 of S.H.E!
Related Links :
Ella Chen 陈嘉桦 on Sina Weibo
Alvin Lai 賴斯翔 on Sina Weibo