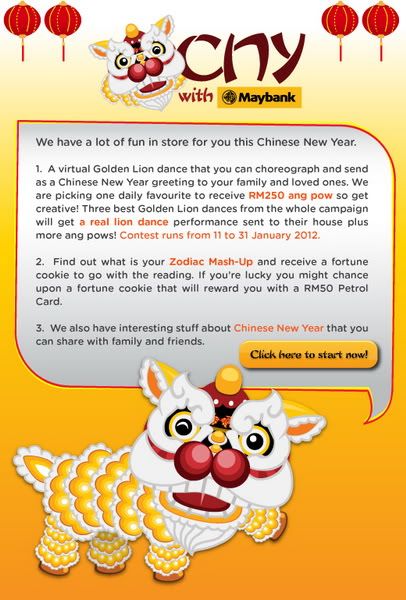 In less than 1 week, we'll be celebrating Chinese New Year and i can't wait to get my hands on all the good food with friends, gathering together exchanging laughter. I'm all gear on with CNY mode activated and this happy happy cheerful CNY mode will last for approx. 3 weeks till the next CNY comes. If you're still not in the mood for Chinese New Year yet, i suggest you…… read on!! =D

Maybank has launched an application on Facebook recently in conjunction with the upcoming Chinese New Year festive period and after going through the game, i must say that it's interesting. Hehehe. Well, there are 3 main parts in the application itself.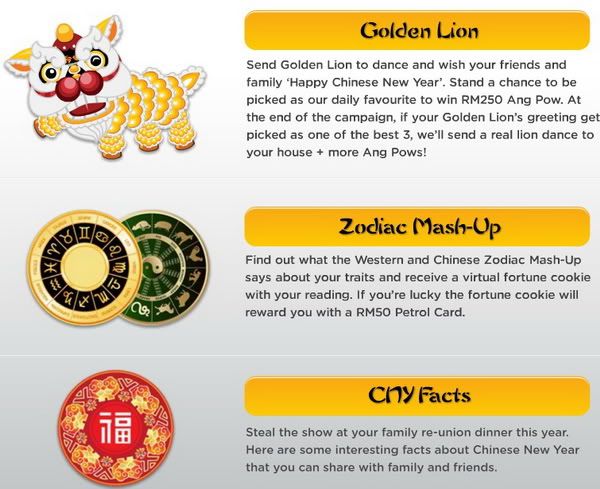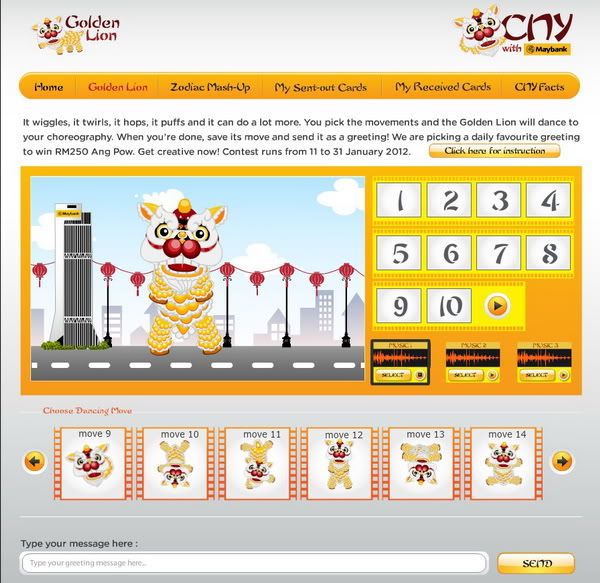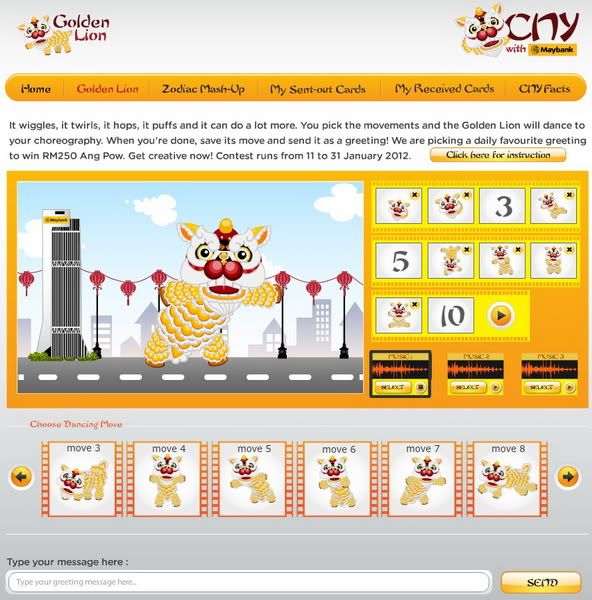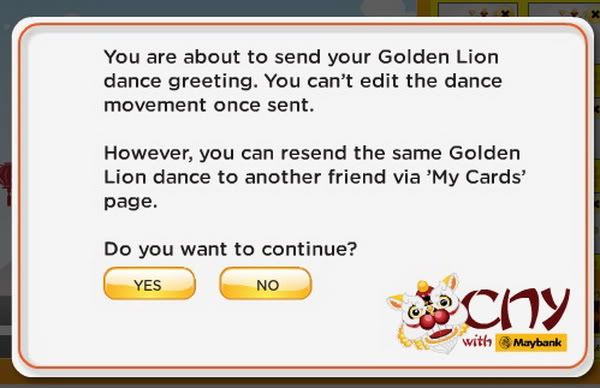 GOLDEN LION
In the first part, you are able to choreograph a virtual lion dance and send it to your friends and family as a Chinese New Year greeting card. It's pretty fun playing around with different combinations where they actually let you choose from 20 different moves for the lion dance. With 3 different Chinese New Year background music to choose from. LOL!!!
Here's the detailed steps 
Choose one of the three background music available,
Choose 10 different/same moves then drag and drop into the fram
Type your messageto go with the dance
Preview the dance, delete/replace any unwanted moves
Send when ready
So yeah, it's quite easy, you just choreograph a virtual golden lion dance & send as a CNY greeting to your friends/family. The best thing is there are daily favorite picks to receive rm250 Ang Pow!!!!! Also, 3 best golden Lion Dance in the whole period (11 Jan – 31 Jan 2012) gets a real lion dance performance sent to their house plus more Ang Pows!!! That would be cool if that happens to me, i never had a Lion Dance performance in front of my house hahaha!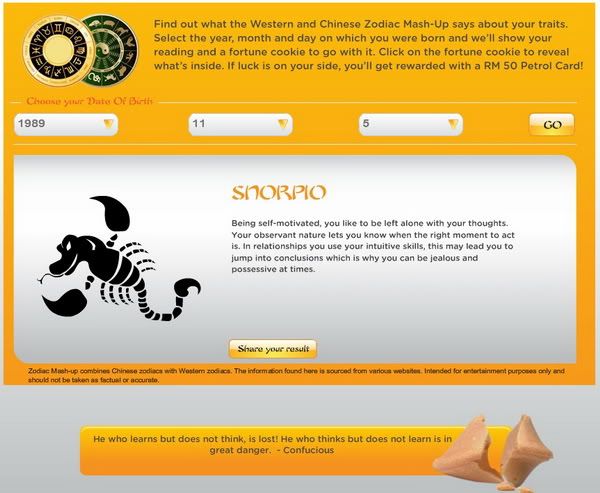 Zodiac Mash-up
If you're done with the virtual lion dance choreography, you can then find out what is your Zodiac Mash-up and receive a fortune cookie to go with the reading. If you're lucky enough, you'll get to crack a fortune cookie that will reward you with a RM50 petrol card!!!! (I've tried like 30 times earlier just now but still fail to get that, need to try more later roar!!!)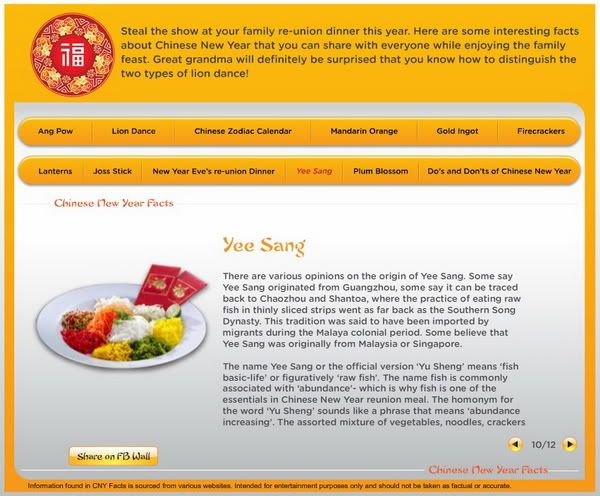 CNY Facts
Last but not least, you can go to the CNY Facts area to check out a number of facts in related to Chinese New Year, i have to say that there are more than 50% of the things included there which in never knew. LOL. Shame on me =X Anyhow, check it out, it's really interesting.
Of course, the main focus will still be the 1st part of the application that i've mentioned above. As a matter of fact, i'm trying to select the best move for the different background music in terms of audio sequence and see if which one is better, with 20 moves and 3 songs to choose from, it will take me some time before i come out with a WINNING virtual lion dance!!! Do try out yourself and see if you can come out with something really creative and interesting. =DD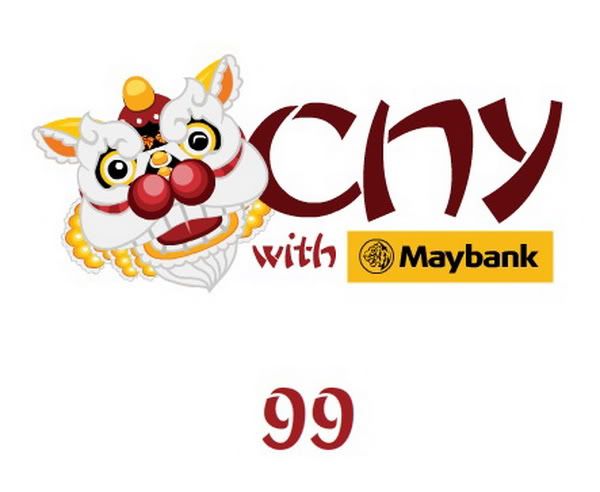 That being said, i hope that this can activate your CNY mood and make you smile welcoming the Chinese New Year 2012 that is just next week. Can't wait for it!!! Do feel free to share this to your friends and family as well to cheer them up =DD
Click here to play the game!!
3 Flares
Tweet
Email to a friend
3 Flares
×