I'm really impressed on how Kpop has taken over the world in recent years with hordes of fans inviting Korean artiste with open arms & hearts. Earlier today, i had the privilege to attend 2 sessions with a boyband group from South Korea under JYP Entertainment – 2PM. The press conference of their Asia Tour live in Malaysia as well as the Hi-5 Session with hundreds of lucky 'Hottest' (Name of 2PM fans)
For your information, a few big Korean acts is under JYPe which includes Wonder Girls, miss A, 2AM, 2PM & etc. Rain was one once under JYPe as well.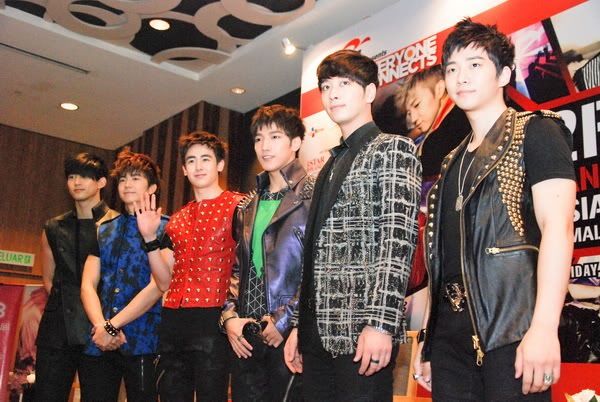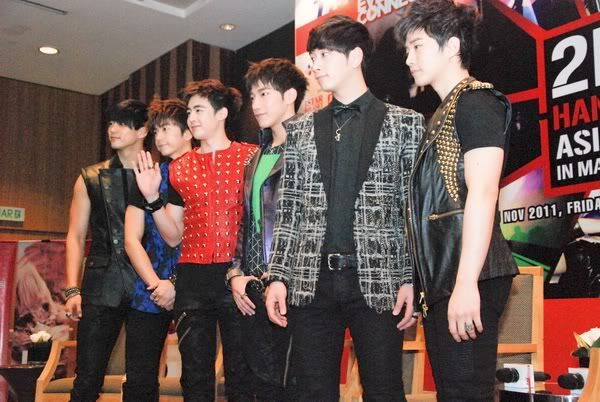 No offence to all the hottest out there, but i'm not really familiar with this group 2PM, however, on first glance i have quite a good impression on all the 6 members - Junsu, Junho, Nichkhun, Taecyeon, Wooyoung and Chansung. The press conference started around 3.30PM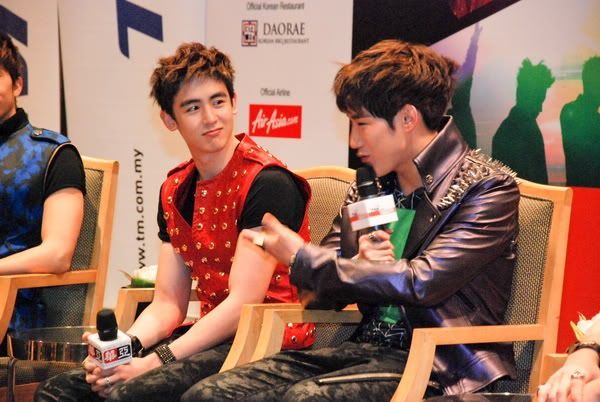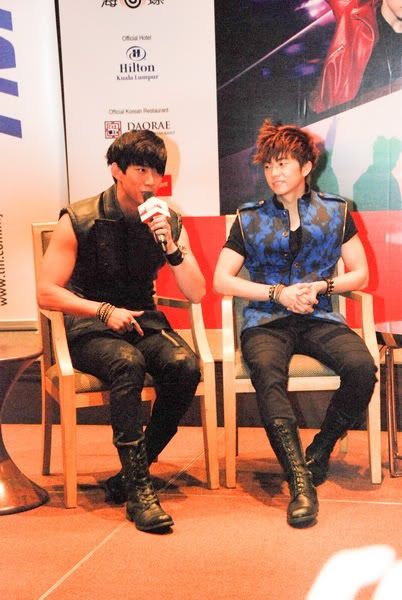 They are very down to earth with a friendly charming smile + most of em' can speak real fluent English. Answering every single  questions from the floor by local media personnel as well as cracking a few jokes, these built up dudes seems like they can't wait to take over the stage at Stadium Negara tomorrow.
In the press conference, they mentioned that they were welcomed with cheers from local hottest when they touched down at KLIA and the atmosphere was superb. Besides giving their best performance tomorrow which includes 3 main elements – Manliness, Sexyness & Coolness, there'll be a few surprises for the fans here in Malaysia so stay tuned for the concert!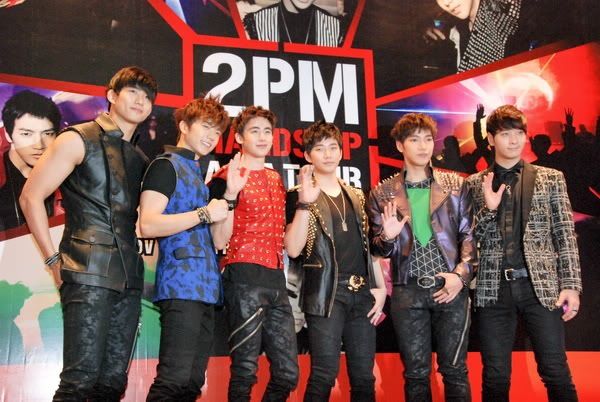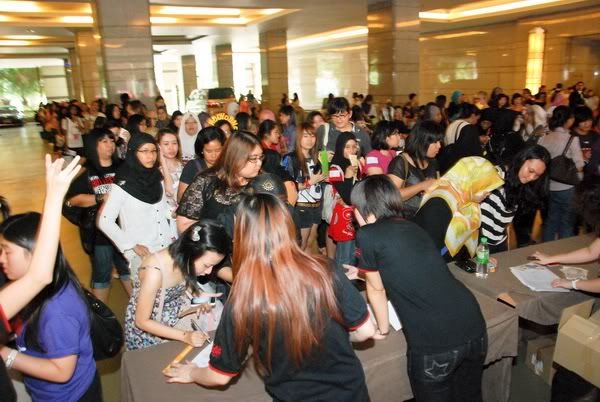 The press conference lasted around 1 hour if i'm not mistaken before they left the hall to be interviewed by various local media parties. Went to the parking area where hundreds of fans are starting to gather at around 5PM then for the Hi-5 session with 2PM. 99% of em' are girls – expected. Ha!
The rest of the story, i don't need to talk much about it right? Fans were screaming, 2PM came out, they screamed even louder but ohhh, the fans greeted 'Selamat Datang 2PM' when they stepped into the hall.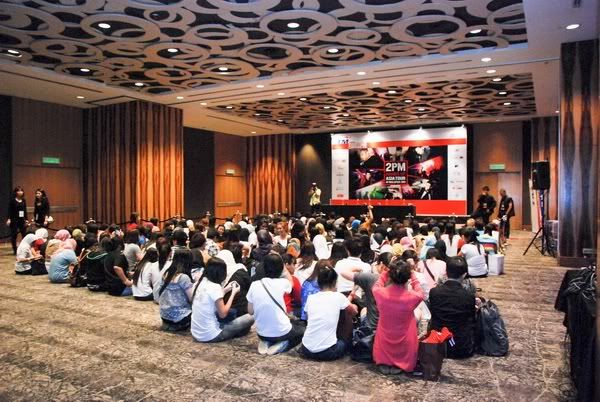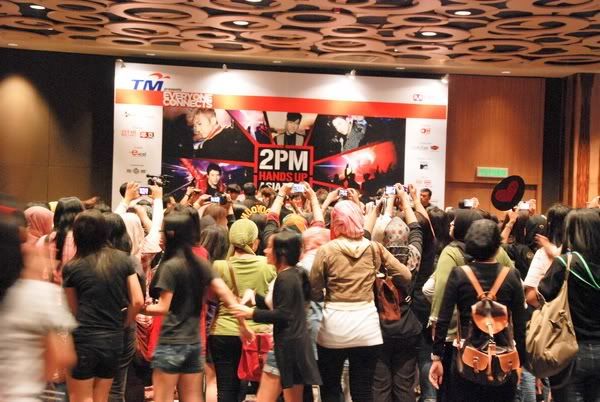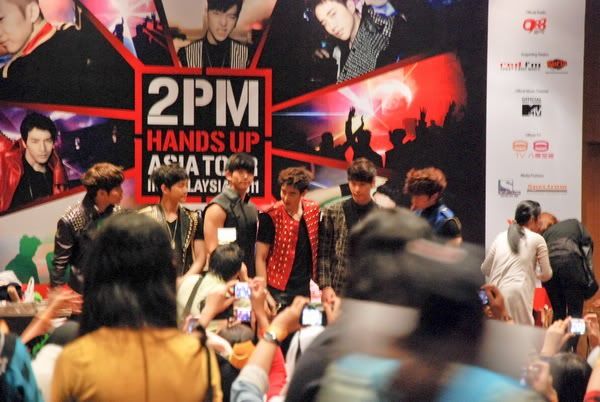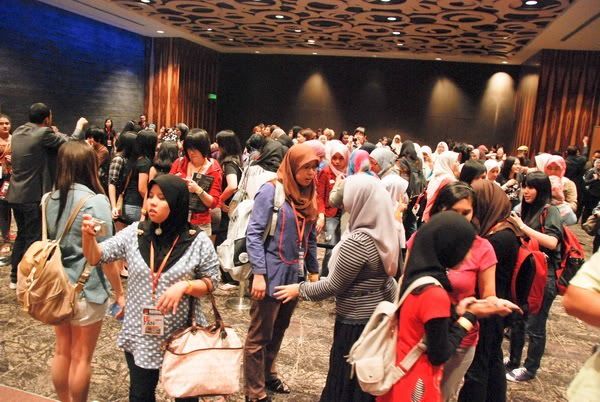 The Hi-5 session lasted around 30 minutes before 2PM leave for Stadium Negara to do their rounds of rehearsals. Very interesting first-hand experience witnessing Kpop fans meeting their fav. idol face to face.
So who's going to attend the concert tomorrow? If yes then SEE YOU there!!!
*For larger resolutions of the pictures above – Click Here
41 Flares
Tweet
Email to a friend
41 Flares
×