Just watched 4 videos which made me go Wow!
I know that Cristiano Ronaldo is one of the top footballers in the world. He's exceptional strong offensively and defenders fear him when they have to face him on the pitch. What i do not know is the scientific facts backing up the statistics with him playing 50-65 games per season scoring 40 goals.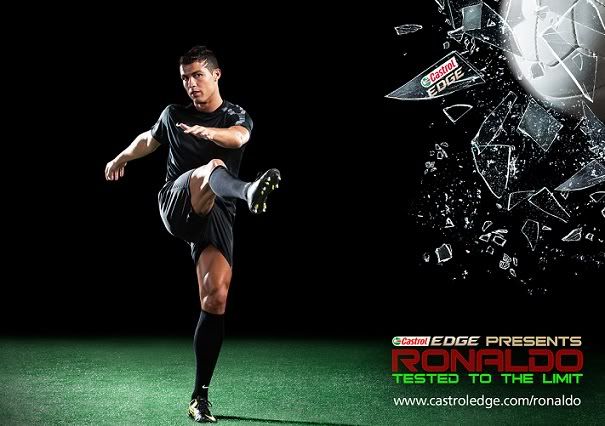 When you know about the scientific results after the test ran & conducted by experts on him from 4 aspects, you'll be impressed. Seriously, watch the videos below! Very interesting stuffs.
Castrol EDGE proudly presents a film-documentary starring one the world's greatest footballers, Cristiano Ronaldo, showing what makes him one of the best footballers of his generation. The film takes an in-depth look at the skills and strength required for Ronaldo to perform at the very highest level.

So how will Ronaldo respond when faced with the most extreme challenges?

For more visit http://www.castroledge.com/ronaldo
Body Strength
Sprint. Fast. Body size. Measurements. Muscles, force, gravity. Jumping abilities.
Mental Ability
Reading the game well. 13 moves in 8 seconds. Predict movements, looks at opponent body, analyze free space around, positioning, judge next movement. All happening subconsciously. Pick up information, analyze ball direction, speed, trajectory.
Technique
Free kick. Bones and Skeletal System. Pressure. Angle Dynamics. Aerodynamics. Speed of ball. 80 miles/hour
Skill
Quick on his feet. Footwork. Avoiding obstruction. No thoughts of failing. Moving Forward.
Cristiano Ronaldo is a weapon of mass destruction. Right?
*some company/brand please do the same testing on Messi kthxbai
11 Flares
Tweet
Email to a friend
11 Flares
×