If you don't know yet, beta testing has just started recently for the game Diablo 3 by Blizzard. Like just 2 days ago. It was reported that approx. 1000 Battlenet users got their exclusive invites to test out Diablo III since 2 days ago and the number will grow from time to time base on server's stability.
The Diablo franchise has gained massive amount of fans in the past decade and Diablo III is one of the most anticipated game in recent years. One of a kind.


Overview of Diablo III's Storyline

It has been twenty years since the events of Diablo II. Of those who faced the Lords of Hatred, Terror, and Destruction in the battle over the fate of Sanctuary, there are few still living who can bear to remember the horrors that the Prime Evils wrought upon the world. And of those who did not witness the terrible events firsthand, most believe the stories to be little more than myth. But something evil is stirring once again in Tristram, and it may already have claimed its first victim: Deckard Cain.

The fiery gates leading to the Burning Hells have begun to swing open, and the Diablo III beta test is officially underway. Invitations to participate in the beta test are now being delivered to the chosen heroes. As with beta tests for other Blizzard Entertainment games, the testing process for Diablo III will occur in phases. In addition to selecting players who have opted in via their Battle.net accounts,
Check out the game play video below
Below is another game play video featuring beta testers of Diablo III. Just that the channel is live (not 24 hours though).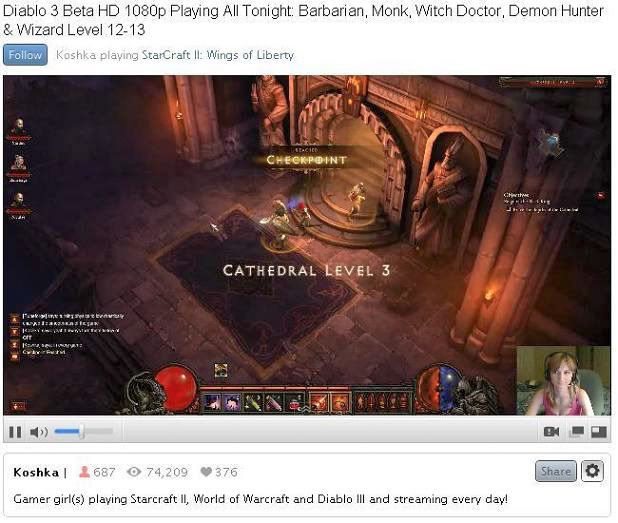 Watch live video from Gamer Koshka on www.twitch.tv
Will the game live up to expectations? Don't know. One thing i know is i definitely want to get my hands on this game!!
0 Flares
Tweet
Email to a friend
0 Flares
×