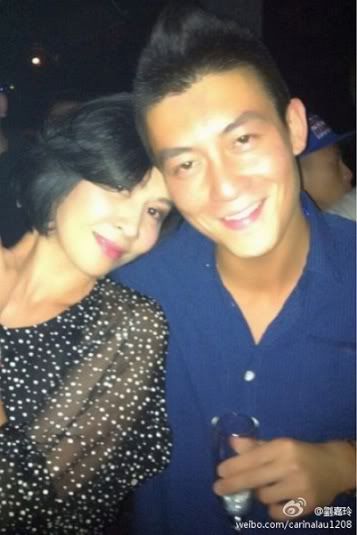 Just yesterday, Carina Lau 劉嘉玲 posted a picture of her with Edison Chen 陈冠希 through Sina Weibo 新浪微博 and the picture has since been shared like mad around which spread across forums, online news sites creating a new topic for netizens to discuss about.
Within 24 hours, the post was re-shared 21,000 times with 9,000 comments on that specific status update on Weibo itself.
The recent divorce of Cecilia Cheung 张栢芝 & Nicholas Tse 谢霆鋒 started off with a rumor saying that Cecilia bumped into Edison on a plane where they exchanged a few words as well as taking a picture together.
This causes many to relate Carina to Cecilia where they are currently speculating that Carina and Tony Leung 梁朝偉 will divorce soon as it has been rumored that their marriage is on the rocks for quite some time already.

From the message itself – 'You are a great person. Life is always tough. You got to have faith in yourself' from Carina to Edison, it might sound like just words of encouragement but to many people, it's not that simple.
A lot of people has since scolded/cursed/advised Carina herself. If you know Mandarin, do click here to read the comments yourself. More than 9 thousand of them. O_O
Seems like the after-effect of the Edison Chen Sex Scandal will still stay in many hearts for many years to come where every single girl who are related to Edison will be automatically pulled into the black hole.
*Just recently, there is already some negative news about Carina where a picture of her fully naked being exposed.
Felt sorry for all these celebrities. I wonder what kinda life are they going through dealing with all these stress especially when social media platforms coming in magnifying it.
8 Flares
Tweet
Email to a friend
8 Flares
×