Faye Wong 王菲 is one of the most popular Chinese Female singer in the 90s. Well known with her unique vocals and the 'cool factor' she possess, she left fans in shocked with a retirement at the peak point of her singing career during 2004-2005. After 7 years, she is FINALLY back!
The announcement of Faye Wong 王菲2011巡唱 Concert Tour in Asia attracted attention from various parties with the fans being the most excited bunch. Even singers from Hong Kong/Taiwan/China pledged to grab tickets to catch her live in concerts!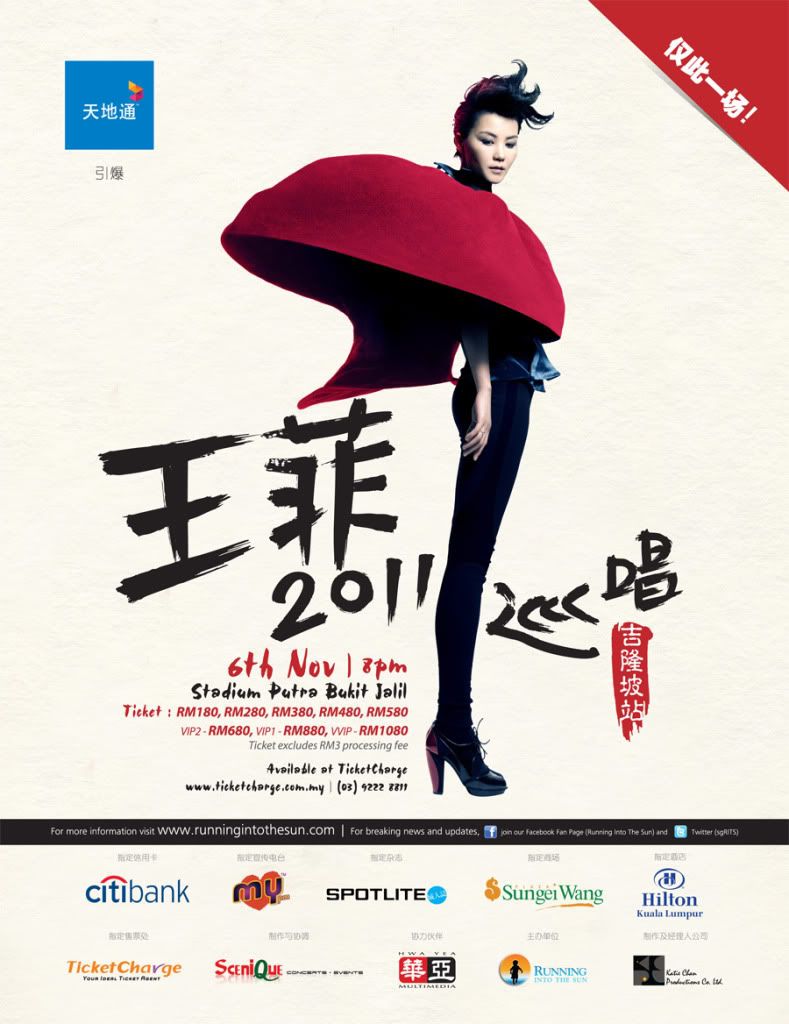 With that being said, YES, one of the stop in her concert tour will be in Malaysia and it'll be happening on the 6th of November this year 2011 at Bukit Jalil Putra Indoor Stadium!
This concert itself broke a local record with the title of 'most expensive concert ticket in Malaysia' priced at RM1080.
Official ticket launch for the concert Faye Wong 王菲2011巡唱 Live in Malaysia starts on the 20th of August 2011 (Saturday) at Sungei Wang &amp till 21st.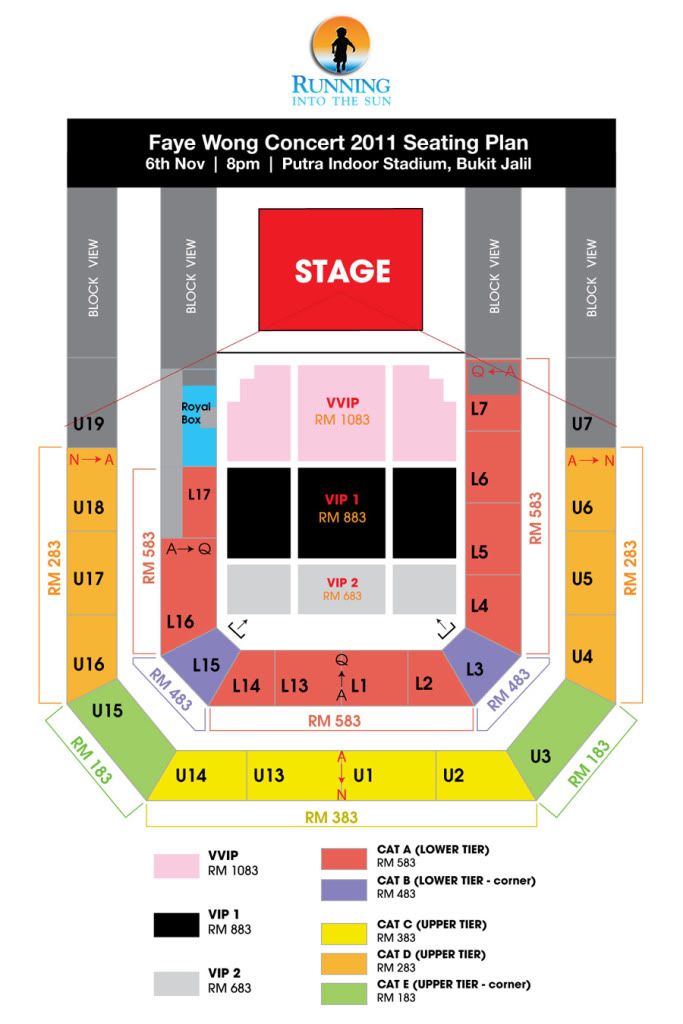 Citibank Priority : 19 August @ 11am
Public Sales : Starting 20 August @ 11am
Ticket Launch at Sungei Wang:
20 & 21 August @ 11am
Normal Ticket Pricing Details :
VVIP – RM 1080
VIP 1 – RM 880
VIP 2 – RM 680
CAT A – RM 580
CAT B – RM 480
CAT C – RM 380
CAT D – RM 280
CAT E – RM 180
Promo Ticket Pricing details for Citibank/Celcom users :

For your information, Faye Wong 王菲2011巡唱 Concert Tour broke records for Chinese Pop Music Industry in China where the ticket sales generated 2 Hundred Million RMB 人民幣 within 1 week itself. THAT IS RM100,000,000 in ONE WEEK!! O__O
Online ticket sales in Taiwan and China causes servers to crash and most of the time, 90% of the tickets will be sold off on the first day itself.
Better get your tickets asap if you're a fan of Faye Wong 王菲! I wonder how much is the resale value of the tickets for Faye Wong 王菲巡唱 Concert Tour Live in Malaysia 2011. Aha! =X
Related Links :
Faye Wong 王菲巡唱 Concert Tour Live in Malaysia 2011 Facebook Event Page
Faye Wong 王菲巡唱 Concert Tour Live in Malaysia 2011 on TicketCharge.com.my