It's now 4.32AM (GMT+8) in the morning and i am kinda in awe with the release of the first episode of 'Inside' by Intel & Toshiba in collaboration with Hollywood.
In the film, Rossum plays the role of Christina, a 20-something woman trapped in a room with only a 2nd Generation Intel® Core™ i7 processor-powered Toshiba Satellite® P775 series laptop and an untraceable Internet connection. Unable to determine where she is being held or what her fate might be, Christina uses the laptop to mobilize her social network, reaching out to friends, family and anyone else who can help her figure out where she's being held and how to escape.

Unlike most static productions, "Inside" engages the audience by enlisting them to be a part of the film through social media. Viewers are encouraged to connect with Christina, tweet clues and post advice to her Facebook wall. The film will air in short episodes starting on July 25. During this time, viewers will be invited to activate their social channels and help decode Christina's dilemma by posting tips, insights, ideas and clues. The editing team, led by Emmy-winning editor Josh Bodnar, will incorporate posts that best fit the storyline into the episodes.
Source : Intel
Hey Guys -Hollywood's first social film, Inside, begins in just a little under 4 hours at 11AM PST/2PM EST. Social film is a live entertainment experience that blends film and social media. You'll be able to participate in real time over the following days, so check back when it begins to learn how to play your part!
Source : The Inside Experience
2 weeks ago, i blogged about this social film project which is a creative collaboration between the 3 parties mentioned above and today is the day where the officially kick start the whole series of Hollywood produced short film.
I accessed Christina Perasso's Facebook Page at around 3AM where the page has 2.2k likes at that time. 1 hour later, there're 800+ more likes.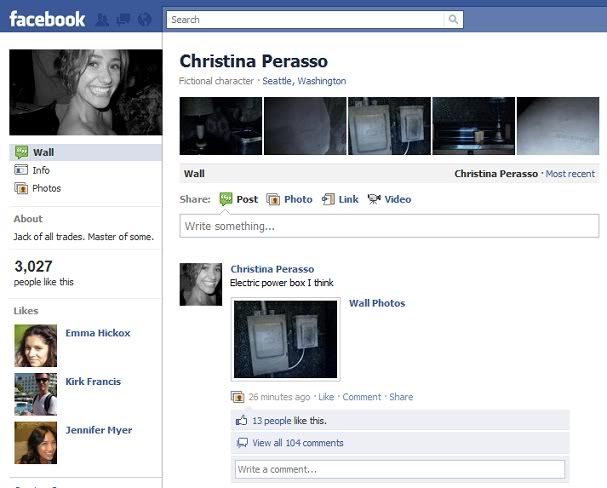 There are 3 other characters pages linked to her page with the name Kirk Francis, Jennifer Myer, Emma Hickox and people have been leaving messages on Christina's Page almost every second. If you're following the wall post on her page, it kinda seem like the incident is happening right NOW and everyone else is connecting/communicating with her from the place she was trapped (shown in the video above) giving her ideas on how to get out from there where she's using a Toshiba Laptop with Intel INSIDE. Brilliant.
Totally loved how the team behind are executing this whole campaign and i wonder how many people are behind the team who manages all the accounts up front from Facebook to Twitter to YouTube where the main interactions happens on Facebook itself.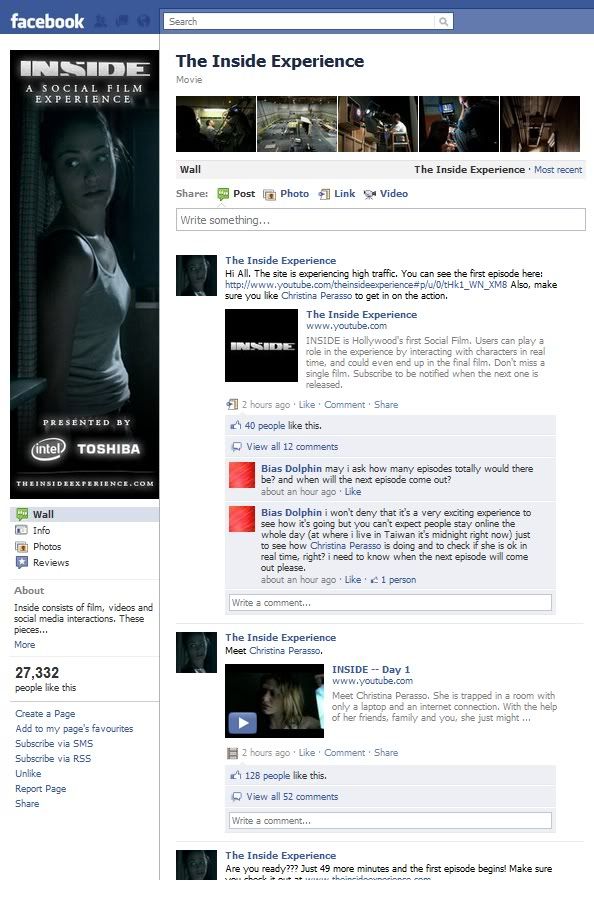 The main website [http://www.theinsideexperience.com/inside/] has been getting lots of traffic and at one point earlier, i was having problem accessing. I think it crashed due to high number of visitors.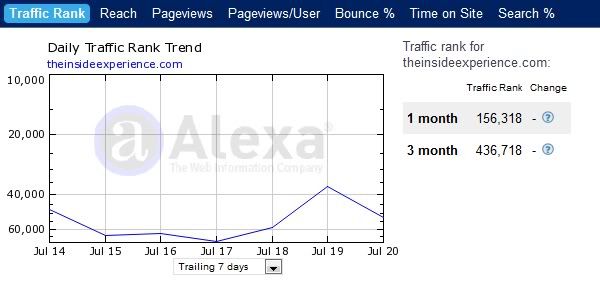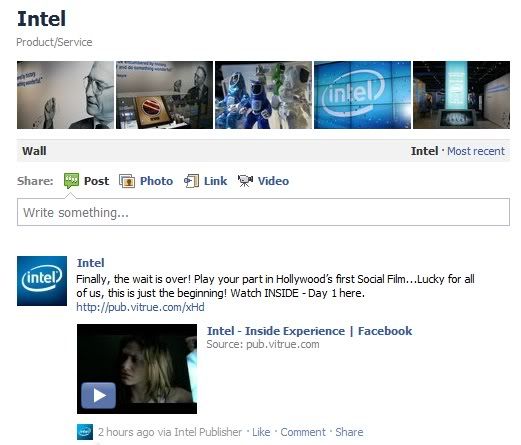 Intel and Toshiba are targeting that elusive younger generation increasingly immune to old-school advertising campaigns, and more prone to 'video snacking.'

"This is a step above advertising," says Tom Hume, director of marketing communications for Toshiba. "It takes traditional one-way communication and turns it on its head."
Source : Brand Channel
Too bad it's aimed at US consumers where all the stuffs would be updated when we're sleeping here in Malaysia. Anyways, i'm impressed. Wonder how far can this campaign go. =D
Can't wait for Episode 2!!!
Related Links :
Intel® and Toshiba Launch Social Media Film Project – "Inside"
Intel on Facebook
TheInsideExperience.com
The Inside Experience on Facebook
The Inside Experience on Twitter
Christina Perasso's Facebook Page
Christina Perasso's YouTube Page
Christina Perasso's Twitter Page
Kirk Francis's Facebook Page,
Jennifer Myer's Facebook Page
Emma Hickox's Facebook Page