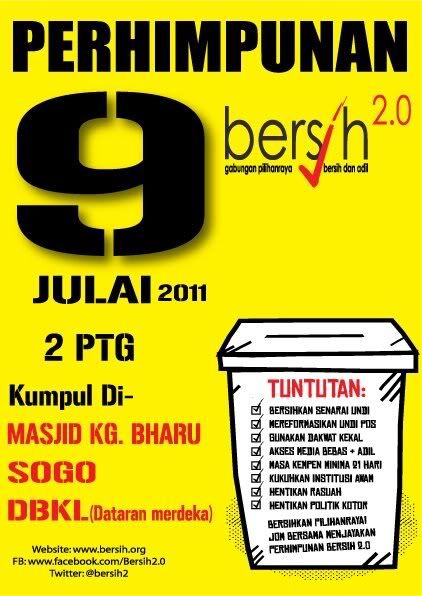 1 Rally, 1 Day, 1 Nationality, No Race Differences
Demands:
1. Clean the electoral roll
2. Reform postal ballot
3. Use indelible ink
4. Minimum 21 days campaign period
5. Free and fair access to media
6. Strengthen public institutions
7. Stop corruption
8. Stop dirty politics
Here's some statistics for Bersih 2.0 Rally which ended recently :
22 Hours Lockdown of KL City
50,000 Participants
191,190 Twitter Users with 853,373 Tweets
2.656 Users Tweeted 1,316 Photos
1,600 videos upload on YouTube
1667 Arrested
*Statistics above are just in 9th July 2011
As of Now :
– There're currently more than 2k videos uploaded on YouTube.
– More than 120k users changed their profile pictures to include Bersih Logo through 6 different PicBadges
–169k fans on Bersih OfficialFacebook Page.
–17k followers on Bersih Official Twitter Account
– 6 #bersih videos in top 50 Most Viewed videos on YouTube for Today (15, 22, 30, 38, 42, 43) – http://bit.ly/ckeOx6
– 2,774,812 total views from top 50 #Bersih Rally videos which was uploaded in the past 2 days based on the single keyword "Bersih 2.0" on YouTube
With Facebook as the main social media platform for Malaysians, assume every fans are Malaysians with an average of 200 friends on their FB network, if EVERY fans share the post from Bersih Facebook Page, imagine how many other people would further know about it & share it out.
Of course, the numbers above would most likely increase over time and with the power of Social Media, it would go on and on for quite sometime with quite a big multiplier factor. Again, there're more stuffs which aren't easy to track like the conversations on Facebook, the comments & likes on such conversations & the amount of shares – media(picture/video) on Facebook itself.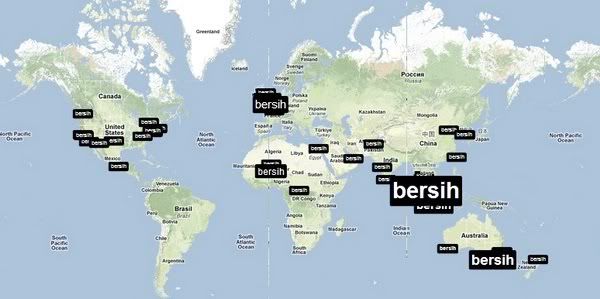 Tweets on Bersih – Worldwide
Malaysia
Population – 28 Million
Kuala Lumpur population – 1.6 Million
Internet Users – 17.5 Million
Facebook Users – 10 Million
17,500,000 Internet users as of April/11 (5,000,000 Broadband Internet Users, 10,000,000 3G Internet Users)
Truth has been told by many first hand participants who walked for themselves and not for any political parties, now all of these have to be shared to more people out there. Think hard & make the efforts of 50k Malaysians who took it down the streets worth it. Spread the pictures, most importantly the videos out.
Previously, someone asked, will all these #BersihStories last till the the 13th General Elections of Malaysia. Then came another question, how many of you who supported Bersih 2.0 rally are in fact a registered voter?
After viewing the pictures and watching the videos, i really do believe that there's hope in Malaysia. I hope you feel so too.
Malaysia Boleh!