Alright i didn't know that the event aims at getting a Guinness World Record Title for the Most People Playing in a Mobile Phone Game Relay. All i knew that there'll be an 'Angry Birds' event going on at Low Yat Plaza on the 11th of June 2011.
Wanted to go but was too tired to head out yesterday after working in the morning.
So well, after reading some comments on both Twitter & Facebook, i felt like writing this post on the event.
I think that Nokia is really trying too hard to gain back the hearts of the people out there. Instead of focusing on what they do best in the past which is making super awesome user friendly mobile phones for everyone, they continue to create all sorts of "pointless" hype here and there with events like this.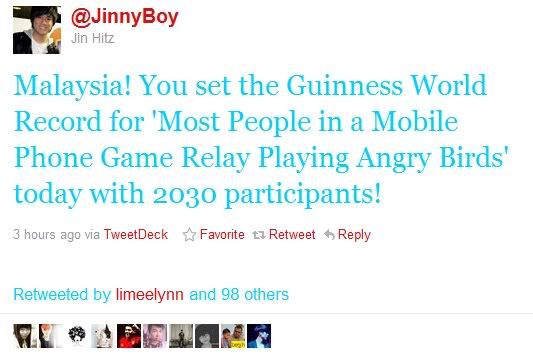 You all do know that 2030 participants is really not that MUCH when you put such a big word like WORLD BIGGEST associating with Angry Birds right? Then again let's just say that 2030 of participants is really an impressive number and woohoo it's a record breaking moment but i gotta say, all the credits should go to Angry Birds not Nokia.
If you've seen updates be it on Twitter or Facebook yesterday, you'll realize that people were commenting that Low Yat Plaza was trending on Twitter locally because of the Angry Birds event but everyone seem not to noticed that NOKIA was associated with the event.
Even if they know, they don't care much?
By the way, after checking back some tweets searching with different keywords on Twitter, most users just RT people's tweet on promoting it. There weren't really much who attended + commented on HOW WAS the event. I wasn't there so i couldn't say that was it awesome or sucky.
I really don't know what is the main objective of the event Hmmmm.
B part of the Guinness World Record by playing Nokia Angry Birds now at Lowyat Plaza KL! #nokiamyangrybirds
Refer to the image above, even on a complaint that my friend made about the event, Nokia wasn't mention at all. Boo.
YAY to Angry Birds nay to Nokia
Nokia, please reset your priorities. It's really sad seeing Nokia going down because i used to love Nokia a lot.
*Check out the pictures posted by Grey Review on the event!
**Do you know that both Rovio Mobile (Angry Birds Origins) & Nokia are from Finland?
***Oh and it's funny that Nokia Malaysia still insist on getting this freaking hardcore Apple fanboi to promote their products/events. Really funny.