第22届台湾金曲奖颁奖典礼 Taiwan Golden Melody Awards 2011 just ended last Saturday with Jay Chou 周杰伦 & Karen Mok 莫文蔚 winning the best Male/Female singer of the year!
What attracted me to this awards is A-Lin's performance! Just saw someone posting it on Facebook and went on to Sina Weibo to find lots of people sharing it as well. Loved it!
表演:A-Lin-歌姬魅影
曲目:說了再見、她說、你不知道的事、離開我、慢慢等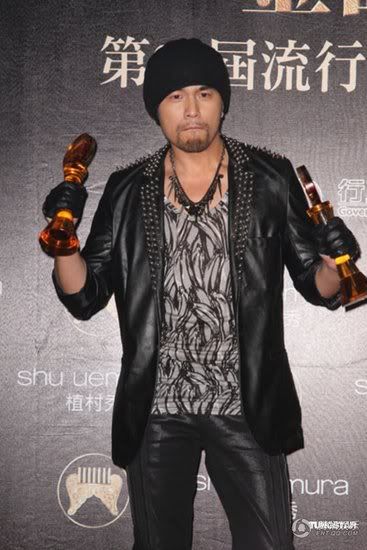 Well there were quite a few highlights during the event but i'm too lazy to state it down after reading a few articles but anyways here's the winning list of Taiwan Golden Melody Awards 2011 第22届台湾金曲奖颁奖典礼!!!
最佳国语专辑 周杰伦《跨时代》
最佳国语男歌手 周杰伦试听
最佳国语女歌手 莫文蔚试听
最佳年度歌曲奖 李宗盛@纵贯线《给自己的歌》
最佳新人 韦礼安试听
最佳乐团 MATZKA
最佳演唱组合 大嘴巴
最佳音乐录影带 徐筠轩(Hebe《寂寞寂寞就好》)
最佳编曲人 蔡科俊(周杰伦《免费教学录影带》)
最佳作曲人 李宗盛@纵贯线《给自己的歌》
最佳作词人 李宗盛@纵贯线《给自己的歌》
最佳专辑制作人 洪敬尧(《恋花》)
最佳单曲制作人 王治平(Hebe《LOVE》)
最佳台语男歌手 黄文星
最佳台语女歌手 黄妃
最佳台语专辑 江蕙《当时欲嫁》
最佳原住民歌手 林广财试听
最佳原住民专辑 舒米恩《Suming舒米恩首张个人创作专辑》
最佳客语歌手 栾克勇
最佳客语专辑 栾克勇《独1无2 反串客》
演奏类最佳专辑 无限融合党《TIMELESS FUSION PARTY》
演奏类最佳专辑制作人 雷光夏、侯志坚(《第36个故事》电影原声)
演奏类最佳作曲人 侯志坚(《这就是城市》)
特别贡献奖 黄敏
最佳专辑包装奖 刘悦德(白目乐队《Kiss Your Eyes》)
Oh btw, Karen Mok 莫文蔚 announced that she'll be getting married at the end of this year with her first love at 17yrs old.
Congratulations!