Today, i'm going to tell you a story about a Man and His Lamborghini.
Man Mr. Han 韩先生 is from Qing Dao 青岛, China 中国.
Man is filthy rich
Man bought a Lamborghini Gallardo L140 worth Approx. RM1.5 Million in May 2010.
Man failed to start engine on Nov. 29 2010.
Man contact dealer and sent car to workshop.
Man is angry when the problem wasn't resolve.
Man is more angry when the bumper & chassis were damaged after the car came back from workshop.
Man complaint.
Man being rejected/denied.
Man complaint to higher authorities.
Man being denied again with nobody taking up responsibilities.
Man wants to protest.
Man hires a group of people during World Consumer Rights Day – March 15 2011.
Man witnessed and recorded the whole process of his car being destroyed by the group of people he hired.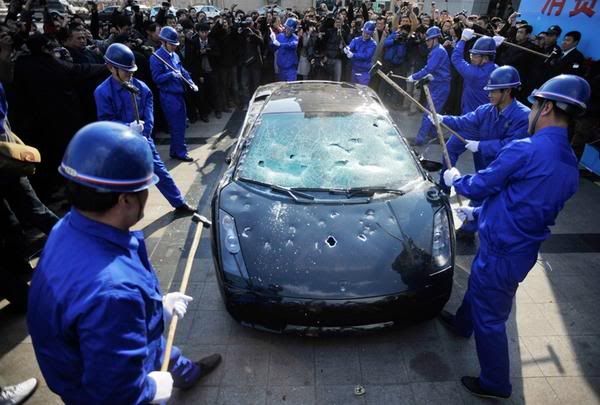 OK i'm done with the story. Now it's about ME not the Man.
I am very poor
I am totally amazed
I salute the man
I wonder what happen to the "My Honda Tak Guna" dude from Malaysia.
Any idea on what happened? Hmmm..
Oh by the way, from the 5 minute search on Sina Weibo 新浪微博, it seems like the guy in the picture below is THE MAN.