Barisan Nasional has retained the Tenang state seat with an increased majority of 3,707 votes. Lee Chong Wei lost to Lin Dan in Korea Open. NOT interesting.

Jess Lee Jia Wei 李佳薇 won the singing competition 超級星光大道7 in Taiwan = AWESOME!!
One of the best Chinese Singing Competition in the region since 7 years ago, Superstar Avenue/One Million Star 超級星光大道7 has been the dream stage for various individuals. Quite a number of Malaysians have challenged the stage before but non of them have really impress the audience in Taiwan 台湾.

0110130 超級星光大道 8.李佳薇:回家

20110130 超級星光大道 13.李佳薇:Listen
and well Jess Lee Kar Wei 李佳薇 made it!! She can SING!! Scoring full points on both songs in the finals with a record breaking of 4 times reaching 30 full points in the whole competition proves more than enough that Jess Lee Kar Wei 李佳薇 deserved the win.
Before she sang the 2nd song earlier just now, she requested that she say these out : "Terima kasih kerana menyokong saya, saya akan buat yang terbaik, saya boleh, Malaysia boleh!"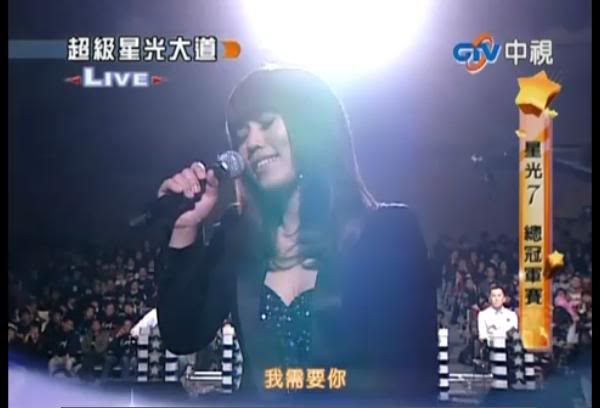 Sam Chen 陈泽杉, the current president of Warner Music's China district even praised Jess Lee Kar Wei 李佳薇 saying that she can be a recording artist already!!
Quoting what my friend just said, it's quite a SHAME that a Malaysian have to work hard and travel to Taiwan alone joining a singing competition there to make a name for herself.
No NOT Shame to Jess Lee Jia Wei 李佳薇. SHAME to Malaysia's Music Scene!!
Now that she just won the competition scoring herself a recording deal with Warner Music Taiwan, i guess her album will be on the way soon!!!
Fellow Malaysian Jess Lee Kar Wei 李佳薇 who's from Seremban is now RM100 thousand richer and will be in the same recording company as Jolin Tsai 蔡依林!!!
Good for her. Go watch the videos above lah!! =)
30 分满分!!! MALAYSIA BOLEH!!!
---
Added on 1st Feb 2011

Jess Lee Kar Wei 李佳薇 on Malaysian Idol in 2006

Jess Lee Kar Wei 佳薇 – 趁早 Astro新秀大賽(選拔賽2)in 2008

Jess Lee Kar Wei 佳薇 – Lydia Astro新秀大賽(選拔賽3)in 2008

Jess Lee Kar Wei 佳薇 – 永遠等待+izinkan astro新秀大賽翻身賽(選拔賽5)in 2008