With more than 20 thousand page views on 2 posts combined posted here in this blog about the much anticipated Jay Chou 周杰伦大马超时代世界巡回演唱会 The Era World Tour Concert LIVE in KL, Malaysia 2011 with loads of inquiries about it, the ticketing details for the concert itself is finally out and it will be available on sale on Speedy Outlets as well as on www.ticketcharge.com.my starting from 27th of November 2010 onwards.
I repeat!!! Tickets will be on sale from 27th of November 2010 onwards!

Since the announcement of the concert in KL, fans have been searching up and down for every information they can get and base on research, the demands are extremely high thus resulting in the organisers adding one extra concert to be held in Kuala Lumpur, Malaysia. It will be the first time Jay Chou will perform in Malaysia for 2 nights in a row with a T-Stage incorporated with 3D technology with approx. 2000 LED lights/lasers & etc.
YES, that means that Jay Chou 周杰伦 will be performing for 2 nights on the 4th and 5th of March 2011 next year at Putra Indoor Stadium, Bukit Jalil.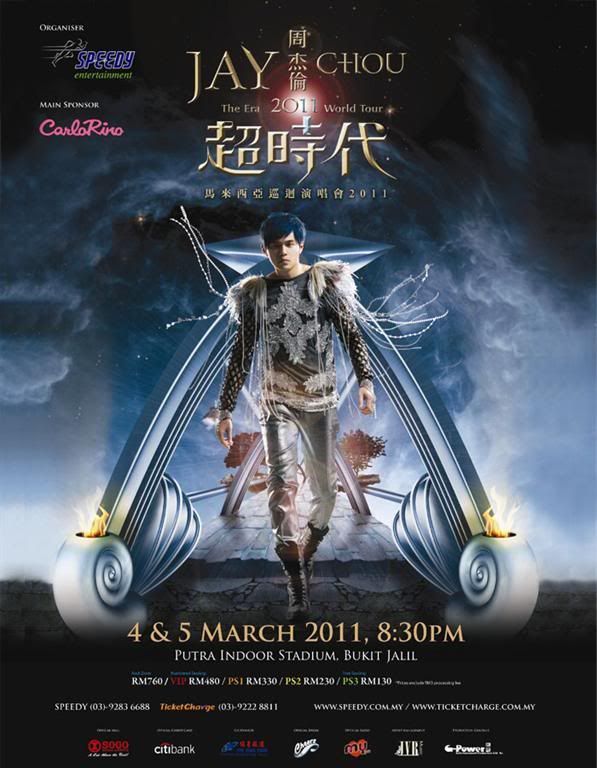 Note : Ticket Sales will be happening on the the 27th of November 2010 at 11AM. Those who are getting their tickets at KL Sogo Mall on the date itself from 11AM to 6PM will enjoy 10% discount.
Jay Chou The Era World Tour Concert 周杰伦大马超时代世界巡回演唱会 2011
Date: 4th & 5th March 2011
Time: 8pm
Venue: Bukit Jalil Putra Indoor Stadium
Rock Zone : RM760 (Blue Area)
VIP : RM480 (Pink Area)
PS1 : RM330 (Red Area)
PS2 : RM230 (Orange Area)
PS3 : RM130 (Yellow Area)
Speedy Counters : 03-92836688
Ticket Charge : 03-92228811
www.speedy.com.my
www.ticketcharge.com.my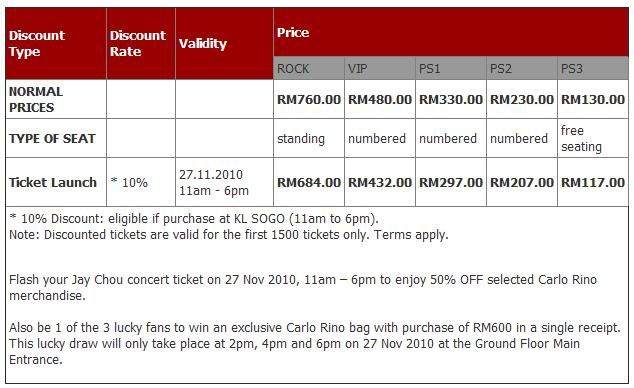 For further information, click here or here
*Will post more information if i get my hands on it. =)