Updated 11 November 2010 :
Does this means that Proton Inspira is better than Mitsubishi Lancer??
At a special media briefing held at Proton's Centre of Excellence recently, Inspira's project manager Zulkifli Bidin clarified several matters.

He said the Waja's replacement model originally started out as a joint development project between Proton and Mitsubishi Motors Corp three years ago.

After convincing Mitsubishi that Proton could improve on Lancer's driving performance, Mitsubishi gave the green light to the suspension tweaking.

Among the improvements were revised suspension rating and bushings for a more comfortable ride and the incorporation of thicker anti-roll bars for better cornering stability.
Source : The Star
Updated 10 November 2010 :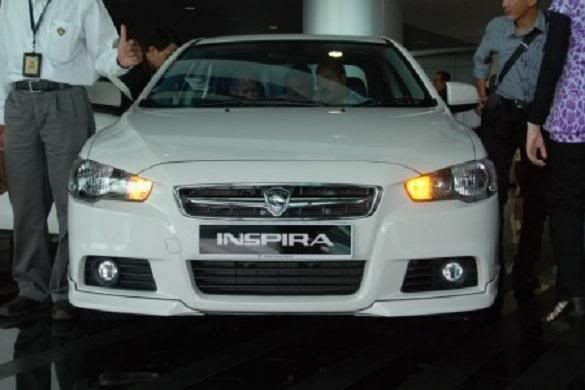 The Official launch of Proton Inspira happened just this morning at the Proton Center of Excellence in Shah Alam. Do GO HERE for full details of the launch with more pictures attached.
Here's the official price list for the new Proton Inspira (Proton Waja [Lancer] replacement unit) :
Proton Inspira 1.8 M/T – RM78,999
Proton Inspira 1.8 CVT – RM84,999
Proton Inspira 2.0 CVT – RM91,999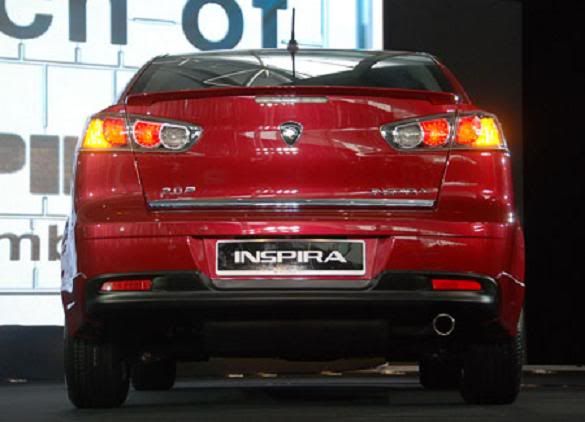 ---
For the past few months, i've been looking to buy a car for myself and with my current situation, i can only look at second hand Saga BLM. Yes not even the new ones but just second hand as i don't have the budget.
Anyways, just hours ago i came across this article on the replacement unit for Proton Waja with the name Proton Inspira. This model have been rumored for quite some time already where it looks 99% the same with Mitsubishi Lancer and well, there's a brochure on the new unit already.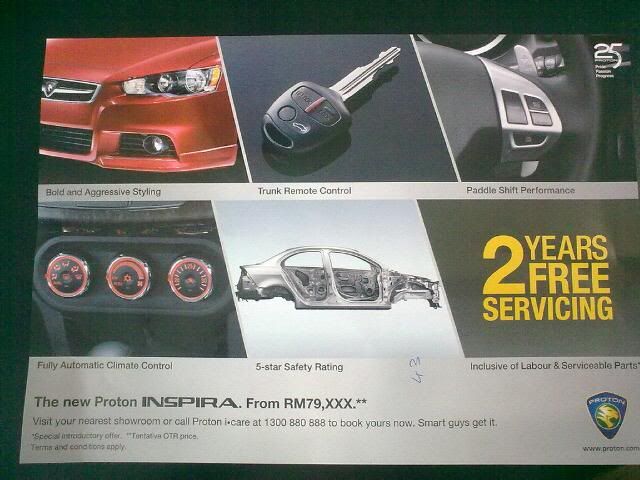 Okay, apparently it's a leaked brochure that is.
I don't know how inspirational will you feel but well the features from the brochure are :
-Bold and aggressive styling
-Trunk Remote Control
-Paddle Shift Peformance
-Fully Automatic Climate Control
-5-star Safety Rating
-2 Years Free Servicing
and the starting price for the new Proton Inspira is from RM79,XXX.
To be exact it will be below RM80,000 for 1.8 and below RM95,000 for 2.0.
Proton Inspira 1.8 is available for both Manual and Automatic transmission where Proton Inspira 2.0 is only available for Automatic transmission.
Interesting much and oh from the brochure, it states that you can start booking for the new model from tomorrow onwards with RM1000 down payment where the official launch of this new model Proton Inspira will be in November 2010.
I don't know how is 5 star safety rating like but i'm pretty sure the quality won't be as good as the ones being exported overseas. Talking about treating foreigners better than their own countrymen. Pfft.
If you could afford to buy one, will you do so?
*Oh and if you're selling your Saga BLM, contact me can? =D
Do check out the links below as i get the information from there.
Related Links :
Arena Kereta – Proton Waja Lancer adalah Proton Inspira, bukti dari brochure
Arena Kereta – Proton Inspira
Utusan Malaysia – Model Ganti Proton Waja