You know, the concert tickets for Jay Chou 周杰伦 The Era World Tour 超时代世界巡回演唱会 created quite a buzz in different cities from Taiwan to Hong Kong and the cities in China & etc. Tickets were snapped up like it's free and some of the people even resell it for prices a few times higher.
Well, quite a number of people have asked about information on the ticketing prices and here are some stuffs you Jay Chou 周杰伦 fans might be interested in.
The information i have at the moment is from this video posted 5 hours ago by a fellow Singaporean featuring an advertisement being advertised in Singapore.
A further search online leads me to the this Facebook Page with extra details.
This stage and seating plan for Jay Chou 周杰伦大马超时代世界巡回演唱会 The Era World Tour Concert LIVE in KL, Malaysia 2011 was posted on the page.
Not only that, the company offers tour packages as well with prices for different zones.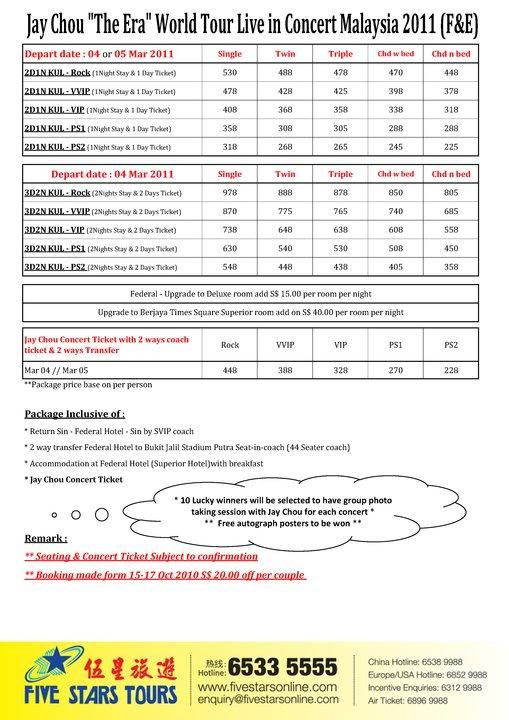 Jay Chou Concert Package fr$268
2D Kuala Lumpur
Departure dates: Mar 4, 5
Stand a chance to win autograph poster & group photo taking with Jay Chou!!*
Book during Travel Malaysia Fair enjoy $20 off per couple*

Package include:
– Return coach ticket
– 2 way transfer to bukit jalil stadium Putra
– 1N accommodation with breakfast
– PS2 Jay Chou concert ticket
Source
So well that might help take away some of your question marks. If you're a Malaysian, you can also roughly figure out how much are the concert tickets for each zones base on the table above.
Jay Chou The Era World Tour Concert 周杰伦大马超时代世界巡回演唱会 2011
Date: 5th March 2011
Time: 8pm
Venue: Bukit Jalil Putra Indoor Stadium
Will post more information IF i get my hands on it.