Latest Updates :
Important Note : Web Developers -To avoid Malware Attack infections, do not save the passwords in your FTP Client. Insert them manually each time. (via @Simonso)
Follow @Innity_Asia on Twitter
2.48PM : Innity Advices publishers not to load their ad script until they inform you to do so.
2.40PM : @Innity_Asia twitter account tweeted : The Innity server issue has been resolved.For details,click on http://www.innity.com/announcement/ or email us at report-malware@innity.com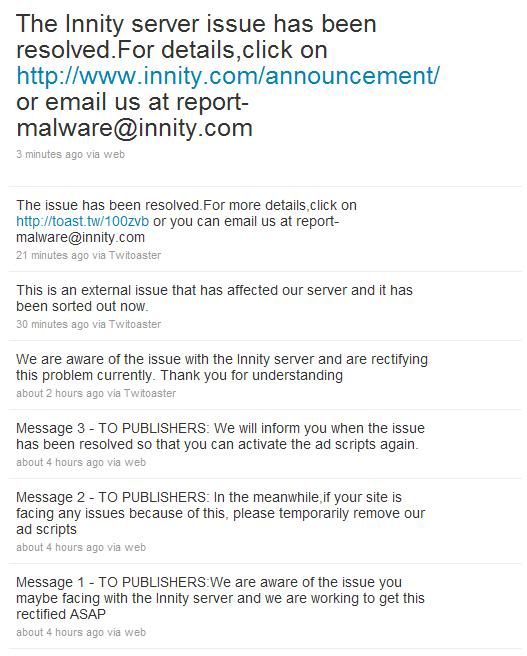 2.00PM : 673 domain(s) are currently affected
6.00AM : 644 domain(s) are currently affected
5.32AM : 596 domain(s) are currently affected
---
Last night i was trying to access petalingstreet.org but a different page appeared warning me that the site contains element which host malware.
A few hours later i saw someone tweeting that blogs/sites that have Innity Ads were all flagged as sites that might harm your computer by Google itself with Malware Attack Warning.
I searched more and found out that there were already quite a number of people complaining about it on Twitter and apparently, this problem exist since Malaysian Time (GMT+8:00) 5pm, September 19th 2010.

Has this site acted as an intermediary resulting in further distribution of malware?
Over the past 90 days, innity.net appeared to function as an intermediary for the infection of 3 site(s) including yiela.com/, insurance.us/, lintasberita.com/.

Has this site hosted malware?
Yes, this site has hosted malicious software over the past 90 days. It infected 596 domain(s), including cari.com.my/, okezone.com/, gudanglagu.com/.
Source : Screen Capture of Google Safe Browsing Diagnostics
The diagnostic report stated that innity.net indirectly got the malware through 3 sites which includes yiela.com, insurance.us and lintasberita.
There are 600+ domains which have Innity Ad codes affected in total and that includes sites like cari.com.my!!
Then again, i remembered that TheStar.com.my do have Innity Ads as well. Another safe browsing diagnostic search leads to this print screen below which verifies that TheStar.com.my was one of the 600+ sites affected with ad codes from Innity.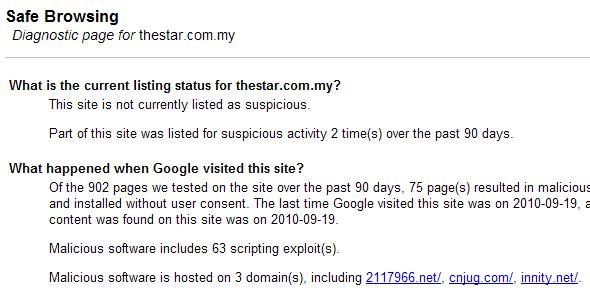 LowYat.net have reported that TheStar.com.my was marked as site with Malware on the 15th of September and that time Innity.net isn't one of the cause yet. I believe that the tech team behind TheStar.com.my removed all the Innity Codes when they found out about it in the last 13 hours.
You can access thestar.com.my at the moment.
However there are still hundred of sites which is currently marked as domains with Malware by Google and this warning will only appear if you access the sites with Firefox / Google Chrome.
Here are some of the sites that is affected by this Malware.
www.btimes.com.my
smashpop.net
rojaks.blogspot.com
justkhai.com
liewcf.com
petalingstreet.org
www.malaysianwireless.com
www.hmetro.com.my/
You are advised to remove the ad code temporarily to avoid losing substantial numbers of visitors. If you are using WordPress – Login to your wp-admin using Internet Explorer browser and remove the ad code. Follow the link to webmaster tools page by clicking the button " Why was this page blocked", then verify your site with Google. The fastest way is to use html verification and wait for stopbadaware/Google to crawl your site. It may take up to 24 hours for Google to whitelist your site.
Source : DataKL.com – Innity Ad Code Causing Reported Attack Page
If your site have Innity Ad Codes in it, do remove the codes by following the instructions above and you can check whether your web site has been cleared here.
At the mean time, there is no official announcement by Innity on this matter. Please view on top of this post for latest updates. Thanks!
*Information were gathered together with Yatz – Malware Attack By Innity Ads On Mozilla Firefox and Google Chrome