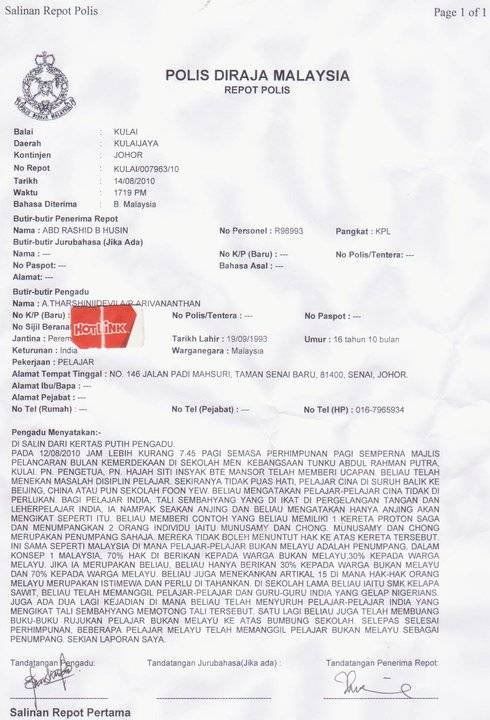 Police Report on Racist Remarks by Hajah Siti Inshah Mansor of Sekolah Menengah Kebangsaan Tunku Abdul Rahman Putra, Kulai
Education DG says Johor principal fiasco settled
By Asrul Hadi Abdullah Sani
August 18, 2010

KUALA LUMPUR, Aug 18 — Education director-general Tan Sri Alimuddin Mohd Dom said today it was just a misunderstanding — the allegedly offensive remarks by a Johor school principal — and the matter had been resolved.

Siti Inshah Mansor, the Sekolah Menengah Kebangsaan Tunku Abdul Rahman Putra principal, allegedly said that "Chinese students… can return to China," and likened Indian prayer strings to dog leashes during school assembly.

Alimuddin denied that the principal has been transferred from the school.

"There is no change, the issue was only a misunderstanding and the problem has been solved between the principal and students," he told The Malaysian Insider by SMS.

The police are currently investigating the case under Section 504 of the Penal Code for provocation which carries a maximum imprisonment of two years, a fine or both.

A total of 17 complaints have been lodged with the authorities.

Kulai Jaya deputy OCPD Deputy Supt Mohd Kamil Sukarmi told reporters that the police would be calling for the principal's statement to be recorded today.

On Thursday, the principal had reportedly made the derogatory remarks during the launch of the school's Merdeka celebrations.

"Chinese students are not needed here and can return to China or Foon Yew schools. For the Indian students, the prayer string tied around their neck and wrist makes them look like dogs because only dogs are tied like that," Siti Inshah was quoted as saying in at least one police report.

State Education Department deputy director Markom Giran has also said that the principal was on leave pending disciplinary action.

The school administration confirmed with The Malaysian Insider that the principal has been leave since yesterday and is expected to be back by Monday.

Yesterday Lim Kit Siang called on the government to remove the principal and said that she should be severely punished for the offensive remarks allegedly made during a school assembly.
Source : TheMalaysianInsider
If you're as restless as me reading the whole police report and the article on The Malaysian Insider, tell me what do you think? Apparently this piece of negative news came out like yesterday and is causing waves on a few social media platforms already and that's how i get to know about it.
I don't know what do you think about it and i really have not much comments about this whole issue since it's not the first time such thing happen.
Instead, i am actually thinking it from another angle.
Let's say that this is a plot of Optimus Prime to bring down The Bersatu Nation, then this Super Pet from the state of JustinBieber had an offer that is too hard to resist/reject to make such Roaring statements, so the Super Pet accepted the offer by the Optimus Prime and made the Roaring statements where Optimus Prime sits down and see how will the Bersatu Nation react on this. It's just part of a strategy of a bigger picture before the next Erection Day comes.
I mean like, a school principal making such remarks during the launch of the school's MERDEKA celebrations, she must have got lots of balls. What is the cause that triggered her making such remarks, if you're a school principal, will you think twice before you talk or just talk how you want according to your way.
Of course, anything is possible, but looking at the way on how it happen, it's a bit weird.
Okay, just ignore what i just said. Too much Prison Break for me in the past.
Anyways, if you don't really care about the stuffs above, this picture is for you.
*Pssst i still love my country Malaysia and i still believe the good in the people around.
**Sigh.