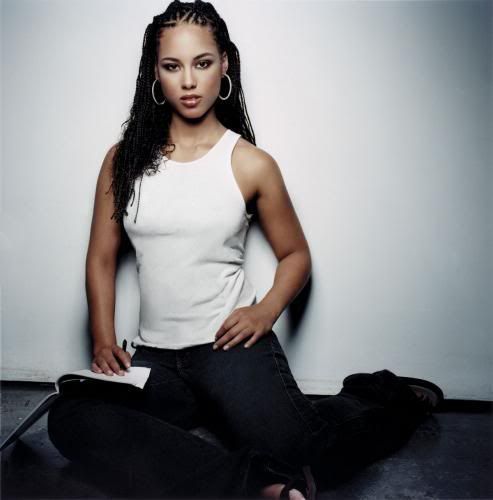 Yes, Alicia Keys, the talented multi-award singer songwriter is hiring a person, a social media expert as Head Blogger that would have his/her own unique way of expressing with a whole list of high requirements.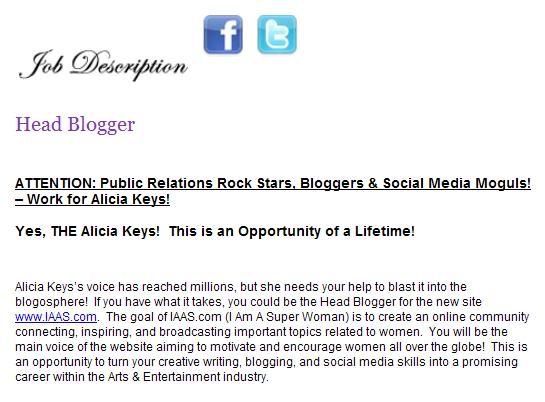 The news is still pretty hot and it just started yesterday on the 6th of April 2010 where Alicia Keys partnered with Monster.Com to find a suitable candidate for www.iaas.com
and so, i find it pretty interesting that how things have changed over the decade that companies and now even celebrities are looking for people to hire, people who are active on online social media(so called online social media experts).
That just proves how important social media tools are nowadays and the usage of such services are not to be ignored anymore where more and more people are going to emerge out of the blue and get hired just like that! Alright maybe NOT just like that. That person have to be SOMEONE.
But hey!
Who say Twitter sucks?
Who say Blogging sucks?
Did your parents ever forbid you from using the computer to access the internet?
Did your parents ever scold you during late night while you're busy "socializing"
Aha!! Well i didn't mean to ask you go and scold those people who condemn online social media, just saying #yorais !! =X
And oh, with the hiring of Michelle Phan by Lancome as their very own Video Make Up Artist that happened not too long ago, i am really interesting in how things will turn out in the future!
Social Media FTW!
For The World or For The Wind, lets see how it goes =D
*Michelle Phan landed her job through the Make Up Tutorial videos which she posted up on Youtube.
Oh if you're interested in BLOGGING for Alicia Keys, click on the link below, if you're not, click also lahh to see what's the requirements mah!!!
*btw i think maybe Xiaxue can do this haha
Related Links :
Monster.Com – Head Blogger Job in New York, US
www.iamasuperwoman.com