Its almost 2 weeks since the first Church Arson case that happened in Malaysia in this very decade.
Though there were attempted attacks on several other worship sanctuary after that, the majority of Malaysians have been doing a great job in maintaining their role in this country to avoid any complications that would make the whole scene bigger.
Only mouths involved with debates and discussions going on where the younger generation, the ones that were quoted to be NOT matured where their opinions aren't taken into consideration were the ones who step up emphasizing peace and tolerance in despite of the various issues & complications.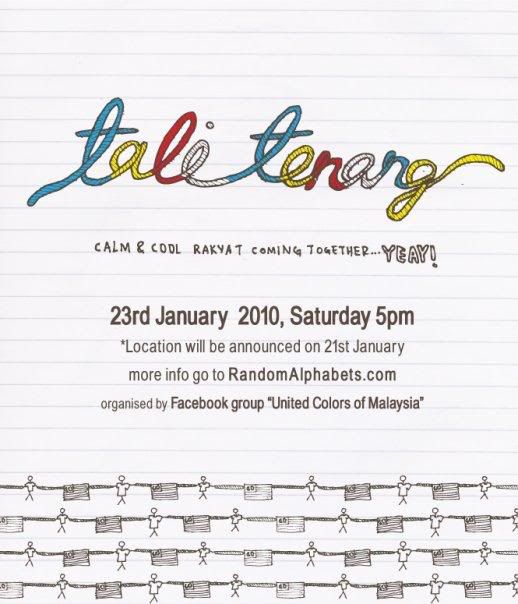 Everything's Gonna Be Alright was planned immediately after the Church Arson incident and 2 weeks after that which is this very Saturday, Tali Tenang will be coming up as a symbolic event to bring Malaysians together again, in regardless of what color your skin is,  connecting each of every one showing the world that we're united!
Tali Tenang is initiated by RandomAlphabets, the same people behind the massive KL FREEZE that happened 2 years ago.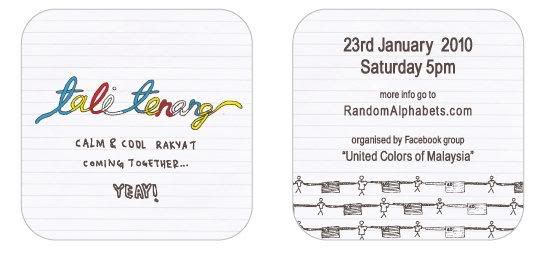 So here are just 3 simple instructions for you to follow :
1. Bring a piece of rope/string the length of your right arm [Any colour or texture]
2. Wear a white t-shirt
3. If you have a Malaysian flag, bring it along
Date : Saturday, 23 January 2010
Time : 17:00 – 18:30
Location : Bangsar LRT station. Just be there and you'll see us.
If you love your country Malaysia, then come and join us, if you don't, THEN YOU SHOULD EVEN JOIN US AND EXPERIENCE THE COOLNESS THAT IS GONNA HAPPEN!
See YOU! =DDD

Related Links :
Tali Tenang by RandomAlphabets
Tali Tenang Facebook Event Page