Yesterday night was one of the rare night i got to attend an event such as this, Acer Aspire Launch at Mandarin Oriental Hotel. A one hour session which i've expected turned out to be a 7 course meal dinner with performances and etc with the launch of the few newest laptops by Acer and Intel.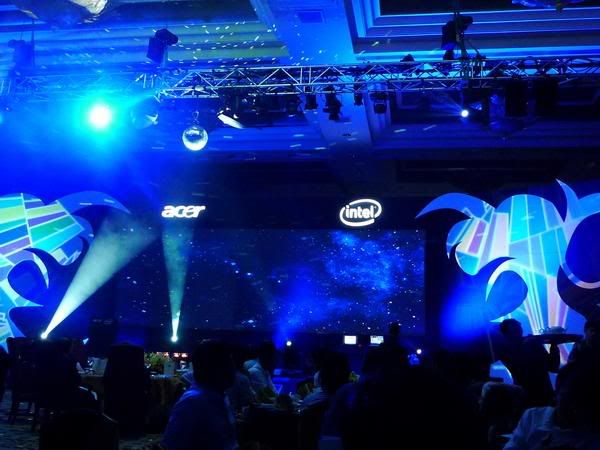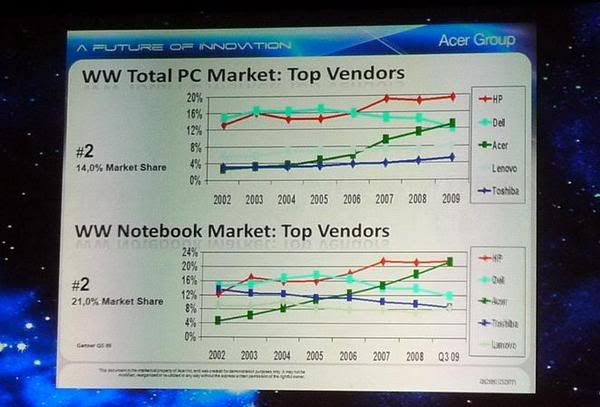 Before dinner was served, they actually showed some of the statistics of the market on which brands beats which brands. So wow, Acer is actually the top PC vendors in ASEAN! Okay.
Then there was this presentation showing the awesomeness of their onboard graphic card with the game Devil May Cry 4. Hmmm.
Dinner was served shortly after that where i had a big smile on my face. I was starving.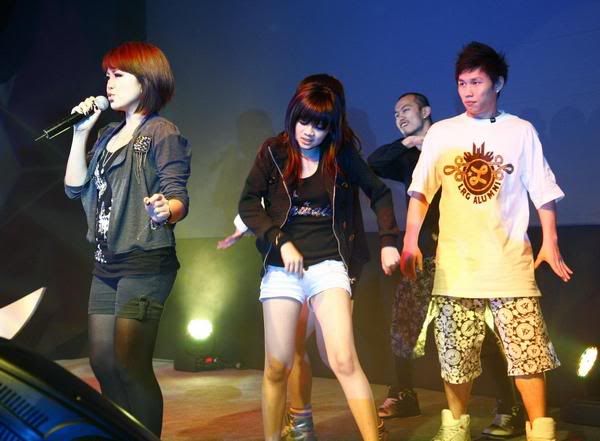 Amy Wang 王明丽 came out and sang a couple of songs followed by this…
mixing "show". There were games throughout the night that involves the guests then, have no idea why i didn't have the guts to volunteer myself up on stage and win the stuffs.
A boring Feng Shui talk and the lucky draw which had 3 lucky guest bringing back home Acer's newest laptops marks the end of the whole event. Ok i'm bad at story telling i think, reading back what i wrote above makes myself yawn.
In short, the launch features 3 specific Acer laptop models, the 5740, 4740 and 4740G which had the Intel Core i5 and i3 Mobile CPU with Mobile Intel HM55 Express Chipset. Sets that were made for superior gaming, multitasking and entertainment experience.
To avoid causing further boredom to you, i shall not state down the specific specifications for the laptop models. You just need to know these :
Aspire 4740-332G32 RRP : RM 2,299
Aspire 4740G-432G50 RRP : RM 2,499
Aspire 5740G-524G50 RRP : RM 2,999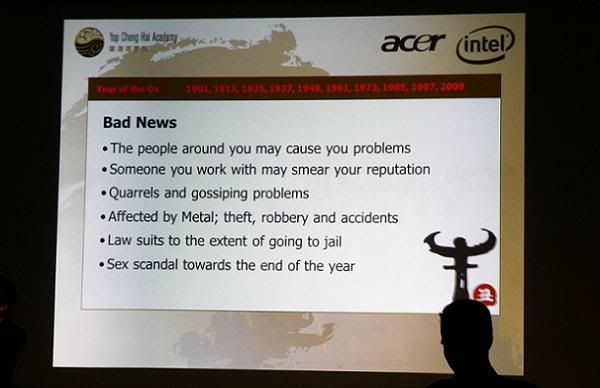 One last thing for you to know, if you're born in the year of Ox, be very careful of Sex Scandal towards the end of the year, brought to you by the boring Feng Shui Sifu of the night. Stay away from any friends who are born in that year as well okay? *laughs*
So which one you want?  The model or the "model"?
For more product details, go to www.acer.com.my
*thanks to Melissa, WeiHoe for the invite and Aaron for the transportation. =)
3 Flares
Tweet
Email to a friend
3 Flares
×