12 December 2009.
It was one of the many Barclays Premier League match where Aston Villa travel to Manchester to play against Manchester United. The weather was just perfect that day and that was the main thing i was in Manchester, to watch the live match in the stadium itself!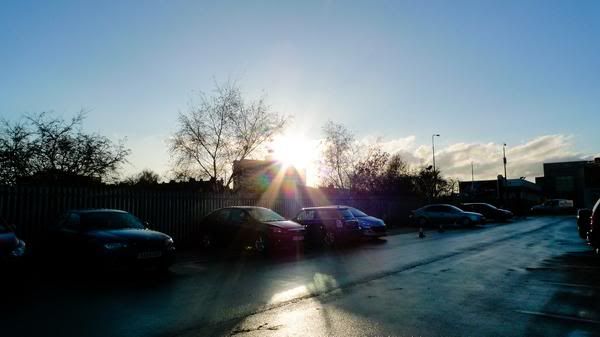 Left the hotel at around 2pm in the afternoon heading to Old Trafford for the match that will start later in the evening. Reached the stadium in 20 minutes time and the first person we saw at the car park was…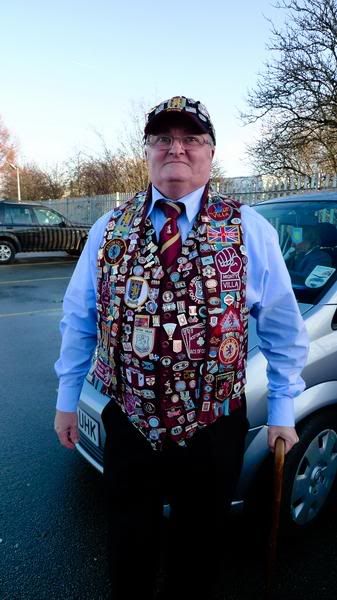 this super hardcore Aston Villa fan… CRAZY!!! LOOK AT THE BADGES!!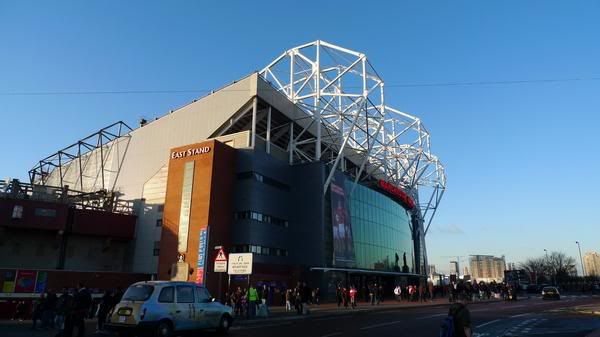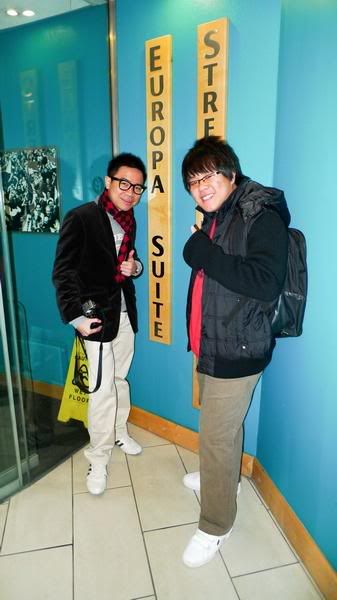 Anyways, the reason we were there a few hours before the match was because we had the tickets to Europa Suite where we would have our lunch and etc throughout the day with the VIP hospitality from Manchester United.

Well, it was up till this time that i came to knowledge that there are such hospitality provided by the football club to people who want to enjoy a football game then, different suites at different locations of the stadiums with different pricing that is.
If you're filthy rich then get yourself in some of the Centennial Club/Executive Boxes/Executive Lounges in the season matches. Go google the pricing and you'll be shocked how much one must pay then for these. Crazy.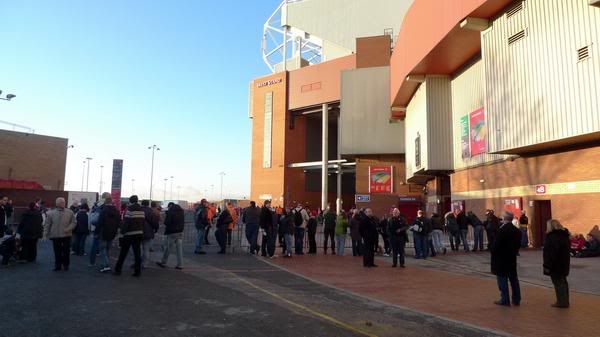 the waiting place for fans to see the footballers they adore.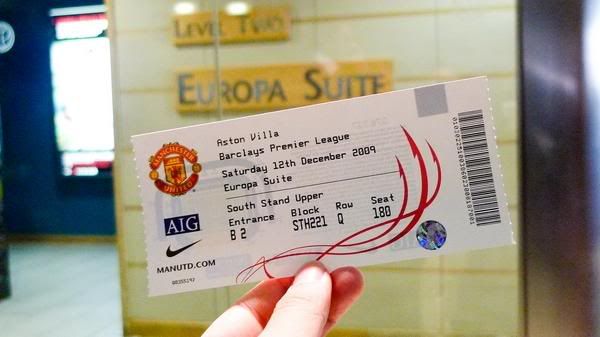 Holding my ticket happily, i was lining up in a whole line of formally dressed up gentlemen. Feeling a bit under-dressed then, i hid my excitement and joy declining my slight embarrassment not being in formal wear. *laughs* It would be a burden to my luggage if i were to bring my whole set of formal wear all the way to UK!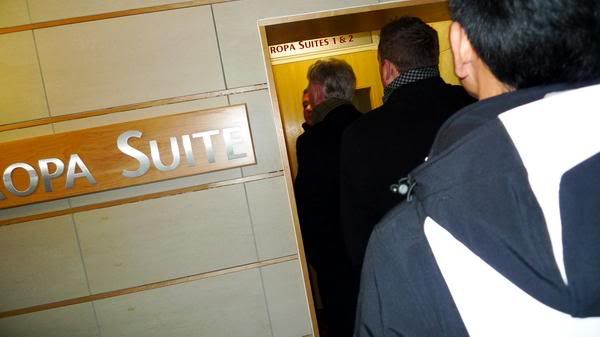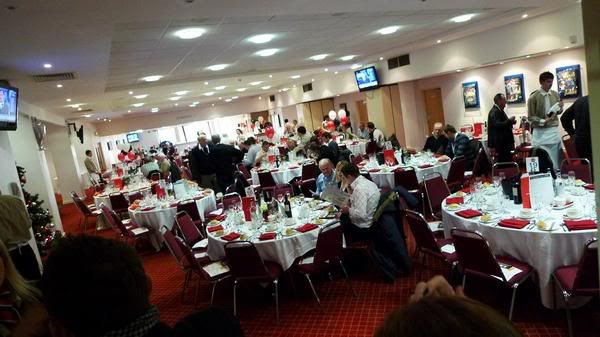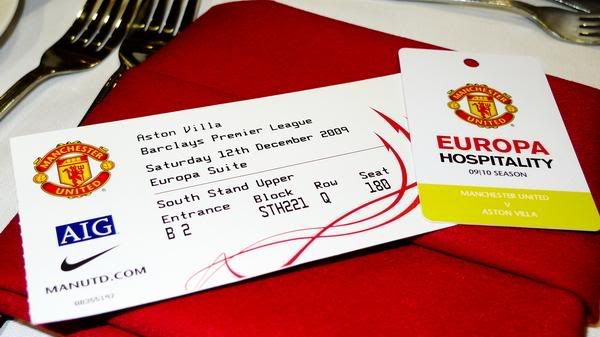 Entering the Europa Suite itself makes me feels like i'm somebody a higher level/class with the actual me then. I was like a small kid having my eyes exploring the place taking pictures whenever i can.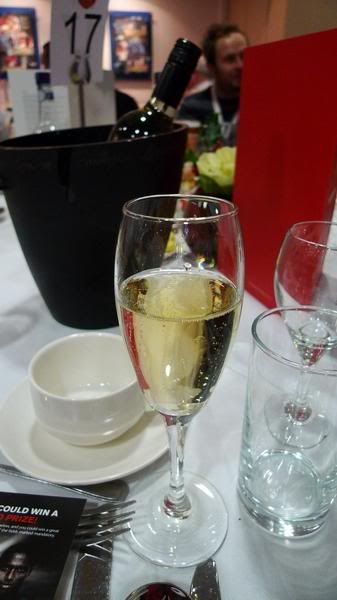 The first thing we had was Champagne. =)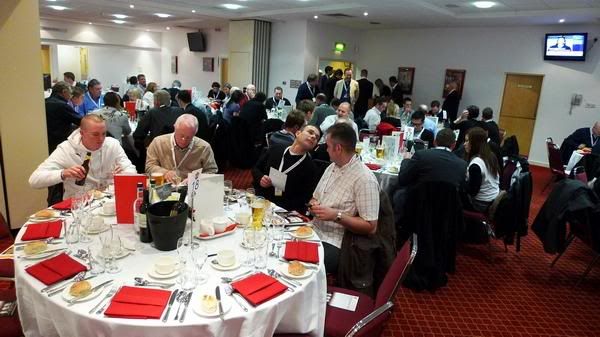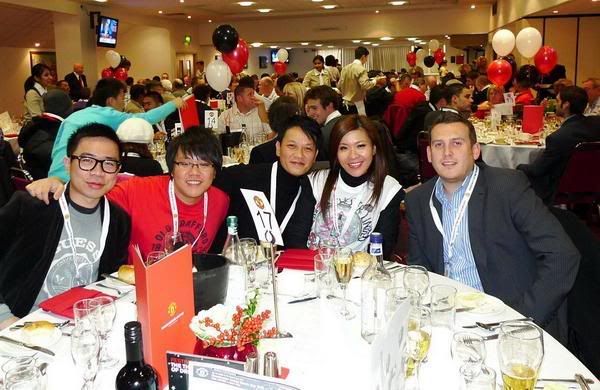 Ren, Me, Jimmy, Coco, Greg our host.
*notice how Greg wear?
Had a picture of us then and ordered what we wanted base on the menu prepared for that day itself. Lets go to the food alright?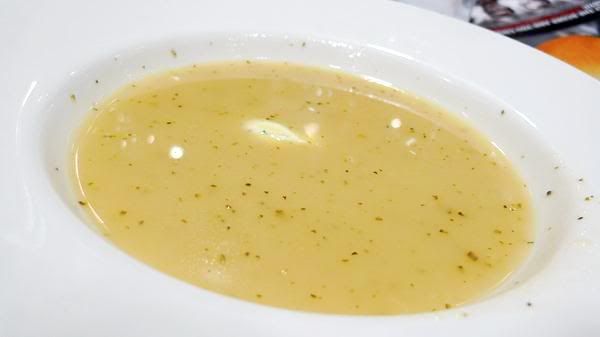 Starters – Creamy Chicken and Leek Velouté with Chive Crème Fraîche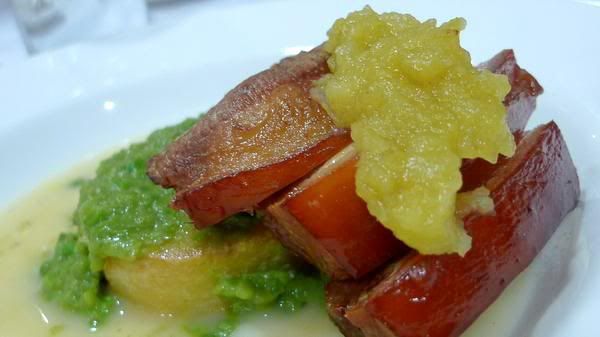 Main – Crispy Suffolk Pork Belly, buttered Fondant Potato, crushed Peas, Apple and Onion purée, Cider Velouté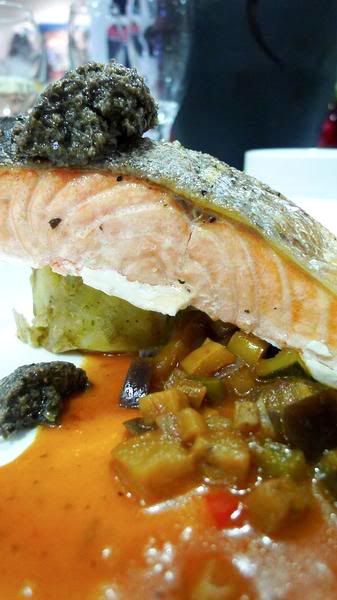 Main – Gently Pan Fried Fillet Organic Salmon served with a fine Ratatouille, grilled Basil Potatoes and black Olive dressing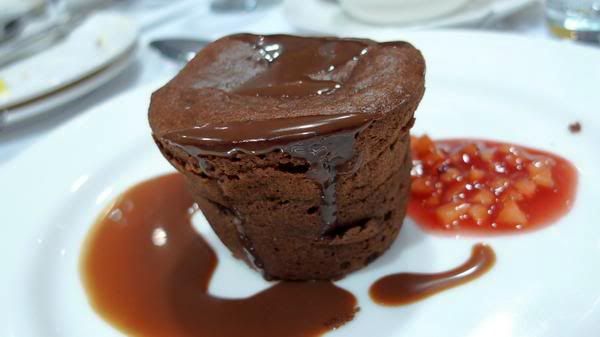 Dessert – Cold Valrhona Chocolate Fondant with glazed Peaches and Fruit Coulis
It was a 4 course meal for us then and all of it above were deliciously prepared to perfection, stuffs that i wish i could have on daily basis but i can't afford to there. Note that on the main dishes, Ren had the pork belly and i had the fillet. =D
The match haven even started and i was already pinching myself hard on my cheek.
I don't know about the hospitality provided in other suites in the stadium on match day, but in Europa Suite, one of the thing that you get is you'll meet players there. Actual soccer players yes and some might be legends!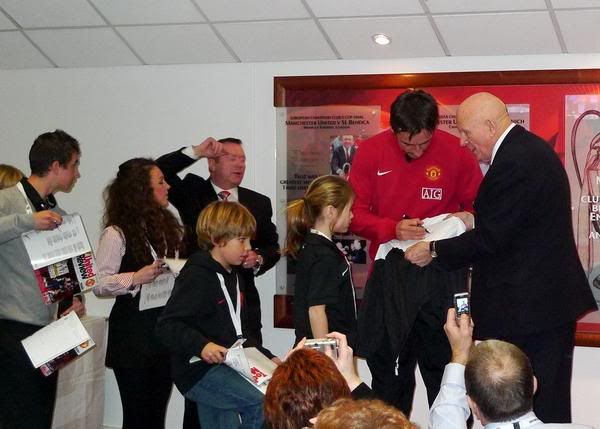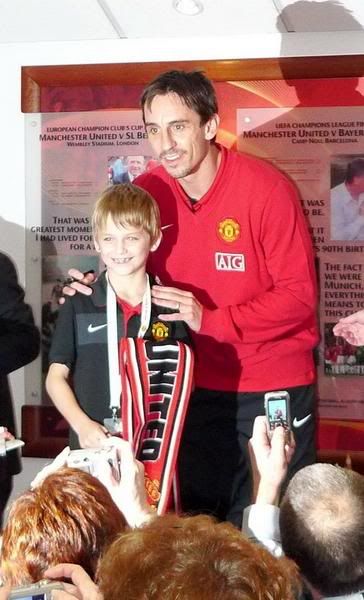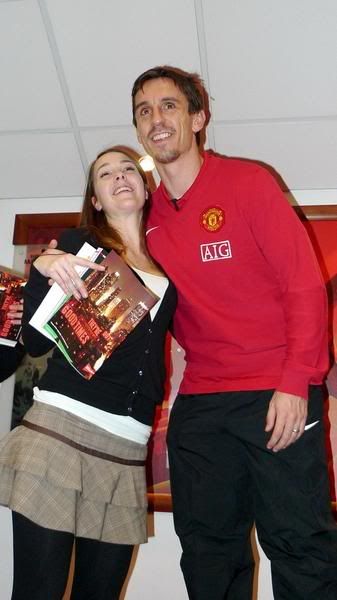 In my case when i was there, Gary Neville who captain Manchester United as well as the England national team before appeared and kids were rushing up to the stage getting ready the stuffs that they want him to sign.
Me? I was like 2 steps away from him taking his picture having the doubt in my mind to take picture with him. I chickened out there and then failing in taking a picture with him myself where else some dude from Philippines went up straight and snap a picture in front of me. =(
It was just a short appearance and shortly after he left, the match was gonna start already then.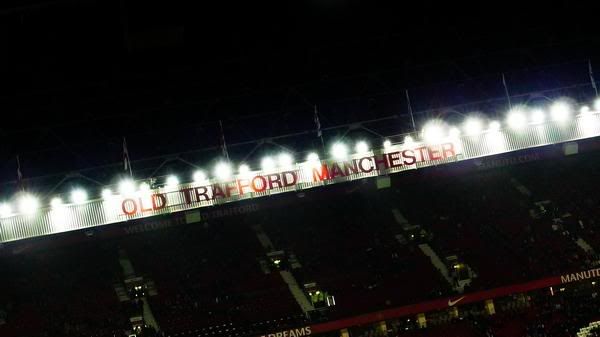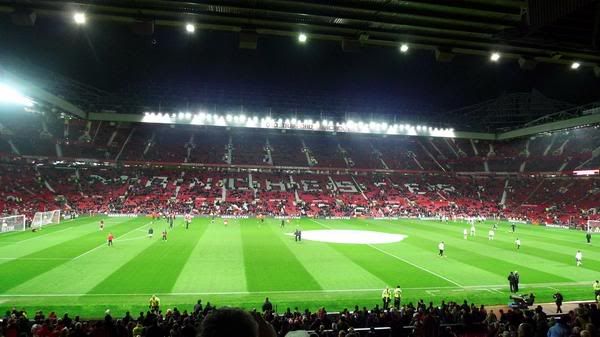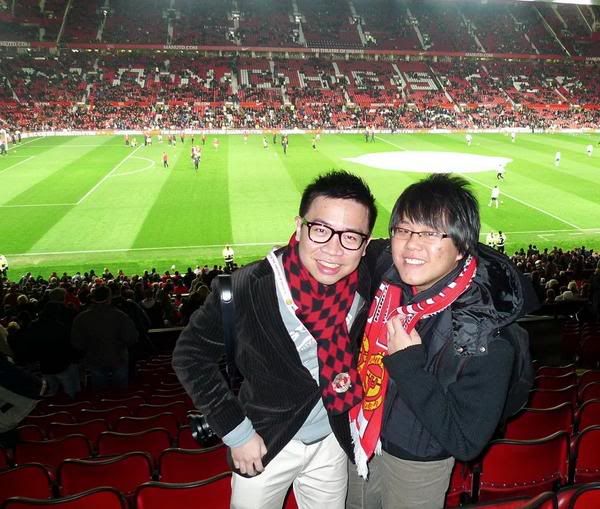 With Ren. =)
Couldn't really hide my excitement anymore, i had a big smile on my face when i was out from the entrance heading to my seats there, once again i'm in the Theater of Dreams, Old Trafford of Manchester, the home ground of Manchester United Football Club. It was my second time there, first time here.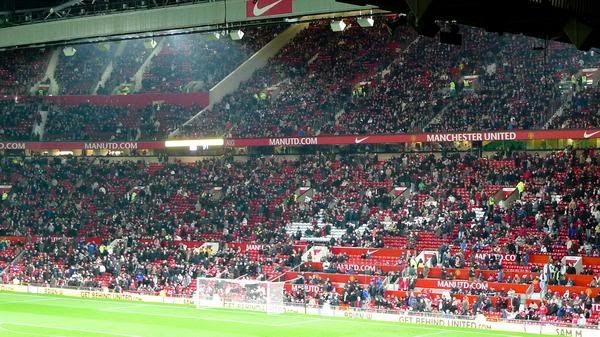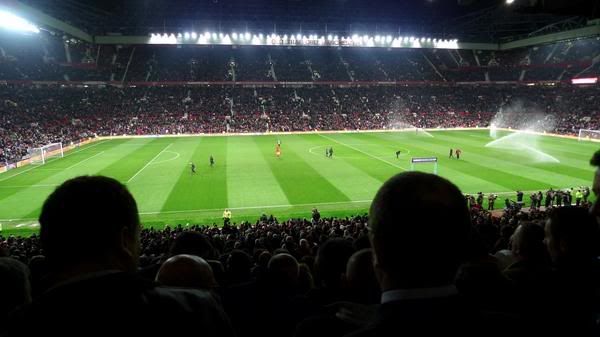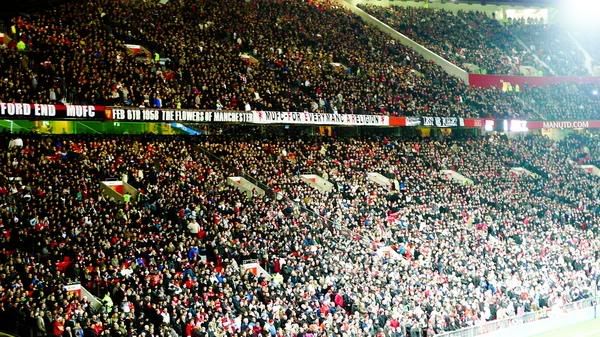 A moment not to be forget i told myself as i was breathing the air in the stadium amongst 70,000 other football fans there.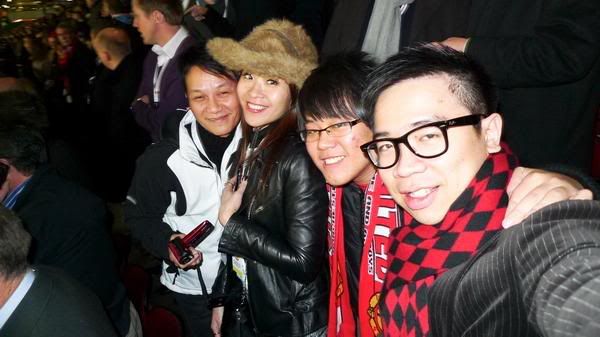 Jimmy, Coco, Me, Ren.
Took another picture right before the match where we were already seated down.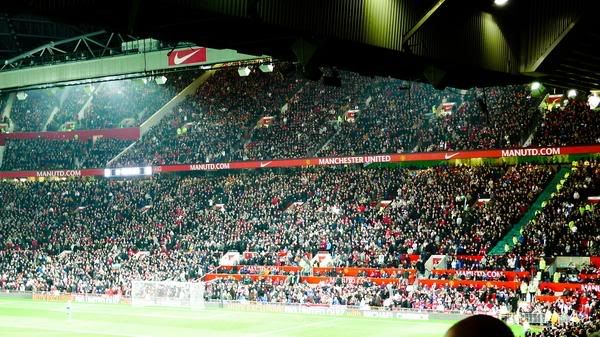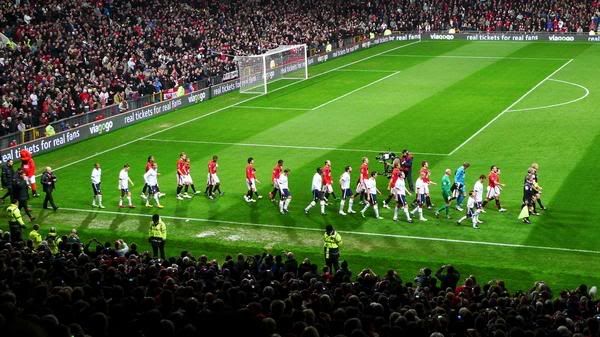 Soon, the players came out and before i woke up from my dreams, the referee have blown his whistle marking the start of the match.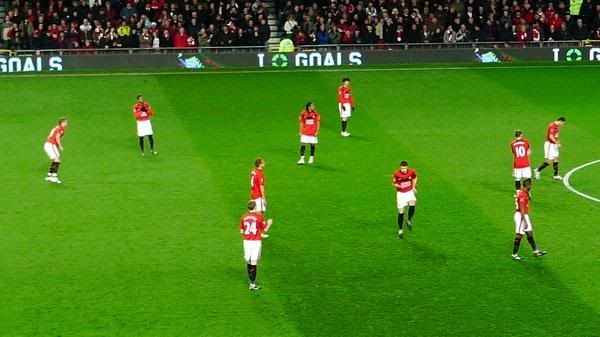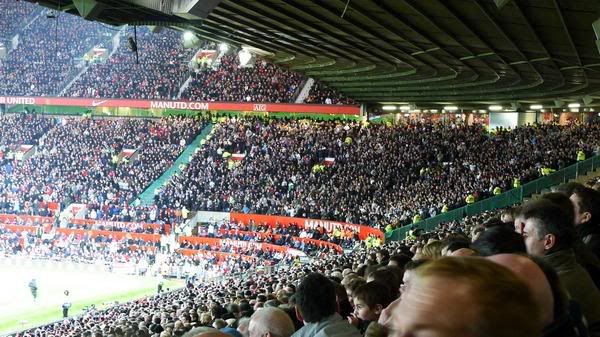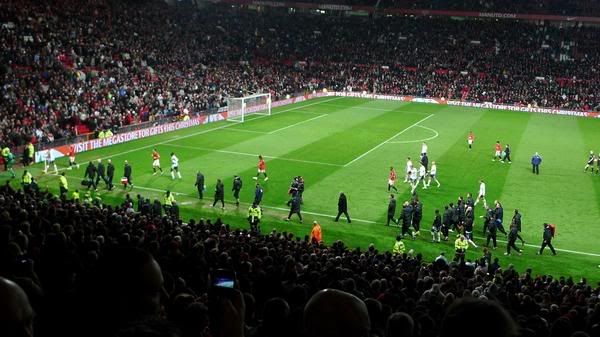 Not wanting history to repeats itself when i was there the last time, i was concentrating on the game and supporting whenever there's a genuine chance in attacking by the Manchester United players.
Sadly, half time ended with Aston Villa scoring one goal against Manchester United where i had to keep my prayers for Manchester United to score in the second half then.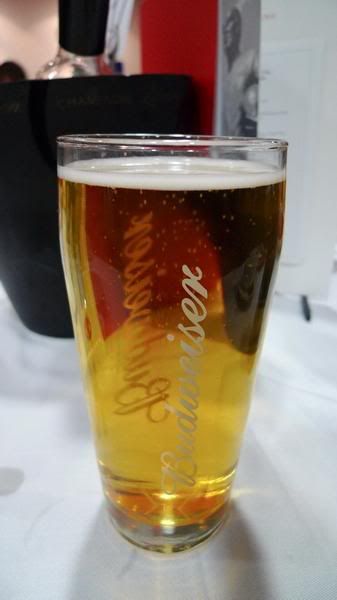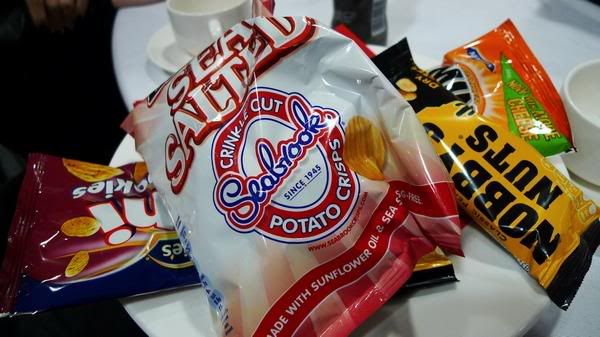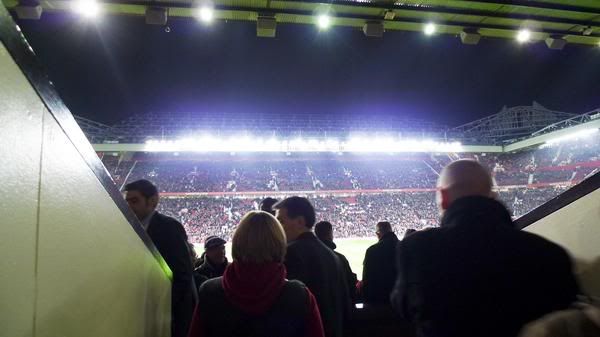 Went back into Europa Suite to have some snacks and drinks there during the half time break. Before i could even finish my beer, it was already time to get back out to our seats to watch the second half.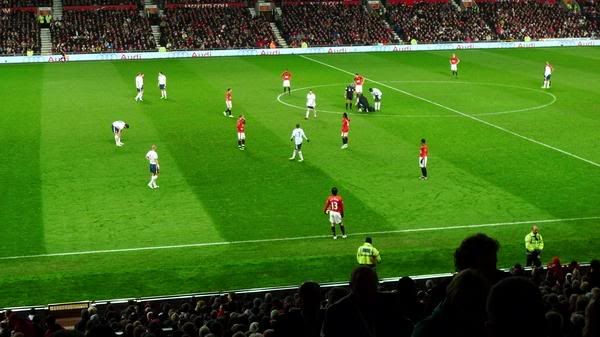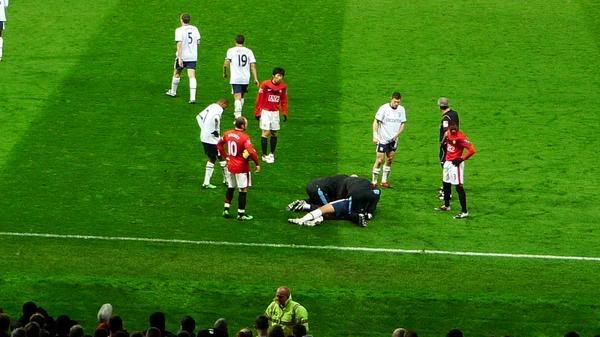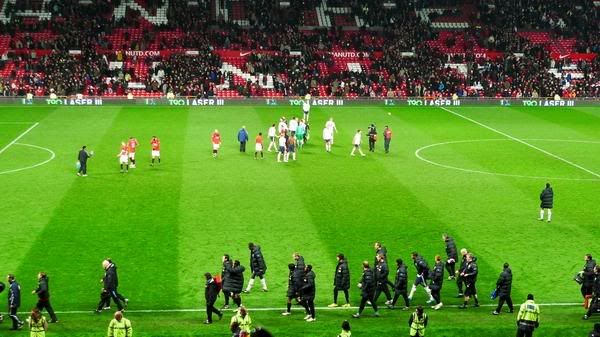 Disappointed much, the match ended with Aston Villa winning 1-0 against Manchester United. The second half showed a few really close chances created by ManUtd but the goal scoring moment failed to happen then and i was to get all emo already watching Manchester United lose in front of my eyes for the second time.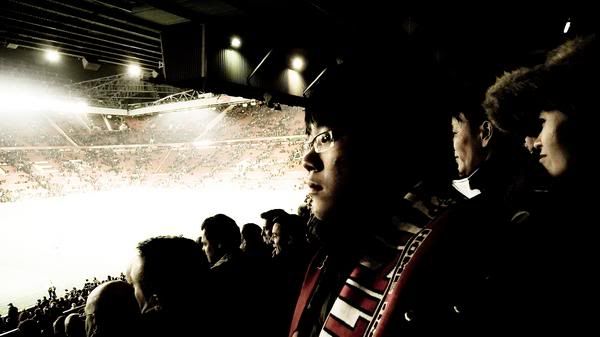 Manchester United defensive line was troubled with a numbers of injuries which lead to the 0-1 loss to Aston Villa and i kept telling myself not to get any sad shortly after the players left the pitch.

The away fans.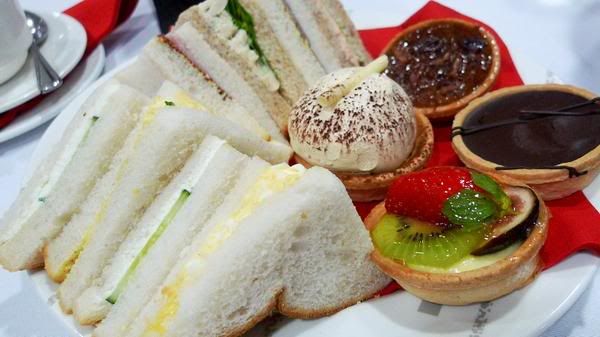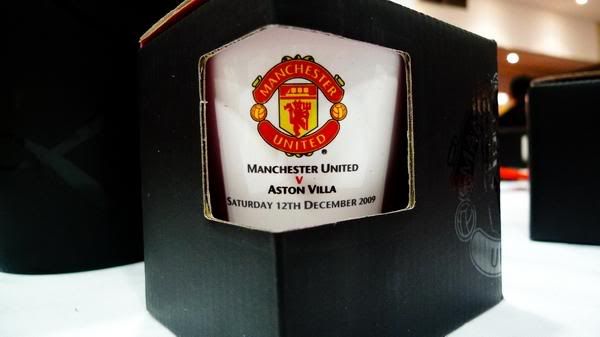 Headed back to Europa Suite for some after match refreshments with this mug placed on the table where everyone of the people there would get.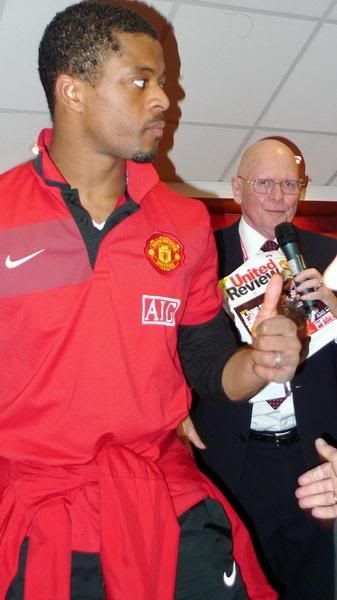 Petrov of Aston Villa and Evra of Manchester United was in the suite after the match and there were people who were getting signatures and pictures again. Securities was much tighter then compared with when Gary Neville appeared earlier.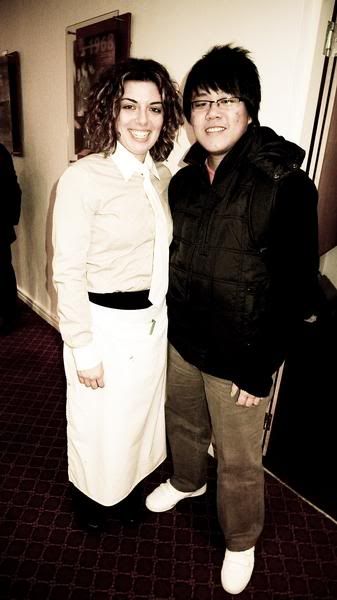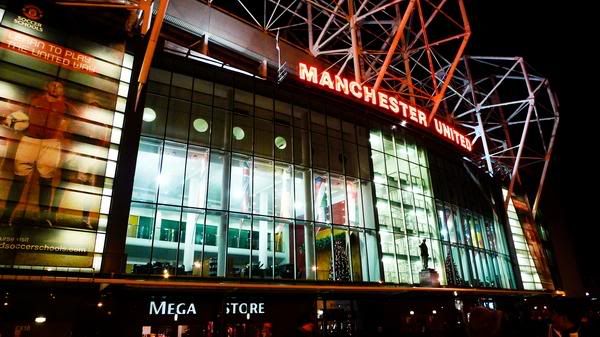 Despite the loss of Manchester United, i had a great time i admit being a VIP for that few hours with the very much awesome hospitality provided in Europa Suite itself. A service i could not probably afford in near future.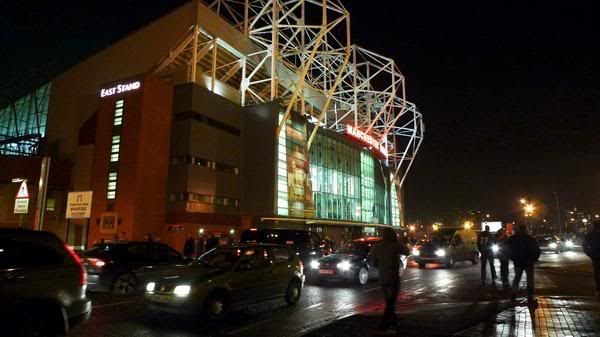 It was already night time when we got out from the Stadium. A view i didn't get to see the last time i was there where the match back then was during the noon.
Took a few pictures on the way back to the hotel and there goes the 2nd live match i've watch in Old Trafford where Manchester United plays against other team.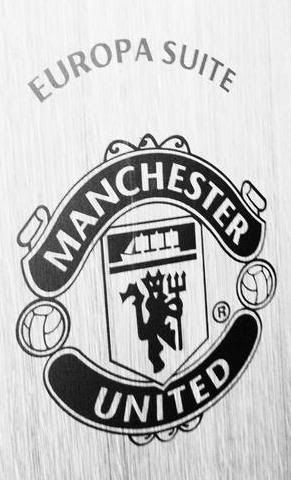 Would love to go through the whole same experience again, with the exception that Manchester United win the next time. =)
For more pictures, click here.
7 Flares
Tweet
Email to a friend
7 Flares
×