I just realized i have this backdated post which i have not write yet. Photos were filtered long ago but i just forgot to make this post.*laughs*
Alright, it was definitely an awesome music festival/concert and i've never attended such an event with like what?! around 20 performing artists and all of them are big in the Chinese entertainment industry!! Almost all of them.
All thanks to Tiger, Nuffnang and of course Vivien for the tickets provided for me to attend this very happening festival 2 weeks ago.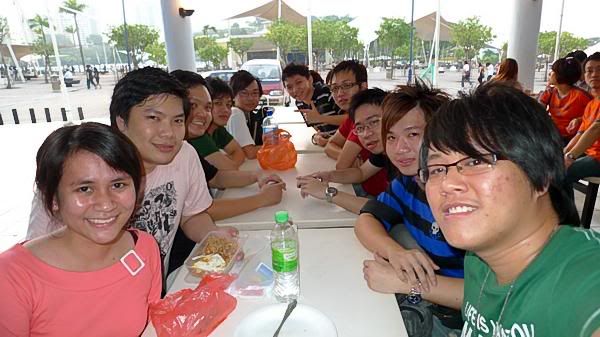 Tagged along Ren to the venue and bumped into a bunch of familiar faces that includes Jacquelyn, Bernard,  Jackie, Simon, Alex, TianChad and etc.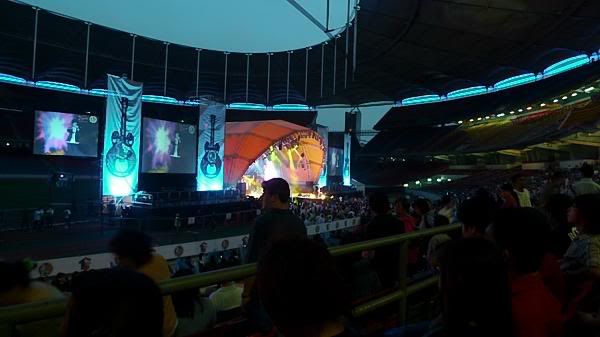 Due to the many performances that is happening that night itself, the event actually started ON TIME. At 7PM itself.
There were artists from like Hong Kong, Taiwan, China, Singapore, Thailand and of course Malaysia, too much performances to be fully stated out here so i'll just highlight the ones i enjoyed that night. Yes i'm a bit lazy at the moment.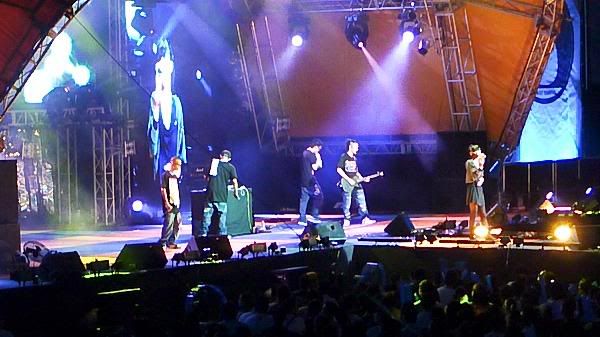 Alright, the first few acts on that night itself were pretty boring and not entertaining at all. It was up till Manhand 慢行 came out to perform that i start to enjoy the night. They are a local hip hop group, similar to the group 農夫Fama from Hong Kong.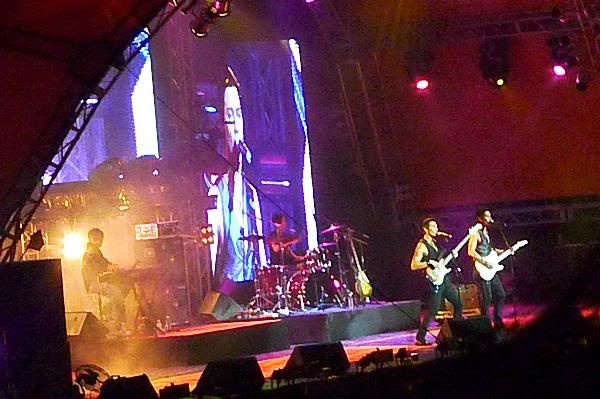 Soler was awesome that night, performing songs like 风的季节、细味、失魂、Lead which was like nice! I've always like their music ever since they emerged in the entertainment industry. Just one thing during their performance, the PA people seems to be screwing up the sound system when Soler performed and their vocals were a bit overshadowed by the band behind them.
When Kenny Kwan 關智斌 came out to perform i couldn't recognize who's him as i was pretty far away from the stage, only when i heard some familiar song, then only i realized he's one of the member of Boy'z, a Hong Kong cantopop duo which i liked years ago.
I wonder why they didn't manage to get BIG as their music are like very good.
I must say, Power Station 动力火车 was the bomb that night. The best performance were from them, when they were performing, the sound system problem seems to be solved already where there's a balance in both the sounds from the vocals as well as the band. It was a bomb because they started off with a compilation of songs, the classic ones where they were very well known of with, songs like 第一滴泪+那就这样吧+背叛情书+忠孝东路走九遍. They then continued and 继续转动、爱到疯癫、你是我的眼、彩虹.
It was a freaking awesome performance!
Jade 刘力扬 joined in with Power Station 动力火车 performing 热情的沙漠 and brought the atmosphere to a higher level. She then performed some of her own songs, 一句一伤、拍写、眼泪笑了、我就是这样. Nicely done!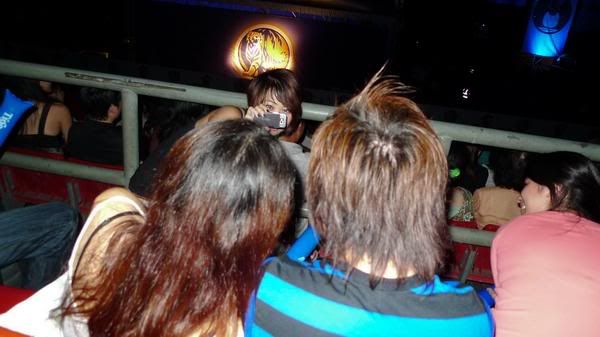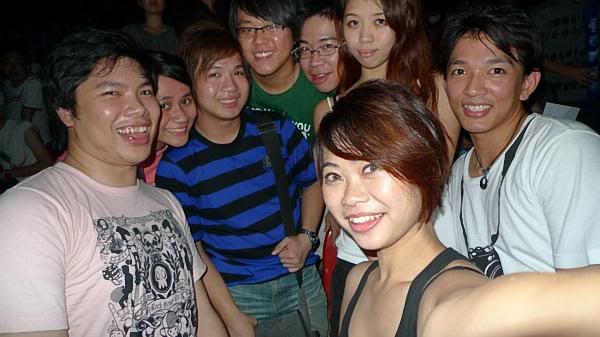 "Camwhoring" moments happened from time to time whenever we got bored of the artists/performances.
When it was like around 10.21PM, there was this main cable that was caught on fire and it caused power failure in the midst of the concert where the concert was forced to be stop for at least 30 minutes. Some rather rare incident i must say as you don't get to witness such Error in concerts.
However, the organizers denied the incident and said it was caused by a failure on one of the power fuse. If you want to know more about it, you can see the pictures & videos taken here by me, proof showing that there was a cable caught on fire.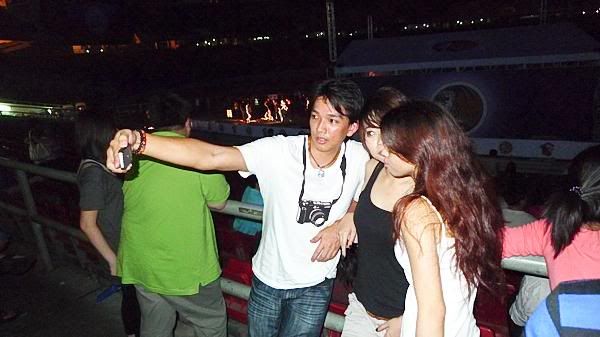 Through out the power failure that causes the sound and lighting to go off, the remaining artists that haven perform came out on stage and interacted with the massive crowd of fans, singing a bit of their songs. With just a Hailer Speaker. You can watch the video here. *laughs*
Back to the concert itself, after the electricity were fully resumed.
I was delighted to see Khalil Fong 方大同 performing live as i like his songs a lot. Performing songs like 爱爱爱、Singalong Song、Love Song、Nothing's Gonna Change My Love For You that night, i would say that listening to his song live was really really comfortable & relaxing. Nice one!
Z-chen 张智成 was the next performer that managed to entertain everyone there. With songs like 快乐、爱来的刚好、凌晨三点钟、迷魂阵 and a massive fan base here in Malaysia, its quite hard not to sing along with him and go along the flow enjoying myself.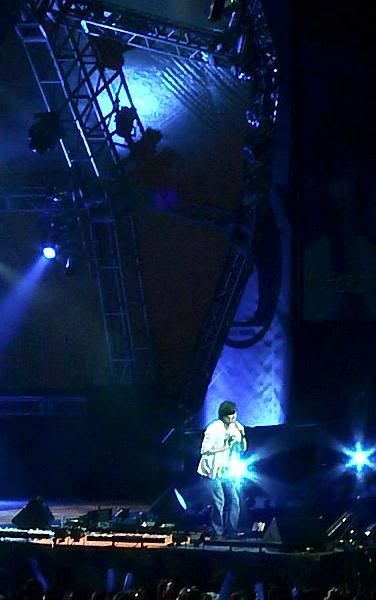 Sam 李圣杰, one of my favourite singer as well performed 擦肩而过、So Fun、手放开、痴心绝对 that night. and for your information, it was the 7058th times of him singing 痴心绝对 in front of a crowd, a song that brought fame to him years ago. I mean like, 7058th time performing the same song again and again over the years, that's insane!
Justin 侧田 rocked the stadium with Volar、决战二世祖、命硬、男人KTV that night and it was a pretty energetic performance by him, getting all hyped up going from left to right and running here and there, he managed to really make the crowd going crazy shouting and cheering for him. He was one of the best performer that night for me. =)
David Tao 陶喆 was the 2nd last performer of the night and he sang 火鸟功、暗恋、找自己、爱很简单. He was good and he performed well, but i was a bit tad disappointed because i was expecting more other songs from him. Well, better than nothing right?
It was already like 1AM when the last singer Joey 容祖儿 came out on stage and performed at her very best singing songs like 越唱越强、搜神记、这就是爱吗、我的骄傲. Clearly one of the best Female singer in Hong Kong, it was her that i enjoyed the event up till the end, forgetting the stupid 30 Minutes cable on fire incident.
At the end of the day, i must say that Power Station 动力火车 was the best that night where i enjoyed most listening to their performances. The event was still a blast for me though there's an error in the middle of the concert. *laughs*
I had a great night. =)
Related Links :
Vivien's post on T Music Festival from VVIP Zone with more up close pictures.
Tzia's post on T Music Festival from VVIP Zone with more up close pictures.
Full report on T Music Festival by JackieLoi