Its been 5 years since i started blogging. The idea of having an own domain and going dotcom never occur to me until like 2 years ago. That was when i was blogging on joshuaongys.blogspot.com where i get a bit more visitors/comments coming in.
I've always wanted to maintain a site of my own but never really move on and work something on it. Then, a few days ago, i finally made the decision to do so. Upon completing the transaction and such, i quickly imported the entries from my previous blog here and was working on the themes & plugins.
All thanks to my readers, be it the noisy ones who leave comments or the quiet ones, thanks to YOU, though not thousands, its all of you who read my blog constantly that really makes my day.
Thanks for the support.
I truly appreciate it.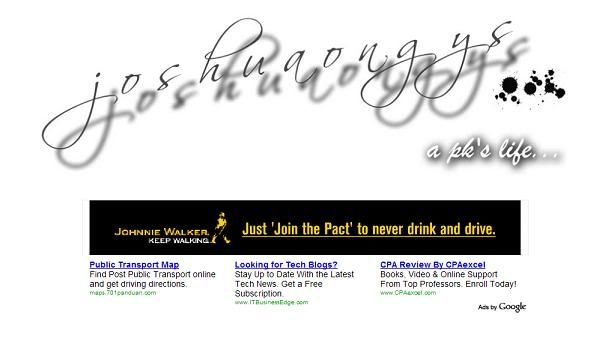 and so, its official. Good bye to joshuaongys.blogspot.com.
I hope that the future blog posts here will be able to make your day somehow. =)
*Do update my new link on your blog ya!
Click here to read more about me.