It was one of a kind! Being in the largest crowd in a pool. Yah. 20,000 people in a venue that was a surf beach when there's no other events. xD
The very first time a MTV World Stage music event happening in Malaysia itself. With big names such as Boys Like Girls, Pixie Lott, Raygun, Hoobastank, The All-American Rejects, Kasabian and our very own local band Estranged. Having to win the passes from TheStar Rage @ Twitter, i was looking forward to this very weekend going to Sunway Lagoon Surf Beach for this event.
It was as early as 2pm i left home heading to Sunway all thanks to Nigel & Kelli for the ride.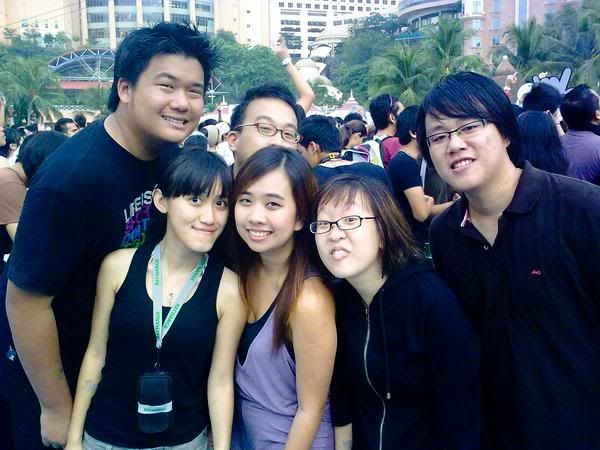 Met up with HsuJen, David/Royalshortness and her sister a.k.a QuirkyPrincess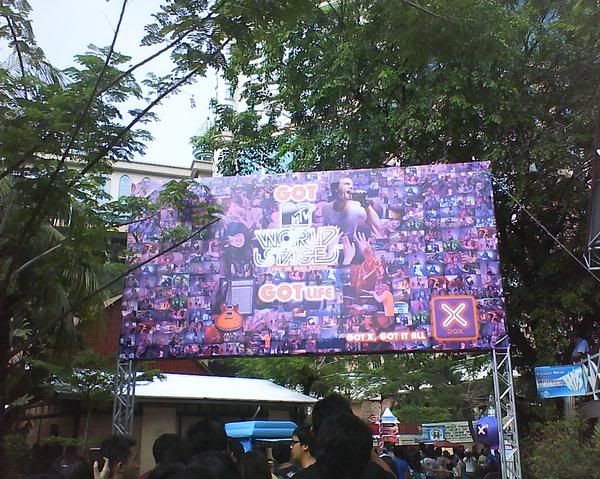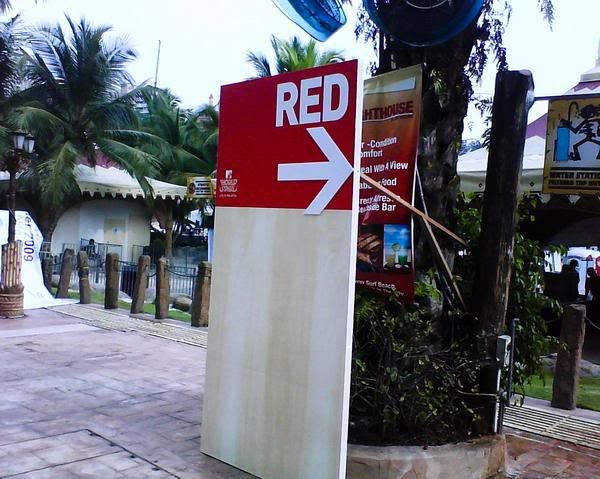 Being not as privileged as the people who got tickets to MoshPit, we walked all the way to Sunway Lagoon's main entrance before entering Red Zone, the Surf Beach area where the concert is going to happen.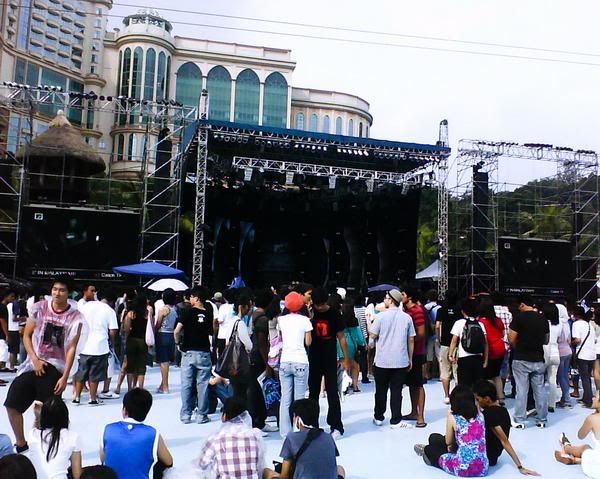 There were lots of people already at around 4pm and it actually rained for a couple of minutes where everyone started to wear the rain coat given by the sponsors.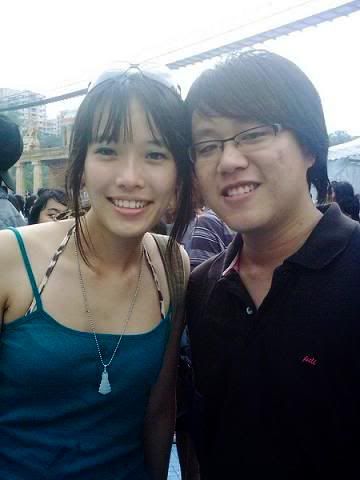 and i was glad i met up with PekSan!!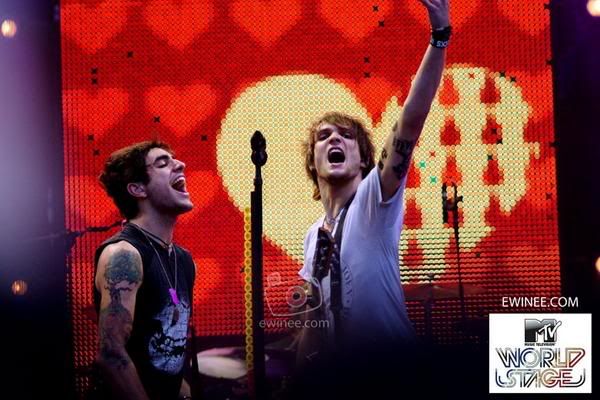 Anyways, soon the concert started and everyone was cheering and shouting, jumping and clapping their hands not to mention there were some idiotic morons who threw stuffs on and off during the concert. Hope nobody got hurt. Zzz.
Let me just comment a little bit here and there about the performers.
Estranged
Having a local act being up on stage in an event that is broadcasted in 150 countries makes me proud being a Malaysian but of course, obviously, there were more people who support the other performers compared to our local boys. For me i would say that overseas music is at a much higher level than local ones. I can see the big difference when Boys Like Girls performed on stage where i compared on how they play and sing and interacts with the crowd. No Match AT ALL!.
Boys Like Girls
I felt pretty strange when not many people turned up on a special appearance of them at Sony Style – The Curve Damansara just days ago before the District 9 premiere and found out that they had lotsa fans here in Malaysia where everyone was basicly shouting out loud at the first drumbeat. Martin Johnson made the whole crowd go crazy when he started climbing up on one of the stand beside the stage. These guys were good!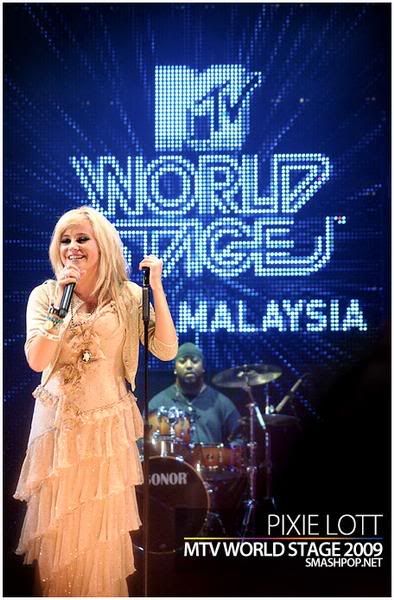 Pixie Lott
As sweet and attractive as ever, this 18 year old who emerged into the international scene not long ago was the only female singer performing in this very music event. Having her performing is like adding some different element in this whole event to make it more interesting and i could see that she can really sing and such. Too bad that the band that was playing looks and sound pretty fake to me, singer can lipsync and so i call this a BANDSYNC. It was very obvious that every single song, the sound of the drums were different and the tempo and all were different with the song when the drummer played some parts. Gahhh. Anyhow it was still interesting. All because she's attractive nyahahahahaa. =D
Raygun & Kasabian
Alright for the performance from these 2 sides, i was either paying more attention on my extremely tired leg or i was wandering faraway in some unknown realm. Didn't really pay attention on them. Maybe just not my type of music though. I don't mean that they are bad, they both have record selling albums with fans all over the world so i guessed its just me myself. I just felt bad for Kasabian because they were the last to performed and lots of people already left the scene went The All-American Rejects finished their performance.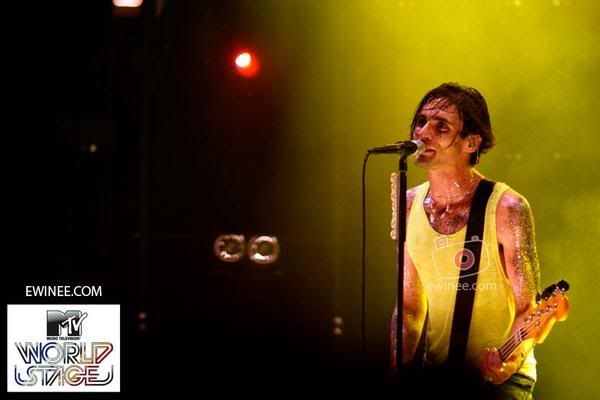 The All-American Rejects
Obviously one of the crowd favourite and one of the best performers in this event itself. I was having a numb leg by then with a sticky body being in a pool of 20,000 people. Everyone should be insanely exhausted already when they came up on stage as its like 4 hours past since the start of the whole event. Instead, everyone, well almost everyone(except me because i was too tired) went ecstatic and jumping crazily. Good performers, good crowd, NICE!
Hoobastank
When most of the people i know who attended this event said that The All-American Rejects was the best, i thought that Hoobastank rocks most!! I preferred their music more and of course, they were one of the crowds favourites as well with lots of fans in the event including me myself. Hoobastank had the crowd going crazy when they played a song with cheers and replies from the crowd shouting: "GHOST BUSTERS!". Totally unexpected and awesome at the same time!! Of course, Hoobastank was THE REASON i was looking forward to this event and when the famous sound of the guitar plucking came out, i went T__T.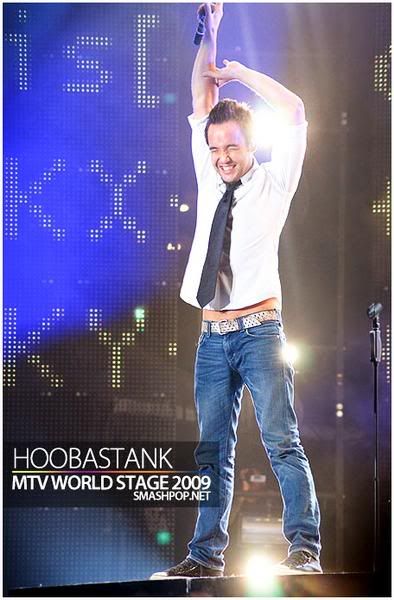 HOOBASTANK RAWKS!!

Despite the stupid long intervals between different acts, the RM5 drinks and the rain earlier on, not to mention the amount of time spent standing with stupid people smoking around me having my sore legs, it was still a good event. I hope that they do bring better acts next time, a BIG TIME one with lots of record breaking histories behind them and so. Well, many said it sucked but i thought it was good enough. Having to attend this whole thing for free, i won't say it sucked, if you get what i mean. =)